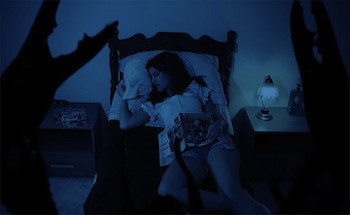 With his new short film The Giant Scorpion, Italian filmmaker Andrea Ricca successfully channels 1950s "creature features" such as Jack Arnold's Tarantula and Gordon Douglas' Them! When a meteorite crashes into a suburban street a passing scorpion grows to the size of a large dog and proceeds into the nearest apartment block to attack the quintessential attractive young woman.
Ricca visited this format previously with the arachnophobe-baiting Spider Danger and his latest is very much in the same vein. What is most impressive is that this zero-budget auteur films his productions on a simple camera and constructs the final effects on a home computer. There are rough edges of course, and some moments are a little cheesy, but there is an energy and exuberance to the film that it is impossible not to be engaged by. The effects themselves are equivalent, if not better than many straight-to-DVD releases and the whole short feels very polished.
What Ricca is doing is demonstrating that, with some talent and a whole lot of passion and perseverance, anyone can make a film. That in no way diminishes the achievement of this one-man Italian film industry; instead The Giant Scorpion is a short that embarrasses some of the lazy filmmaking that is seeping into the horror genre.
THE GIANT SCORPION / CERT: TBC / DIRECTOR & SCREENPLAY: ANDREA RICCA / STARRING: ILARIA LAMBERTI / RELEASE DATE: TBA