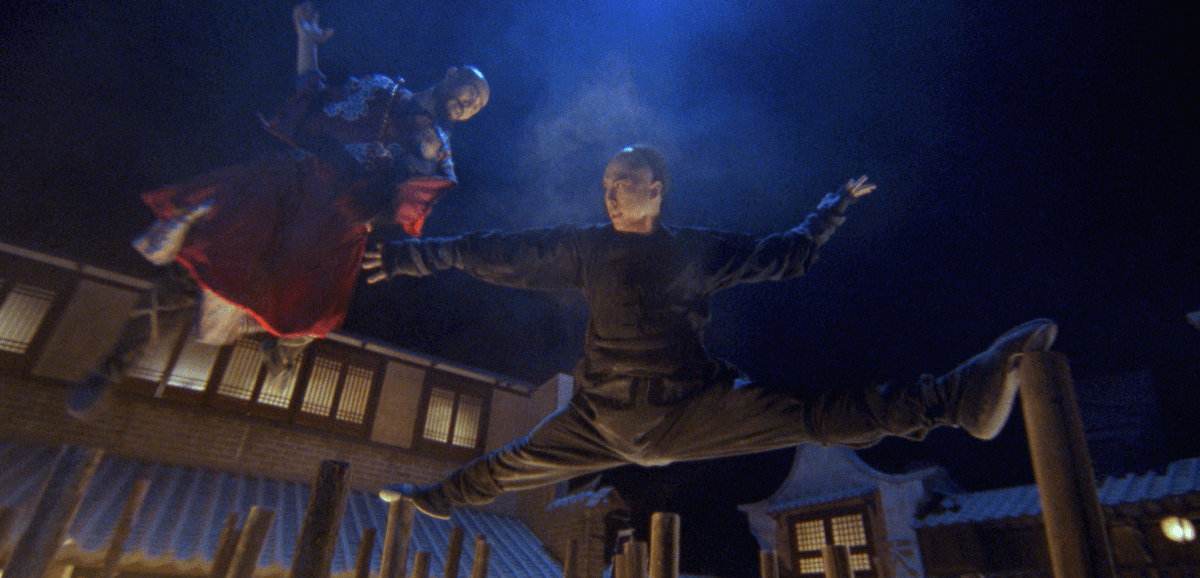 Ang Lee's 2000 film Crouching Tiger, Hidden Dragon was such a huge international success, made after he'd acclimatised to Hollywood movie-making techniques, it was inevitable that The West would seek out more of the same in its immediate aftermath. Yuen Woo-Ping's seven-year-old film Iron Monkey was Lee's immediate beneficiary. Dusted off by Miramax in 2001, it made $14m and became one of the more high profile martial arts films of the new century, despite its lack of concessions to American audience expectations.
Taking place in a small rural town run by a corrupt governor (James Wong), it concerns the exploits of local doctor Yang Tianchun (Yu, aka Ringo Yu) who overcharges the rich and treats the poor for free, and who by night disguises himself as the eponymous Robin Hood styled crusader, robbing from the administration in order to provide for those less well off – and always evading Governor Cheng's rather ineffectual chief guard Fox/Wolf (Yuen). Into this situation arrives the real-life historical figure Wong Kei-ying (Yen) and his son Wong Fei-hung (child actress Angie Tsang, playing against gender), who are arrested as potential suspects in the hunt for the Iron Monkey; when the father proves his own prowess against the real Iron Monkey, Cheng holds the son hostage, demanding Wong's help in capturing the governor's nemesis. Wong, who is shunned by the villagers for his willingness to assist the crooked administrator, is taken in by Yang's second Miss Orchid (Wang), and thus the scene is set for the two great martial artists to eventually team up and defeat Cheng's replacement, the newly arrived and even more dishonest and proficient Hin-hung (Yen Shi-kwan).
Like many of its ilk, Iron Monkey strikes what to non-domestic eyes might feel like an uneasy balance between comedy and action, achieving an easy-going tone we might recognise from TV classic Monkey, in which slapstick and violence become congruous bedfellows. This is particularly evident in the scene where Yang impersonates Hin-hung ahead of his arrival, giving Yu and Wang the opportunity for some broad, almost farcical overacting; the characterisation all around is rather arch, but immensely engaging and agreeable.
Where Iron Monkey really comes alive is with the action, and here's where the audiences who enjoyed Crouching Tiger are repaid ten-fold; Yuen Woo-ping's direction of these sequences is frenetic and inventive, yet always very clear and as precise as ballet. Your breath will be taken.
Eureka Entertainment's lovely restoration on the new Blu-ray is supported by a plethora of extras, including a fascinating interview with the actress who plays the little boy – but for a bonus treat we'd recommend you watch this in the dubbed English language version, while leaving the subtitles on; if the plot is reminiscent of a spaghetti Western, then this experience only enhances the similarities – and you'll be almost as amused at the changes the American distributor made to the dialogue as you will be by the rest of this classic of its kind.
Extras: trailer, five interview featurettes (including Donnie Yen), two choreography featurettes, 2003 Wu Shu competition footage
REVIEW: IRON MONKEY (1993) / CERT: 12 / DIRECTOR: YUEN WOO-PING / SCREENPLAY: TSUI HARK, CHEUNG TAN, TANG ELSA, LAU TAI-MOK / STARRING: DONNIE YEN, YU RONGGUANG, JEAN WANG, ANGIE TSANG, YUEN SHUN-YI / RELEASE DATE: 18TH JUNE