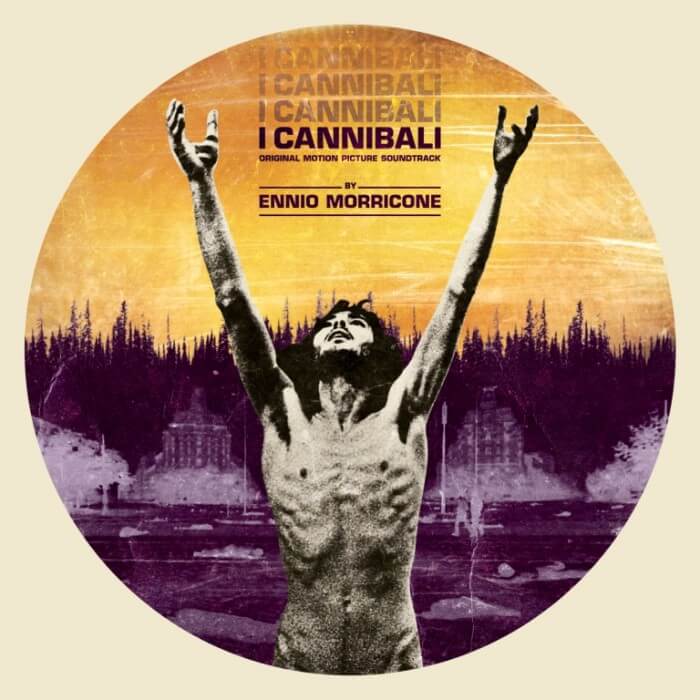 I CANNIBALI (1969) / COMPOSER: ENNIO MORRICONE / LABEL: SPIKEROT RECORDS / RELEASE DATE: OUT NOW
Listening to Ennio Morricone's score for the 1969 Liliana Cavani film, I cannibali, one could be forgiven for thinking that the film is a cannibal picture. With its lush arrangements – conducted by Bruno Nicolai – and sweeping sounds, it's very much akin to Riz Ortolani's work on Cannibal Holocaust. In fact, however, the film is a modern adaptation of Sophocles' tragedy, Antigone, in that it's the story of a woman wanting to give a proper burial to those who died in defiance of the ruler.
The Spikerot Records release marks the score's first time on vinyl in full, although CAM released a 45 with "Song of Life" and "Cannibal" in 1969. Digitmovies premiered the full score in 2009, after a truncated version was paired with Galileo by CAM on compact disc in 1992. Spikerot's release goes a full seven tracks further than the Digitmovies CD, featuring multiple alternate versions of "Song of Life" and "Cannibal," with six for the former and nine for the latter.
One would think that it would get repetitive, hearing certain pieces over and over, especially given that "Marcia Dei Can Can" and "Dove Sei Siete Voi" each get three version apiece too, but each version differs from the previous one in such intriguing ways that it's fascinating to get each new take on the pieces. "Song of Life" brings in or strips out instruments, resulting in some versions – the "Piano Elettrico E Organo" take, in particular – sounding astonishingly rich and full in comparison to their initial presentations.
The use of organ and electric piano, combined with vigorously-strummed acoustic guitar, lends the whole affair a certain hippy freakout vibe, and it's really quite fantastic. When they all come together with some excellent woodwinds and bongos on "Ricerca Del Fratello," it's a brilliant piece of funky joy and could readily stand side by side with French ye-ye or Brazilian tropicalia of the same period without missing a beat.
The packaging for the double vinyl LP is a gatefold sleeve with artwork that hearkens right back to the '60s. The typography and graphic design are just stellar, and the use of ziptone and enlarged grain really makes everything pop artistically. The black vinyl is crisp and clean with no hint of crackle and, while some of the alternate takes might not be quite a sonically vibrant as the score proper, everything's pretty solid for being sourced from 50 year-old tapes. There are no liner notes, which is a shame but, otherwise, this is a fantastic package.
Spikerot might normally be a metal label, delving into the likes of doom and heavy rock, but the scores that the label's unearthing and presenting are fast becoming some of the most anticipated releases every time they're announced.