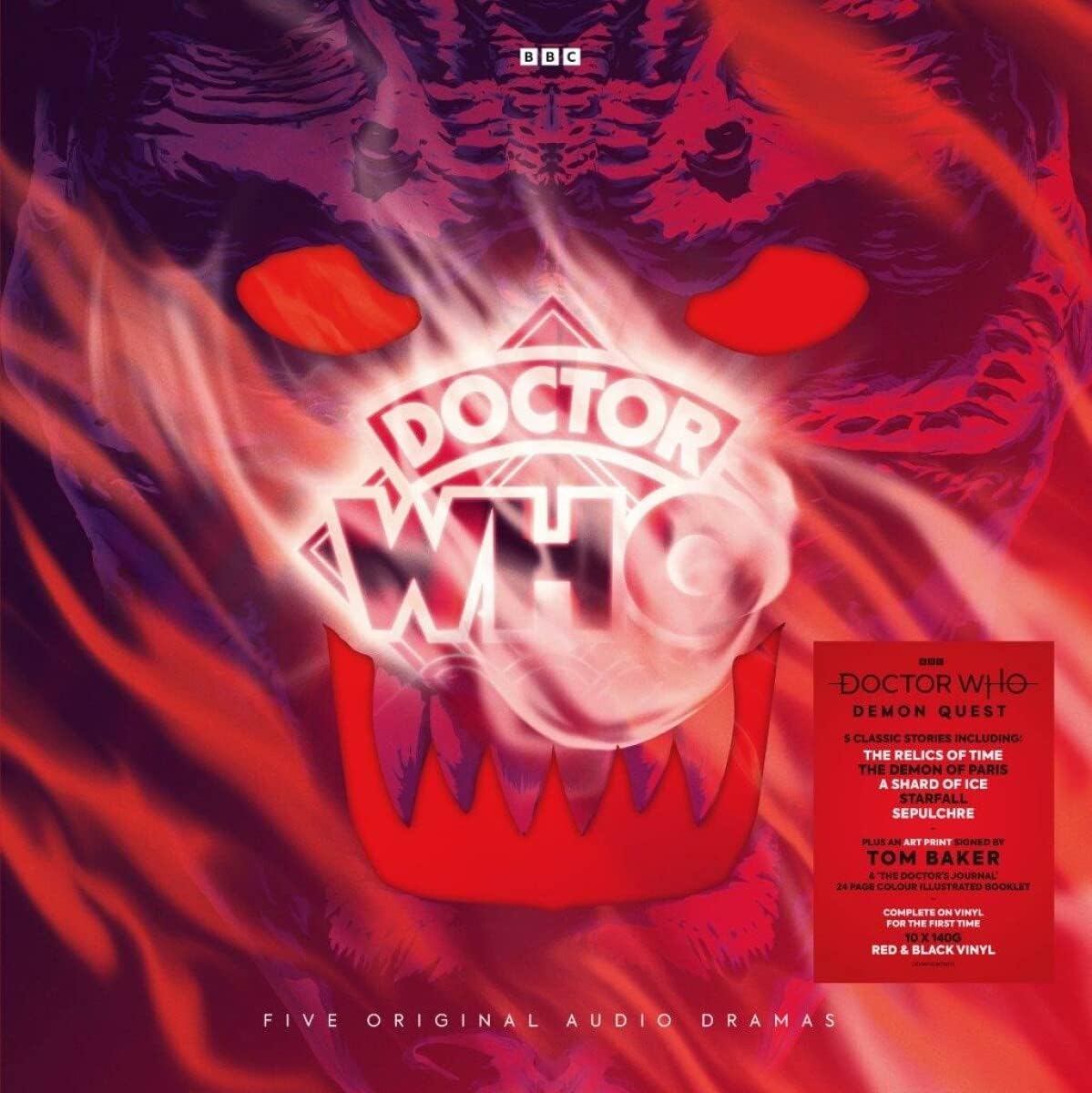 By Beth McMillan
Opening this limited-edition vinyl set from Demon Records feels like entering a true treasure trove for any fan of the Time Lords. Originally released by BBC Audiobooks in 2010, Demon Quest, the sequel to the popular Doctor Who audio story Hornets' Nest, is a truly immersive affair when experienced for the first time through the magical medium of LPs.
Starring Tom Baker as the Doctor, Susan Jameson as Mrs Wibbsey, and Richard Franklin as the trusty Mike Yates, this series of unique audio adventures from writer Paul Magrs, produced by Kate Thomas, doesn't disappoint. After several key TARDIS components are mistakenly sold by the Doctor's housekeeper Mrs Wibbsey to a mysterious stranger in exchange for a bag of equally mysterious artefacts, the Doctor, with a reluctant Mrs Wibbsey in tow, must undertake a perilous journey through time to retrieve them. Each object leads the unlikely pair, along with Captain Yates, to new space-time coordinates where danger awaits. As the trap set by a mysterious pursuer begins to close around them, they realise all is not as it seems…
An original soundtrack accompanies the familiar series theme, and the legendary Tom Baker delights as always, backed by a talented supporting cast including Nigel Anthony, Samuel West, Jan Francis, Trevor White, Lorelei King, and Finty Williams. However, certain elements of Demon Quest's plot could be said to be a little contrived. Susan Jameson brings warmth and humour to her character, but the 'house-keeper' caricature and the somewhat domestic, historical setting and sense of mystery in the story lean a little too far towards a Sherlock Holmes novel. The idea of the Doctor having rented a countryside cottage without the provocation of some sort of galactic catastrophe or intervention from the Timelords grounding him on Earth might seem a little out of character to some fans!
The vinyl package itself is stunningly designed and presented. A removable outer sleeve reveals a lidded box featuring the Demon itself. Inside are ten individual, beautifully illustrated LP sleeves containing the 10 x 140g alternating Red and Black vinyl discs.
To top it all off, each box set includes an exclusive, personally signed portrait of Baker as the Fourth Doctor. The Time Lord's battles with the mysterious Demon are detailed in The Doctor's Journal, a 16-page booklet featuring notes and illustrations from the epic journey through Time.
A must for any Doctor Who fan!