Reviews | Written by Kieron Moore 24/02/2020
DOCTOR WHO: ASCENSION OF THE CYBERMEN
SERIES 12, EPISODE 9 | WHERE TO WATCH: BBC iPLAYER
[Warning: this review contains spoilers, and a lot of nouns with 'Cyber-' added to the start.]
You've got to feel sorry for the human race, who haven't had the best time of it across the history of Doctor Who; in Series 12 alone, they've been wiped out twice – first mutated by global warming into growling monsters, now erased by the Cybermen in a far-future war. Thankfully, the Doctor and her friends, following the co-ordinates given by Percy Shelley at the end of last week's episode, are on hand to help out the few survivors.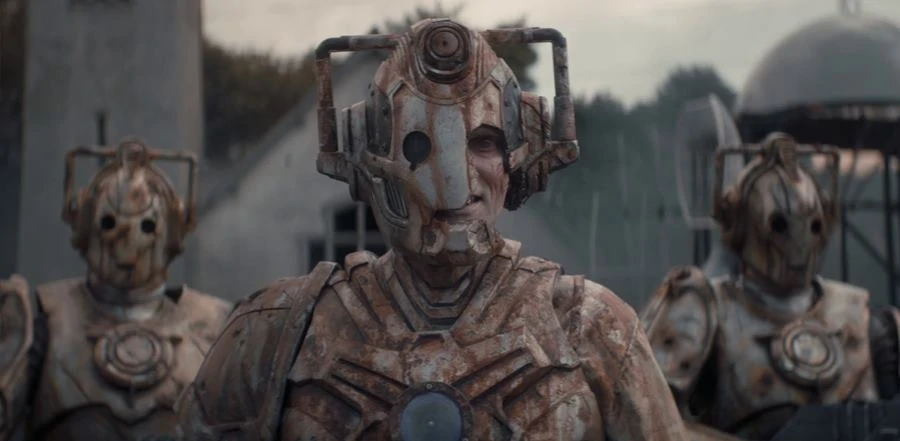 Their first encounter in this world, in which they defend a Fallout-looking post-apocalyptic town from advancing Cyber-forces, is a tense and visually dramatic way to begin Chris Chibnall's two-part finale. It's a neat device to have the Doctor set up a series of gizmos representing the various ways Cybermen are traditionally defeated – i.e. fans chucking gold and emotions into the air – only to have them immediately blown apart, setting up these surviving Cybermen as a force to be reckoned with. And, while your mileage may vary on whether the flying Cyber-heads look scary or silly (we say silly), there's no doubt about the terrifying nature of the rusting Ashad – the Lone Cyberman, though no longer quite so lone – and his two Cyber-cronies coming to blast all hell out of the last of humanity.
It's Ashad who is the highlight of this episode; we praised The Haunting of Villa Diodati's characterisation of this broken, enraged Cyberman, and here we see that hatred accompanied by a maniacal fanaticism, a belief that he's destined to lead his race into an ultimate victory. This makes for a nasty, compelling villain, with much more potential for drama and conflict than your typical emotion-free Cyberman. Credit too must go to composer Segun Akinola, whose new Cyber-motif – a pounding, industrial number – adds energy and menace to the time spent with the episode's villains.
But once Team TARDIS are split up and Ashad must pursue them across two different sub-plots, Ascension of the Cybermen starts to flounder. With none of the surviving humans having personalities that can't be summed up in one word – he's the cynical one, she's the hopeful one – it becomes all too clear that the episode, particularly Yaz and Graham's side, is working its way through Cyber-tropes we've seen handled better before: a ragtag group of survivors defending themselves against advancing Cybermen was done better in 2017's The Doctor Falls; the last of humanity following a mysterious beacon to safety was done better in 2007's Utopia; and the awakening of a Cyber-army was done better in... well, we could give you a list.
And in this case, none of these tropes push the story forward like they need to. Ascension of the Cybermen is a dragging middle act, an episode of set-up for the proper story coming next week. Even the most unusual and original part, the cutaways to the child in a rural landscape that may or may not be Ireland, who grows up to be an invincible policeman, feel like they're holding back on all the interesting bits. While we're sure the answers will come next week, it's an oddly unsatisfying choice to let this episode end without even a hint at a link between the two disparate stories, though at least this does allow us some fun in speculating what's going on (for our money, it's relevant that Brendan is found as a Child and that there's something Timeless about the world around him).
It's frustrating that, after The Haunting of Villa Diodati got us so hyped up for the finale, Ascension of the Cybermen loses that energy by holding back too much, giving us a standard Cyber-chase story instead of anything new or satisfying. Even the episode's final twist, the appearance of Gallifrey and the Master delivering a very corny and self-congratulatingly meta cliffhanger line, is no surprise at all – did anyone not see that coming? Next week's episode will certainly be a more interesting one, as big, dramatic events are inevitable as it brings Series 12 to a close; whether or not we'll like those big, dramatic events is yet to be seen.