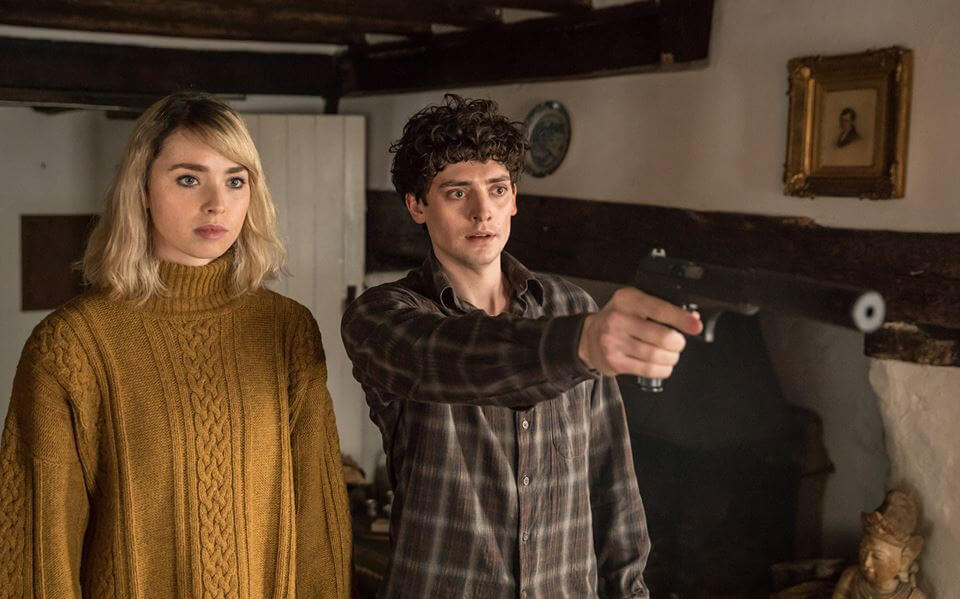 After numerous failed attempts to kill himself, depressed writer William outsources the job to an aging hitman who specialises in assisted suicide. Soon afterwards, William's life drastically improves for the better and so must evade his own death until the contract for his death expires.
Attempting to mine humour from something as serious as suicide is a tough undertaking, almost as big a challenge as it is to get an audience to find it. Despite the inherent difficulty, Dead in a Week (Or Your Money Back) attains its goal admirably. The achievement comes from taking discussion of suicide itself seriously, but by placing it within a world of black comedy it allows the film to be humorous without belittling the gravity with which the subject should be taken.
Although driven by depressed nihilism William is an engaging protagonist, his unassuming reaction to the world around him blending compellingly with his evident frustration at the life he no longer wants to lead, seemingly conscious of the absurdity of his situation but having already moved beyond it. His failed suicide attempts inspired the idea that he might be immortal and subsequently gave him a semiautobiographical book idea that resonates with literary agent Ellie, with whom he ends up on the run after a series of intense situations.
Cinema history is rife with examples of unconvincing hook-ups resulting from an extreme experience pushing two people together, but for once the setup feels far more natural. Finding someone to whom you can relate at a core level is often the best seed of a true relationship, and it's made clear that Ellie is affected by psychological issues similar to William's, but is far more adept at coping with them. Already feeling she knows him through his writing she senses a connection before they even meet, while his realisation that he's met someone who has some inkling of what's going on inside his head makes her all the more appealing to him. It never feels like she's just along for the ride or merely there to look pretty, and her decisive nature and willingness to take action make her even more of an unlikely hero.
The hitman Leslie is undergoing his own crisis of trying to stave off irrelevance in the only profession he knows and competition from younger and more ruthless killers ("All these Eastern Europeans taking our jobs," he dryly comments), while his boss Harvey, a snarling castoff from a Guy Ritchie film trying to push Leslie into retirement, has introduced a kill quota for his employees and tries to use Leslie's failure to meet it to push him out the door. Juxtaposing Leslie's days of death for hire is his home life of genteel Middle Englanders, where his wife's stories of scrapbooking, embroidery contests and afternoon television provide him with something stable and normal to come home to, the contrast between the banal everyday and the murky underworld of contract killing making for endearing and amusing viewing.
Dead in a Week (Or Your Money Back) is a jet-black comedy on just the right side of farce that nevertheless treats a serious topic with the respect it deserves, with distinctive characters populating a surreal yet believable tale of love and death.
REVIEW: DEAD IN A WEEK (OR YOUR MONEY BACK) / CERT: 15 / DIRECTOR & SCREENPLAY: TOM EDMUNDS / STARRING: ANEURIN BARNARD, TOM WILKINSON, FREYA MAVOR, MARION BAILEY, CHRISTOPHER ECCLESTON / RELEASE DATE: MAY 6TH