Reviews | Written by Jonathan Edwards 23/10/2019
BLADE RUNNER 2019 – VOLUME 1
WRITERS: MICHAEL GREEN, MIKE JOHNSON | ARTIST: ANDRES GUINALDO | PUBLISHER: TITAN COMICS | FORMAT: TRADE PAPERBACK | RELEASE DATE: NOVEMBER 19TH
After the wife and child of a wealthy business tycoon goes missing, Aahna 'Ash' Ashina is assigned to investigate the mysterious disappearance and bring them back to safety. One of LAPD's best detectives, Ash's search will take her on a journey down into the crime-ridden underbelly of Los Angeles as she uncovers a terrible conspiracy that forces her to question her own morality. Written by Michael Green (who co-wrote the screenplay for Blade Runner 2049) and Mike Johnson, there's plenty here to excite fans of the franchise with many twists and turns along the way.
The story, for the most part, plays out in a similar fashion to the films as we follow a protagonist who is hired to do what seems like a simple job that ends up having far bigger implications than one could have ever imagined. Nevertheless, it's refreshing to see a female lead who doesn't have any problems with hunting down replicants in sadistic fashion. Battling with a crippling disability, Ash is a cynical detective with plenty of dark secrets. Unfortunately we never really get a chance to burrow into her past as we're catapulted straight into the thick of the action without getting to know much about her background. Some more time focusing on Ash's backstory would have benefited the first volume greatly as it would have been a nice change from the overly familiar plot that takes centre stage.
The art by Andres Guinaldo is superbly detailed, and there is no questioning the level of love that has been poured into every panel. It's a shame, however, that the art style doesn't quite deliver the same kind of visual experience that one has when watching the films. That's not to say that the art is bad, it just doesn't feel like the right fit for such an iconic property. The characters all look a little too cartoony, and the colours by Marco Lesko fail to invoke the dark dystopian atmosphere one conjures up when thinking of the franchise.
At this current moment, Blade Runner 2019 doesn't do enough to stand on its own two feet, although it does have the potential to branch out into something much more unique further on down the line. Right now, however, it seems as if Michael Green and Mike Johnson are playing it safe by following a narrative that's similar to the ones we're already accustomed too. Luckily there are glimmers that suggest we'll be exploring more of the universe in future issues and there are still moments throughout the first volume which manage to appease those who are eager for a Blade Runner fix.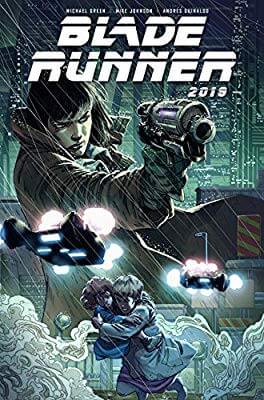 CLICK PIC FOR WHERE TO BUY