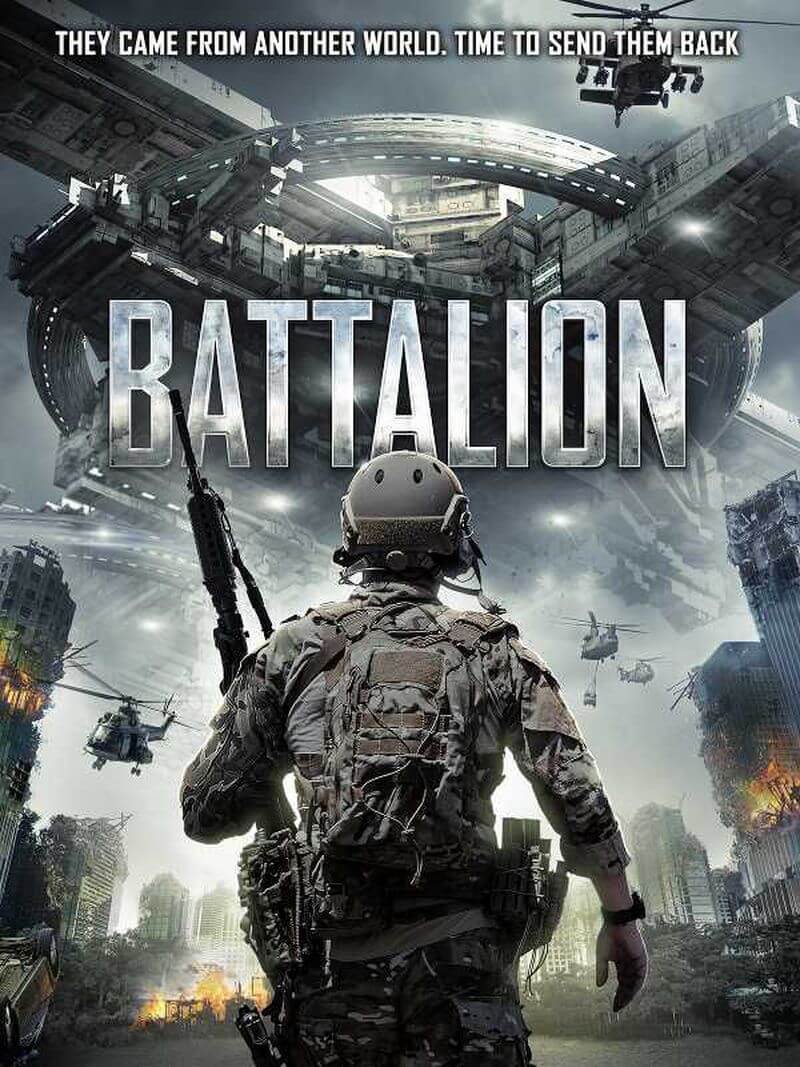 When reviewing low-budget films, you have to take into account that the resources with which the filmmakers are working make it unreasonable to expect them to look as seamlessly slick as big-budget Hollywood productions. Usually, the goal is to focus on ideas and characterisation so that the story remains interesting enough for the viewer to forgive any ropey visuals, but Battalion attempts to deliver spectacle as well as intimacy, and utterly fails at both.
The plot, such as it is, involves a faceless alien race laying waste to the planet for reasons the film never bothers mentioning, while a squad of newly-trained marines are sent on a mission in the South Pacific, all the while, the action is punctuated by flashbacks to the early days of the war. The general feel is something akin to an Asylum version of Starship Troopers, but without the satirical swipes at the militaristic priapic exuberance of the glory of war which made that bastion of '90s overkill so enjoyable.
Things are supposed to be kept exciting by squad members being periodically killed in skirmishes with the aliens, but we are afforded too little knowledge about who they are to mourn their passing, and anyway their deaths are preordained by their non-appearance in scenes from close to the climax seen via ill-advised editing that jumps the action back and forth in time. There are some genuine attempts to develop the characters in it for the long run, but the poorly written dialogue delivered by wooden performances do little to make you care about those spouting it, and really isn't helped by a discordant score that frequently drowns out what's being said.
From a distance. the effects work of the alien ships doesn't look too unconvincing, like something copied with limited imagination from futurism sci-fi art, but the seams start to show whenever they actually move, or when any attempt is made to integrate them into real-world location shots or CG facsimiles thereof. The jerky amination of the aliens themselves comes off like half-rendered sequences from a video game cut scene, and some go as far to wordlessly suggest an overlying plan behind the invasion that is maddeningly ignored.
The shoddy effects and stilted acting might just coalesce into something vaguely fun if you're the kind of person who enjoys watching trashy films in the company of like-minded friends for the entertainment value of their sheer awfulness, but it's difficult to recommend the film to anyone else. It seems spiteful to relentlessly criticise every aspect of an independent film made with limited funding, but even when that is taken into consideration, there isn't any way you can justify, explain away or disguise the fact that Battalion is quite simply a really, really bad film.
BATTALION / CERT: TBA / DIRECTOR: MICHAEL MILLER / SCREENPLAY: MICHAEL MILLER / STARRING: JESSE RICHARDSON, ELLEN WILLIAMS, MICHAEL THOMSON, JAMES STORER, NAVEEN VARGHESE / RELEASE DATE: OUT NOW (US), TBC (UK)