News Book | Written by Anne-Louise Fortune 10/05/2019
Firsts London Gets Geeky with Shakespeare's First Folio!
Here at STARBURST Towers, it's fair to say that we receive invitations to a very broad range of publicity events, and some of them make us perplexed as to the connection with sci-fi, fantasy, or horror. But then some of them are so geekily cool that we turn up anyway, to find ourselves pleasantly surprised by the genre links.
Which is how we found ourselves in the Sam Wanamaker Playhouse at Shakespeare's Globe on London's Southbank very early one recent morning, to learn more about Firsts – London's Rare Book Fair, coming to Battersea Evolution in South West London from June 7th – 9th. The Globe is the charity partner for the event, which will be launched by Stephen Fry, and will enable book lovers to view, and in some cases get up close and personal with a varied range of rare and out of print books, maps, art and related ephemera. Apparently books are increasingly popular with millennials, who are seemingly managing to put their screens down for long enough to read something other than social media posts.
But the reason we've been enticed to The Globe's indoor space is to view one of the less than 250 extant copies of Shakespeare's First Folio. This one is owned by a private individual, John Wolfson, and he's loaned it to Shakespeare's Globe to exhibit at the event and the volume will eventually, if plans are successful, come fully into The Globe's possession in due course, as John has indicated his intention to leave the entirety of his rare and antique book collection to The Globe to form a core part of its planned future archive and library.
Many of the remaining copies of the First Folio are in the possession of The Folger in Washington DC, who own at least 80 copies, there are others in University and college libraries globally and there's a copy in the British Library. But today, John Wolfson's copy has arrived on the Southbank of the Thames, having been couriered by Pom Harrington, chair of Firsts and one of the senior figures at Peter Harrington Rare Books, whose In Her Own Words exhibit Starburst recently visited.
This is the first time the book has left John Wolfson's New York apartment in 40 years, and it's staggering being 9 inches from a book printed in 1623, published by two of Shakespeare's friends, actors John Heminges and Henry Condell, who have written the introduction at the start of the volume. The folio is in remarkably good condition, although the text of The Tempest looks like it's been through the ravages created by the storm magicked into existence by Ariel and Prospero themselves. It's fortunate indeed that The Tempest's text was printed in the First Folio, as otherwise this drama, sometimes considered to be one of the first works of fantasy in theatre, may have been lost to history. As its story forms the basis for not only the movie Forbidden Planet, but also an early story in Neil Gaiman's The Sandman, the world of genre would have been much poorer has it not survived. Macbeth, the dark, twisted and horrific Scottish play many have suffered a similar fate, neither text having been recorded in a solo volume before the printing of the Folio. Pom and The Globe's staff were generous enough to indulge the whims of Starburst, as we massively geeked-out over this artefact of history, allowing us to view some of the most infamous lines in English literary history in their original publication.
The First Folio forms part of the Shakespeare's Globe exhibition at Firsts London, and will be accompanied by books containing the texts Shakespeare may have used for inspiration for such plays as Romeo & Juliet, and Twelfth Night. Also, in the exhibition, curated by John Wolfson, will be items from The Globe's extensive prop collection. The Firsts – London event will also include a virtual reality experience set in 18th Century Paris, and on Sunday June 9th, visitors can bring their own books to the fair to be appraised.
If you want to be in the same room as a lot of old books, and the almost four-hundred-year-old First Folio in particular, then you should check out the event. You're unlikely to be allowed to touch the Folio - it's valued at £2million - but other exhibitors will be happy to let you loose through their leaves.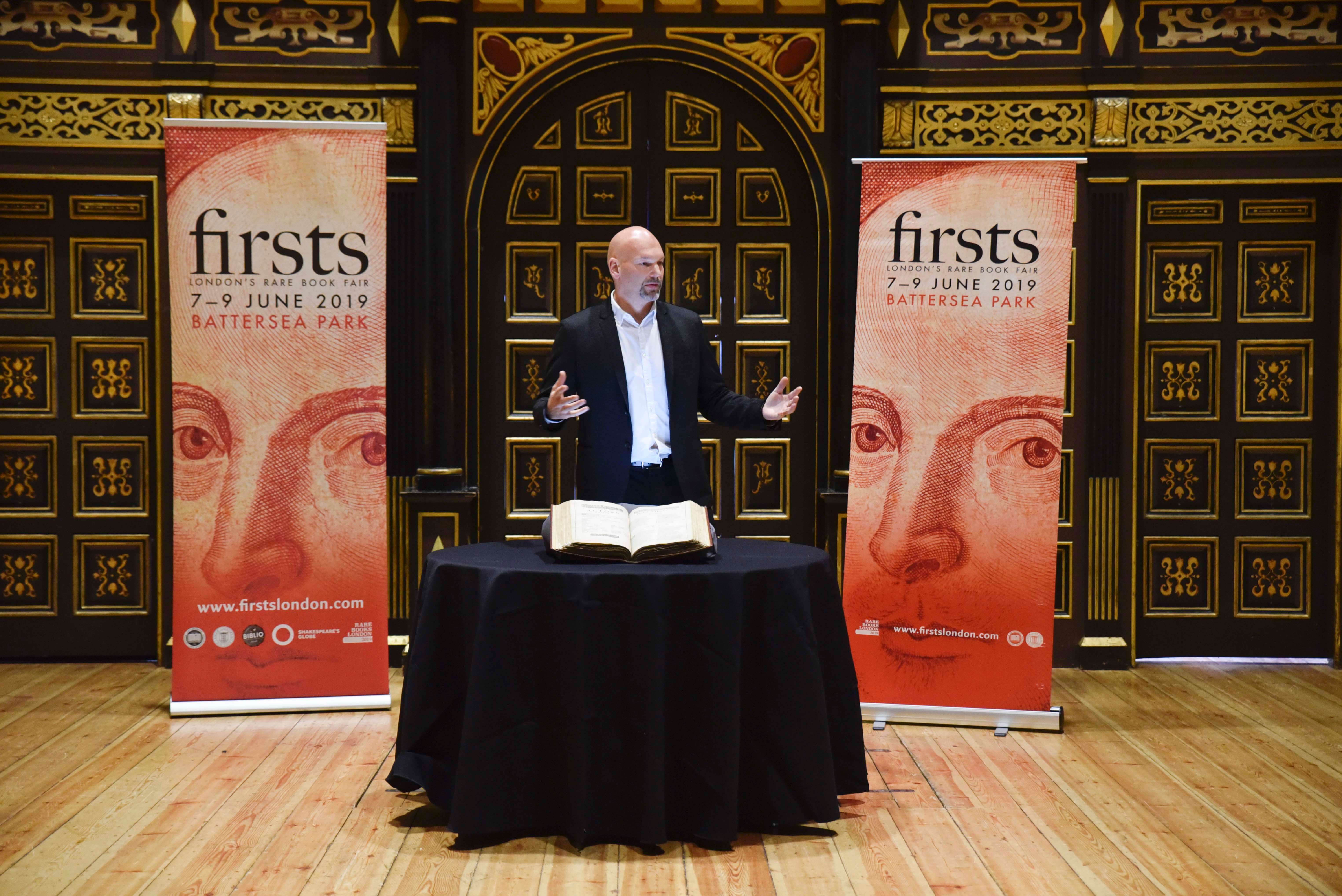 Pom Harrington from Firsts London
Firsts – London's Rare Book Fair will be open at Battersea Evolution from Friday June 7th to Sunday June 9th. Friday opening hours are Noon to 8pm, Saturday 11am to 7pm, and Sunday 11am to 5pm. Tickets are £20 on Friday, but free on Saturday and Sunday, and a free shuttle bus will run from Sloane Square (District and Circle Lines on the London Underground). More information can be found at www.firstslondon.com