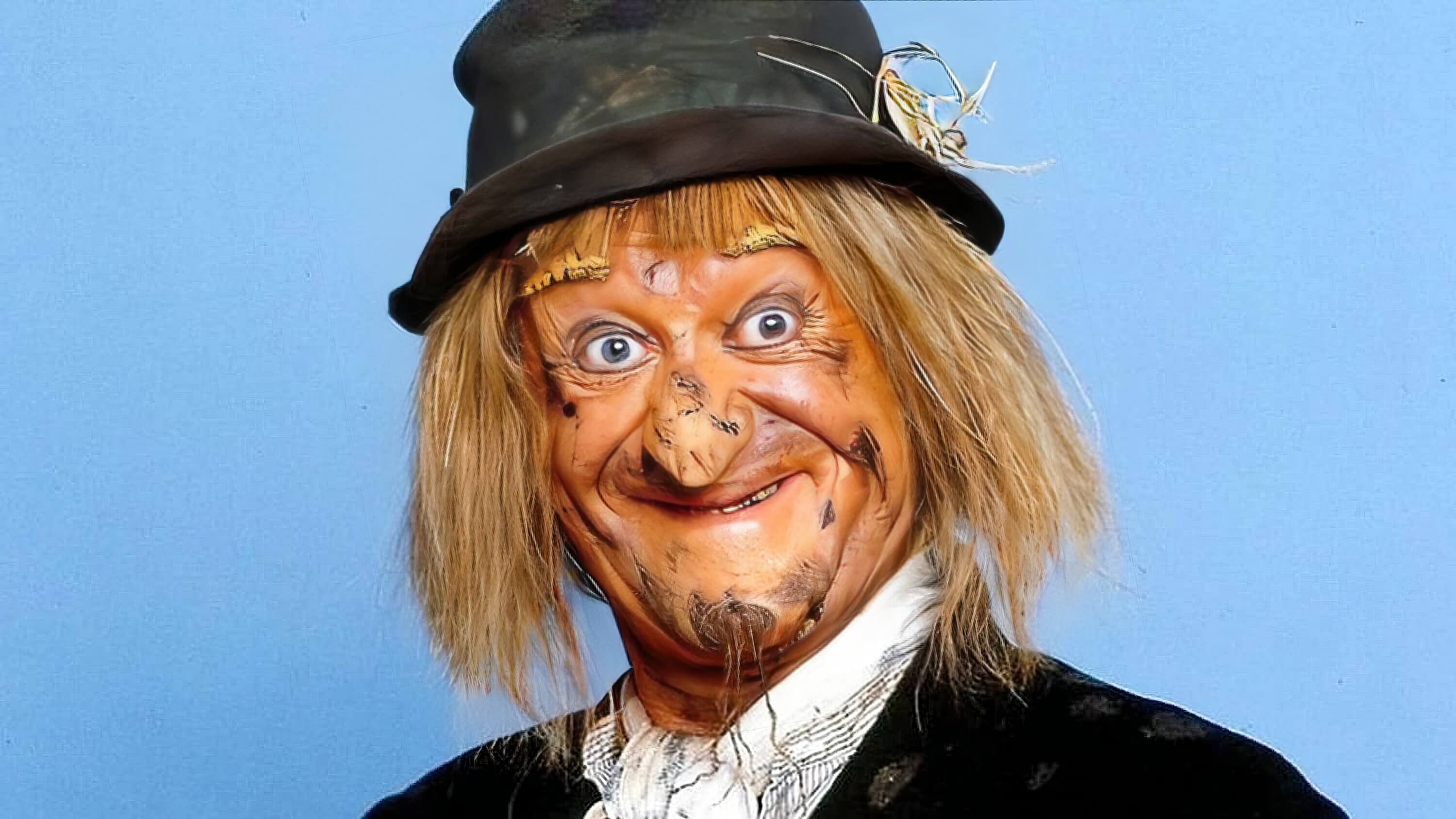 He may have haunted the nightmares of many a young 'un back in the day (see our Accidental Damage list as part of the Splatter Royale feature in STARBURST #479), but Worzel Gummidge, the show and the character are still much-loved by many. Fabulous Films is releasing the complete restored edition of the series on December 19th. Available on Blu-ray and DVD, loaded with bonus features, and we have two copies to give away! Just watch the trailer, read on, and enter below… 
Well, I'll be bum swizzled! Jon Pertwee's loveable scarecrow Worzel Gummidge is getting a new lease of life, with a new high-definition restoration of the classic ITV family series. Enjoy for the first time the entire series now fully restored from the original 16mm negatives. Worzel Gummidge, The Complete Restored Edition has all 31 episodes and is packed full of an incredible 170 mins of bonus material, both old and new including all new audio commentaries with cast and crew and a double-sided poster of all new artwork by Graham Humphreys.
Worzel Gummidge originally ran for four series from 1979-1981, based on the books by Barbara Euphan Todd published between 1936 and 1963. The original TV series was produced by ITV's Southern Television and starred Jon Pertwee, Una Stubbs and Geoffrey Bayldon.
Keith Waterhouse and Willis Hall (Billy Liar, Budgie) wrote the scripts. They originally intended to make it as a film with Jon Pertwee but they were unable to raise the money or the distribution. Pertwee asked them instead to write a pilot for television which both the BBC and Thames Television turned down before Southern Television picked it up. Although it was made as a children's series, it quickly became a TV show the whole family could enjoy with Jon Pertwee stating that 65 per cent of the viewers were adults.
Cinematography was by Wolfgang Suschitzky (Get Carter) and Gerry Antiss (The Omen). James Hill, who won an Oscar for his short film Giuseppina, was the show's producer/director. The series was nominated for seven BAFTA awards and was adapted into a hit West End musical.
The book's author Barbara Euphan Todd was born in Arksey, near Doncaster, in 1890, but grew up in Soberton, in Hampshire – the county in which the series was predominately filmed. The main locations being near Winchester in the villages of Stockbridge, King's Somborne, Michelmersh and Braishfield, along with Broughton for the fourth series.
       "[Worzel Gummidge] frightened the shit out of hundreds of children"
Jon Pertwee
The series immediately became a cult classic. Sadly when the production company lost the rights to Worzel Gummidge, the new owner chose to stop production.
Jon Pertwee who played the Doctor in Doctor Who from 1970 to 1974 said that Worzel Gummidge was his favourite role. In 1980, he recorded the theme for Worzel Gummidge and 'Worzel's Song' reached 33 on the UK Singles Chart. Pertwee was buried with a Worzel doll on his coffin.
Guest stars included Billy Connolly, Bill Maynard, Barbara Windsor, Connie Booth, Mike Reid, Joan Sims and Lorraine Chase. Sean Pertwee played an uncredited role in series four episode The Jumbly Sale.
Aunt Sally has the same name as the traditional English throwing game dating back to the 17th century, like a coconut shy but players throw sticks or battens at a model of an old woman's head. The World Aunt Sally Open Singles Championship (WASOSC) takes place annually at the Charlbury Beer Festival in Charlbury, West Oxfordshire.
Synopsis: Walking, talking scarecrow Worzel Gummidge lives on Scatterbrook Farm, where he stands in Ten Acre field. When children John and Susan move to the countryside, they learn that life is never dull with Worzel around. The restless scarecrow dreams of a life away from his post in Ten Acre Field and often wanders off into mischief. Whether getting his heart broken by the creaking fairground doll Aunt Sally (Una Stubbs) or disobeying his maker, the eccentric old Crowman (Geoffrey Bayldon), Worzel is lucky to have his young friends on hand to help rescue him from trouble.
Cast: Jon Pertwee, Una Stubbs, Geoffrey Bayldon, Jeremy Austin, Charlotte Coleman, Mike Berry, Norman Bird, Megs Jenkins.
Bonus Material: 9 all new audio commentaries with cast and crew, A Visit to Scatterbrook Farm with Jeremy Austin and Wayne Norman revisiting the original Hampshire locations, Isolated music and effects tracks on 6 episodes, Unearthed Southern Television promotional films released for the first time, An option to watch each episode with the original Southern TV curation and the original continuity from a Southern TV repeat of the Christmas special, BFI Restoration Preview – a panel discussion with Jeremy Austin, Mike Berry, Lorraine Chase, Wayne Norman and Sean Pertwee from the launch of the restoration, A Chat with Saucy Nancy – Barbara Windsor reveals her experiences of appearing several times throughout the series, A Visit to the Crowman – Geoffrey Bayldon recalls his fond memories of playing Worzel's creator, Experience life through Worzel's eyes with "Worzel Cam" featuring rushes from the original production, The abandoned episode 'Worzel Gives a Lecture' presented as an audiobook with Jon Pertwee, Barn Find – an insight into the discovery of the original Worzel film cans, Restoring Worzel – showing the process of bringing the original film negatives back to life, Revisiting Worzel – Jeremy Austin shares photos from his personal collection while behind the scenes during the audio commentaries, Outtakes – a couple of bloopers from the 2nd series, Worzel Audio Outtakes – cast and crew can be heard rehearsing key scenes from the 3rd series, Sounds Of Worzel – sound effects outtakes from 1981, Worzel on Location – rare 8mm footage of Worzel And The Saucy Nancy being made, Trailers and adverts – ITV publicity adverts shown across the network for the series and when Worzel went commercial for the TV Times, Extensive photo galleries for each series, Day by Yesterday with Jon Pertwee's final appearance on Southern Television as Worzel, Day By Day Cast Interview – Worzel, Aunt Sally and the Crowman appear on the regional ITV programme to preview the series with predictably riotous results, Series guide booklet, A Double-Sided Poster of the All-New Artwork, And many other archive treats including: Una Stubbs and Geoffrey Bayldon on This Morning, Jerry Austin and Charlotte Coleman on Southern Gold, a rediscovered interview with Jon Pertwee on Robson's People, Worzel in character on The Saturday Show, Aunt Sally visits Downing Street, Lorraine Chase on Day By Day, plus Worzel on the radio.
WORZEL GUMMIDGE: THE COMPLETE RESTORED EDITION is released on Blu-ray and DVD December 19th from Fabulous Films.