To celebrate the release of the upcoming horror documentary Living With Chucky, Lightbulb Film Distribution, in association with Universal Pictures, are delighted to be offering one lucky winner a bumper Chucky Bundle!
The winner will get their hands on Blu-ray copies of Living With Chucky and limited edition Chucky Season 2: Steelbook and Good Guys Edition II.
Living With Chucky explores the appeal and longevity of the Child's Play franchise – and its iconic bloodthirsty doll. Filmmaker Kyra Elise Gardner, daughter of iconic special effects artist Tony Gardner, takes an in-depth look at the groundbreaking horror franchise. Featuring interviews with creator Don Mancini, Chucky's voice actor Brad Dourif, and cast Jennifer Tilly, John Waters and many more!
Chucky Season 2 – Chucky is back! The notorious killer doll continues his onslaught of terror in Season Two of the hit horror series from franchise creator Don Mancini. 
Living With Chucky Extras
– Feature Commentary
– Trailer
– Candid Conversations
– Favourite Death Scene
– Reception from Families
Chucky S2 Blu-ray Good Guys Edition II Extras
– Lenticular Slipcase
– Chucky Pop-Up card
– 4 x Art Cards
– 32-page booklet
Chucky S2 Blu-ray Steelbook Extras
– Gloss finish & embossed Steelbook limited to just 2000 copies
– 4 x Polaroid Cards
– Slide this Steelbook into the 'Good Guys Edition II' to create the Ultimate Chucky set!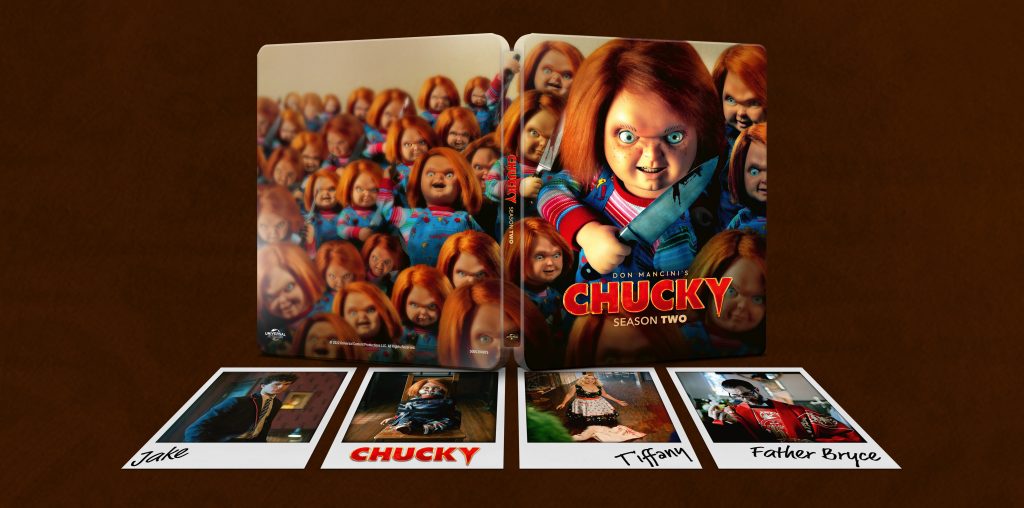 Living With Chucky will be available in the UK & Ireland from April 24th across Digital Platforms & Blu-ray
'Chucky Season 2 will be available on DVD and Blu-ray from May 15th, Good Guys Edition II and Steelbook also available for superfans.'