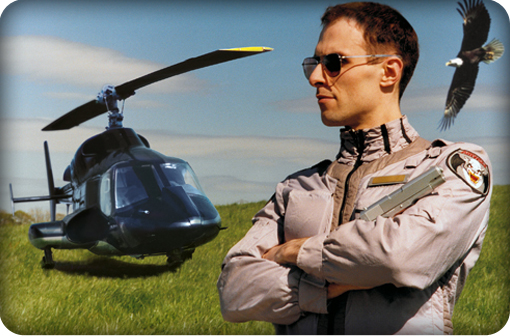 Coming screaming out of last month's Airwolf articles like an ignited turbo jet, Starburst speaks to musician and Airwolf fan par excellence Mark Cairns about the long road that led to, and leads from, his lovingly created soundtrack album to the series, Airwolf Themes.
Musician and uber-fan, Mark Cairns has had a long and productive relationship with Airwolf which has taken him all over the world and allowed him to meet cast and crew of the show, be filmed at key Airwolf locations (Red Rock Canyon – as a promo for Airwolf Themes) and even drink champagne with his musical hero and composer of the original Airwolf score, Sylvester Levay, at his ex-NATO airbase home. However it all started a long time ago, at a very early age, in not so innocent times.
"Airwolf arrived one Friday night out of the blue," Cairns says. "Growing up during the Troubles in Northern Ireland, my parents always commented that as a child I was always fascinated with anything rotary, as the British army's helicopters flew overhead on their daily sorties ferrying troops around the Ulster countryside, safely out of harm's way from IRA terrorists."
But, as exciting as real life might have been, Airwolf was something else.
"I'd never seen, or heard anything like it in my life. I was hooked. As the series progressed, I just loved all the espionage and intrigue, engaging characters, and aerial ballets, all that lovely hardware on display, coupled with the fantastic music underscoring everything."
And it was that music that really became Mark Cairns' driving obsession.
"It was the music especially that blew me away every week. Not just Levay's iconic Airwolf Main Theme, but the unique "tune of the week" approach that composers, Sylvester Levay and later Udi Harpaz, Ian Freebairn-Smith and Bernardo Segáll came up with for every episode. It was just so different to anything else on the air at the time, and all during the sunrise moment of synthesizers maturing with warmer, bigger, fatter sound; so much so that the Film Editors on the show admitted having trouble adjusting their editing styles and experience to the (then) new-style of music."
Airwolf was cancelled in 1986, leaving a helicopter-shaped hole in the lives of many people Mark's age. But he refused to leave that hole un-filled, no mean task in the days before torrent sites and social networking fan pages.
"In the 1987 classifieds of 'Video Today' magazine I found a tiny advert from a guy in Cornwall called Jason Waters who was running a very basic club and fanzine for the show."
Following up that one lead Cairns found himself, within less than a year, taking the club's reins from the retiring Waters. But just caretaking wasn't for Cairns, he had ambitions.
"I built it up quickly during the late '80s and early '90s into an international organisation with members in 24 countries (the "Wolf Pack", a phrase I coined) and we communicated with a fan magazine called 'File A56-7W'."
Alongside the level of work and commitment it took to keep an international fan club going, Cairns was also slowly germinating the musical obsession that would lead to Airwolf Themes.
"I searched long and hard from the late '80s onwards to find an official release of the show's soundtrack," Mark recalls, "but it never came, only rubbish recreations of the main theme that were so far removed from the off-air recordings as to be laughable."
But Cairns was committed to getting that soundtrack, even looking to try to get it released himself.
"Initial enquiries with Universal into the state of the original soundtrack quickly revealed that it would take a fortune (which I didn't have) plus spending a long time in California with an engineering studio to get the original score released."
So he did what any reasonable obsessive would do, and started working on the soundtrack himself.
"By the mid-'90s, my experience and interest in synth and orchestral music had grown exponentially due to the series, so having made up my mind that nobody would ever release a proper soundtrack by that stage, I decided to give up the International Airwolf Appreciation Association and start work on recreating the soundtrack myself. Having announced my editorial retirement, Wolf Pack member Gerry R. Forrester contacted me to say that he'd released the original Ken Freeman score for the BBC series, The Tripods and that he'd be interested in a joint venture with Airwolf."
But taking over the project himself was no easy route, with digital audio still in its infancy, Cairns found that his vintage Yamaha synthesizers just couldn't stand in for the orchestral work that needed to be done. But then in stepped the internet, as Cairns searched for anything he could find on Airwolf's first composer, Sylvester Levay, and a little serendipity.
"I found an early internet fan forum celebrating Levay's German Musical works, which he was doing full-time in Germany and Austria after leaving Hollywood behind. I asked the webmaster to put me in touch with Levay and she did. Two days later, I asked Gerry Forrester to do a deal with him to hire the Munich Philharmonic orchestra to recreate some of the well-known orchestral pieces from Airwolf."
"Levay then took those recordings to legendary engineer, Bernie Grundman in Los Angeles who earlier had engineered the record-breaking 'Thriller' and 'Bad' albums for Michael Jackson. It all came together after that."
As much of a coup as that was, in marketing the project, Cairns had seriously underestimated what he had on his hands.
"In the film and music industries, a special limited edition 2CD such as Airwolf Themes is labelled a 'vanity project', so when we sent it to the manufacturer we seriously underestimated the show's popularity. We were so naïve that we only thought we might sell 200 – 300 copies to the die-hards. In the end, we shipped it to 42 countries worldwide!"
"The new medium of eBay launched the soundtrack's value into the stratosphere. Within a year of its release we started to see a phenomena of people buying a couple of copies, with original Airwolf Themes sets changing hands from a starting point of over $300 dollars, then $500 dollars, then over $700 dollars, finishing just shy of $1000, to give it a world record on eBay for a television soundtrack that has stuck to this day. Even in 2014, a second-hand set was sold for over $500 dollars, despite the fact that from 2007 – 2013 that our official, re-mastered Digital Download versions were readily available from online music stores."
With the success of the album, doors began opening for Cairns at every turning.
"Airwolf has been a catalyst to create opportunities that have taken me all over the world: including helping to get fully-working Replica Airwolf Helmets into production (that became the catalyst to the creation of a full-size Airwolf replica helicopter for a museum, that we subsequently used in our official Airwolf Themes video promo at Red Rock Canyon), going to South Africa where another (this time flying) Airwolf Replica had been built to promote an "Arrive Alive" road safety campaign in the late 1980s (I've been producing a documentary on that for a few years now), meeting original cast and production crew from the USA to Israel, to ending up at Sylvester Levay's ex-NATO airbase home and music studios in Germany with the Airwolf Documentary team last year… which was the ultimate highlight to this Airwolf "lark", breaking open a few bottles of bubbly with my creative hero.
Several years have gone by, but that obsession with getting the soundtrack 'just right' still lingers. And on the new Airwolf Extended Themes Cairns has been able to do much more than he would have dreamed possible when working out the melodies on his vintage Yamaha, extending the range of this second flight out.
"I always felt we missed a lot of the great episodic tracks from the original series and especially the wide range of musical variations of Levay's iconic main Airwolf theme." Cairns says. "There has been a fifteen year gap from 1999 to 2014 since the original album was released, and in that time the technology has advanced dramatically. That has enabled me to tackle the themes that I couldn't do the first time around. However, there are still some things you can't cheat with, no matter how good the technology. Thus all the cello solos, plus acoustic and electric guitar work on the new Extended Themes album are played by real session players."
"Also in that fifteen year gap, fans have been crying out to hear those additional missing themes, and there have been many people who have followed the sequel album's evolution and progress over all that time, to the point that I felt like a vapourware peddler, holding the proverbial carrot tantalisingly close but never actually coming up with the goods until now."
Not only does the album have a pre-existing fan-base salivating ready for its release but the independent-minded Cairns also has a partner in obsession this time round, a Bulgarian/Polish composer and associate producer, appropriately named Jan Michal.
"Jan Michal Szulew (pronounced Yann Meehow Shooleff) had contacted me around 1999 and shared his developing passion for the show's theme music and synthesizers during those interim years until finally, after hearing a demo track and his acute attention to detail, I felt I was hearing a raw, untapped talent that could grow and develop into something brilliant if given a chance, so I gave him his break and brought him onboard the sequel project Airwolf Extended Themes to concentrate solely on the variations of the show's main theme, leaving myself to get on with recreating more of the episodic 'tune-of-the-week' themes so indicative of the series."
But as to whether the sequel will replicate the record-breaking resale success of Airwolf Themes, Cairns is ambivalent.
"I don't know whether people are hoping that lightning will strike twice with the value of Airwolf Extended Themes and the second-hand market. However I'm more interested in having created something that Airwolf fans can physically hold in their hands. All we can do is our best and I think Jan, my small team and myself have hopefully achieved that after five years' hard work in celebrating the wonderful music on Airwolf and the original creative talents of its composers Levay, Harpaz, Freebairn-Smith and Segáll."
To learn more about the Airwolf Main Theme and Extended Themes, go here. To listen to a sample of the Extended Themes soundtrack, go here.