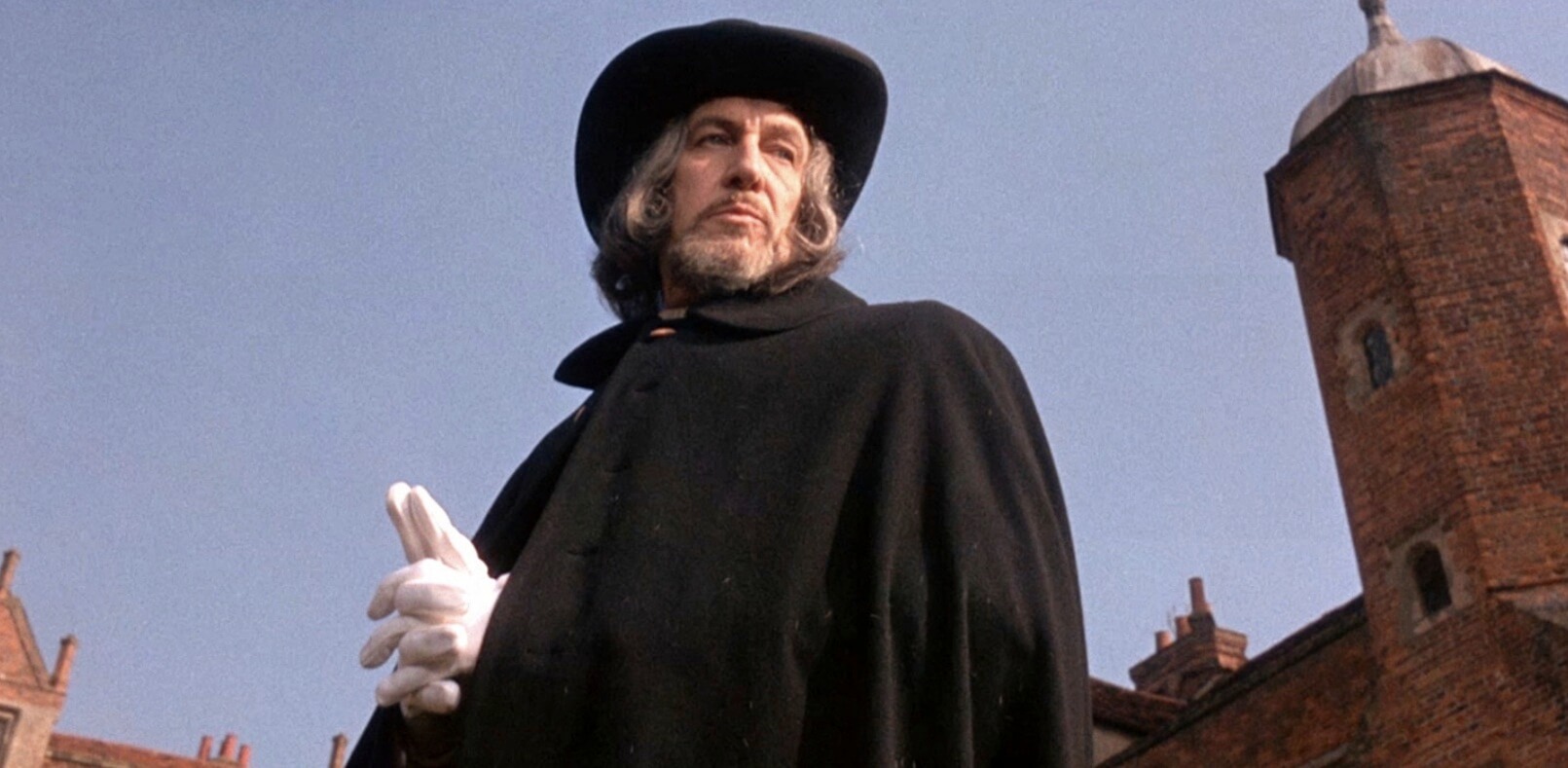 Witchfinder General (renamed The Conqueror Worm in the US), is an incredible piece of horror history, but still not as respected as it should probably be. Pick up any decent book on genre films, peruse any list of the Top 100 scariest films, and the 1968 British classic will appear.
Yet, there is something about Witchfinder General that has made it an evasive classic. Sure, there's a Blu-ray release (hardly the benchmark of success but a useful barometer for a film's availability) yet that release seems less fawned over than other folk horror titles. The Wicker Man (1973) has settled comfortably into long-term highly profitable cult status thanks to the impassioned cries of many popular film critics. Its charms are many. The Blood on Satan's Claw (1971) and Mark of the Devil (1970) have bumper-pack releases crammed with retrospective glee and studious affection whilst Witchfinder General seems comparatively abandoned.
But then perhaps a film which reveals the horrors of the witch hunts is a harder sell than say, a folk musical with Christopher Lee and Britt Ekland. Or another Vincent Price/Edgar Allen Poe romp. Reeves and scribe Tom Baker (not that one) adapted the film from Ronald Bassett's historically accurate novel of the same name about historical bogeyman Matthew Hopkins, deciding that a stark immersive period experience would prove more affecting than the familiar cosy feel of late '60s British horror.
It's a film that has been left to grow its cult status of the infamous feud between Price and director Michael Reeves, not to mention Reeves' untimely death (a barbiturate overdose) just nine months after the film's release. Witchfinder General then represents Price's rejuvenation and Reeve's swansong. On both counts it delivers.
The Price of Pain
For many a Vincent Price fan, Witchfinder General is a shock to the system because it's actually scary. And really dark. Like The Wicker Man, Witchfinder General is built on a foundation of disappointment and aggravation. Crossed words and crossed swords, locked horns and all that. Reeves was an up-and-coming director with two ambitious low-budget films under his belt, Price was a well-established performer tied under contract with American International Pictures. Reeves was self-assured and determined, Price was caught re-living a camp caricature cultivated through his numerous films with Roger Corman and William Castle. Reeves originally wanted Donald Pleasance and told Price as much. The filming seems to have been as gruelling as the finished product itself.
The atmosphere took a toll on Price whose confidence was severely knocked by the young upstart. Regular calls to the producer at AIP proved Price was depressed in the cold damp of Suffolk. There are numerous stories from the making of the film that prove the antagonistic relationship between a slightly bratty Reeve and a cornered Price. The producers demanded additional nude sequences for the German release of the film. The meddling had started with Price's casting and lasted right up to the very moment it appeared in cinemas. For the US release, the film was retitled The Conqueror Worm after the Poe poem, and given a bookending narration from Price. The idea was to tie it into Price's lucratively cheap Corman collaborations. Reeve's shining chance at success became increasingly dirtied and his tensions with Price seem to have carried much of the pressure.
We can only assume the tensions worked in the film's favour. Price's characteristic flourishes, the eye-roll, the drop-dead one-liners, the persona of flamboyance, are all stamped out. What's left is a detached performance, separate from many of Price's most popular. For a horror icon, Price's credits are skimpy on genuine chills, but what Witchfinder General delivers more than makes up for it. He's a bastard. A total bastard. There are no fun contraptions, zesty turns of phrase, bitching, murderous wives, or LSD trips in sight. In a way, it honestly feels like Reeves dropped a depressed Price in the middle of nowhere with a pistol and said: "do your worst".
Landscapes of Terror
One of the most impressive things about Witchfinder General is how good it looks. The vast foggy countryside of 1700's England is an intriguing prospect; grim by some counts, idyllic by others. The opening shots of early morning sun through autumn trees, sheep in green pastures, and the looming silhouette of the gallows are haunting, to say the least. The tone is set right from the start: this is a film that corrupts the idyllic. The gallows, along with the opening hanging overseen by Price's Hopkins, position the rowdy townsfolk as a kind of congregation rounded up under an awful ritual. People like Matthew Hopkins were able, as Reeves' film suggests, to creep across England like a pestilence, exploiting fear wherever they went and delivering some perverted release through what was essentially sacrifice.
Witchfinder General is not a film about Matthew Hopkins, though. Reeves spends far more time with the young couple Richard (Ian Ogilvy, Reeves' friend and star of his first two films) and Sara (Hilary Heath), star-crossed lovers doomed by the tide of misfortune Reeve's film unleashes on them. Richard is a picture of English heroism, a soldier in Cromwell's army and a romantic to boot. Sara is beautiful and innocent, the sweet niece of a lovable priest. The priest promises Richard he can marry Sara if he takes her away and keeps her safe. On his way back to join his regiment, Richard unknowingly points Hopkins and his aid in the direction of his beloved. Later, when Richard dispatches her to Lavenham (Suffolk) for her protection, he again finds out too late that Hopkins is bound for that village next.
So there's an almost farcical element, a cruel omnipresent fate that douses the film in danger. It's a doomed romance film, paired with a war film. There's also a real sense of the westerns Reeves admired so much growing up. The vastness of the Utah plains is here translated as the green fields of England, wide-angle shots help give scope to a relatively small-scale story. When the movie turns into a revenge thriller, it embraces outlaw justice and takes even greater steps into western territory. Reeves was clearly a gifted filmmaker and his tight direction ensured the film rose above its potentially flat subject. The ambition is perhaps more apparent when considered against its contemporaries.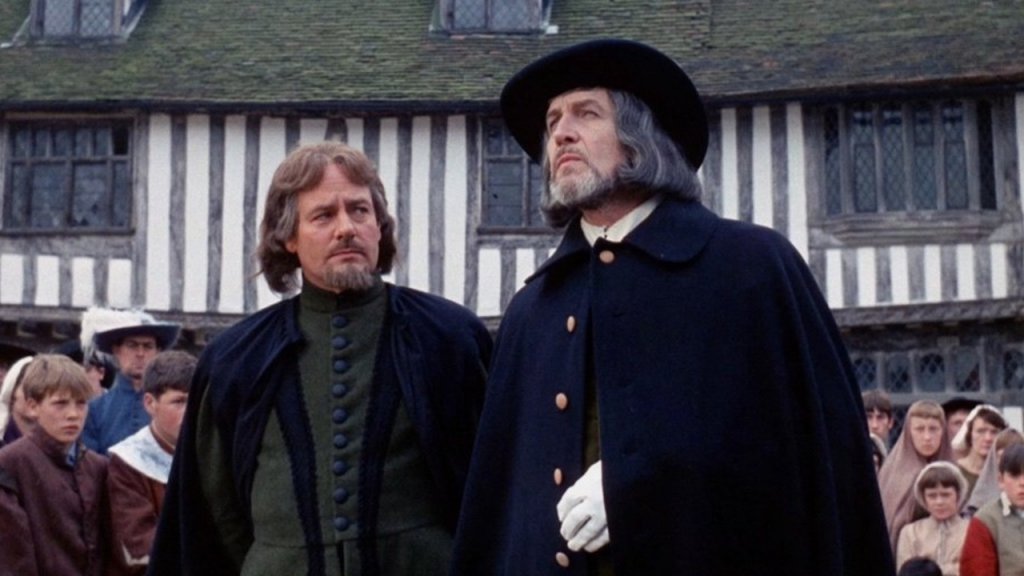 A Time of Unrest
1968 is a strange year for horror. In the US, George A. Romero's Night of the Living Dead kicked off the zombie genre whilst Rosemary's Baby brought occult conspiracy to the contemporary city. In the UK, Hammer continued its success with relatively low-budget historical horror flicks anchored by big names. Euro Gothic was preparing to move into the sleek seedy world of giallo thrillers, which would, in turn, open the door for American slashers. One of Hammer's finest films, The Devil Rides Out, would be released just months after Witchfinder General, but the studio would struggle for relevance in the paranoid world of '70s horror. Basically because their films didn't scare anymore.
Witchfinder General is a kind of retrospective from a young voice just before the genre went through its rejuvenation. The '60s opened with an introverted psychological approach, characterised by POV-heavy flicks like Psycho, Peeping Tom, and Eyes Without a Face. They closed with a hyper-paranoid nihilism grown from a decade of shocking assassinations, horrific Vietnam coverage, and violent civil rights protest. Reeves utilised documentary realism to give his film a gritty edge over Hammer's characteristically theatrical brand and that's why it's more terrifying than most of the house of horror's output. It's also perfectly constructed to get under the audience's skin with a depressingly timeless tale of corruption and violence.
Though it might not seem it, Witchfinder General feels politically charged. It's an angry film that looks to expose the feeble reasoning of genocidal zealots, nonsensical power structures, and age-old systems of belief. Reeves' witch film never once steps foot in the realm of the supernatural, this is a film about paranoia and frenzy, scapegoating and delusion. Hopkins' fateful judgements are based on his hatred of women and a suitably hypocritical puritanical streak, his right-hand man tortures seemingly for sadistic pleasure. Reeves' film can barely be called a witch film since its concerns itself less with the potential supernatural and more on the dependable horrors of personal desire and fear.
Controversy
The graphic representation of violence is often historically accurate and gruelling to behold. Careful editing and unflinching brutality make the film as hard-hitting a horror now as it was in '68. Reeves is disgusted by the fact things like this actually happened, and he wants his audience to be just as horrified. It's a perfect film about the horrors of war, its fallout, and the often murderously misguided voices of the masses.
At the time of its original screening, the film was considered a gratuitous venture and a tough sell for a non-horror audience. The palpable misery on screen proved a tough gamble and censors wanted Reeves' passion project neutered. The witch burnings and torture sequences are nothing short of confrontational, and the BBFC predictably trimmed two minutes of content. Viewers might actually be surprised at the brutality on screen. From start to finish there's a real tangibility to the violence thanks to great editing, acting, and sparingly used gore. Witchfinder General is hardly the torture porn film it is painted as, those credits remain with some of the sloppier witch hunt rip-offs that came in the following years, but its edge is surprisingly uncompromised by age. Controversy hid the film's other qualities, but there's surprising lack of fetishistic exploitation. It's straight horror.
Legacy
Finally, one of Witchfinder General's most important credits is its importance to the short-lived folk horror subgenre that it essentially kick-started. These films are rural by nature, usually focusing on an outsider's disorientating experiences in small-town life. It's a genre built on culture shock, historic evils, and the horrors of ritual.
The genre's key films are a relatively small collection of late '60s and early '70s tales of paranoia, conspiracy, and usually, the British countryside. The most famous include those aforementioned classics such as The Wicker Man and The Blood on Satan's Claw as well as witch hunt films like Mark of the Devil. Together, the movies present an essay on history rearing its ugly head. The Wicker Man is frightening because it drags age-old unthinkable practices to the modern 'civilised' world. Witchfinder General is even more horrifying because not only do we know these things happened, they happened for a long time right across the world, never mind the relatively isolated brand of genocide Hopkins unleashed on rural England. Many of the more outright practices of folk horror films may be gone today, but the concept of ritual and scapegoating is far from dead.
So, of course, folk horror isn't dead. Those filmmakers who grew up watching Witchfinder General and The Wicker Man have fed new life into British cinema by rekindling the fires of ancient ritual. Ben Wheatley's work in A Field in England and, more importantly, Kill List reek of folk influence. In the US, Robert Eggers' The Witch approaches similar folk themes with a dark Gothic twist and a suitable amount of grit. Witchfinder General may have been young Michael Reeves' final film, but its impact is still being felt in genre cinema to this day.
WITCHFINDER GENERAL can be seen on LEGEND as part of the Vintage Vault on December 4th. Sky 148, Virgin 149, Freeview 41, and Freesat 137