Features | Written by Luke Spafford 22/06/2018
Don't Stand So Close to Me – Keep a RADIUS
Hitting the Horror channel is the sublime flick Radius, and let's say from the very off that what it lacks in budget, it makes up for in concepts and twists that'll leave you feeling like you've been sack-tapped by Le Chiffre. The film is the second collaboration for directing duo Steeve Léonard and Caroline Labrèche - the latter of whom also takes on head writing duties. Since little can be found regarding the pairs previous credits, Radius can surely be classed as the cinematic birth of these two very talented folks.
Radius was premiered in July last year at the Fantasia film festival where it garnered critical acclaim and an award, before going on to show at further fests and continuing its gong-winning streak at places such as FrightFest. The premise of the film was reputedly the bolting together of two very separate ideas, one previously seen on screen and the other from a comic book. To cite the two sources would be to blow open the meatier elements of the plot, so we'll just leave you to decide what they were after you've seen it.
That's not to say the film is derivative or at all unoriginal; far from it. It takes a very simple notion and pulls at it until it nearly snaps. In the finest tradition of high concept ideas, you are left constantly asking 'what if it were me?' and the perennial pub favourite 'would I use that power for good or evil?' Answer: you can't use it for good.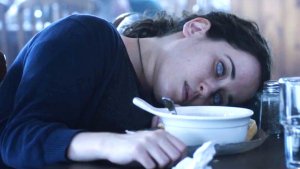 We need to decide whether this is horror in the truest sense, or merely (for want of a better expression) horrific. The deaths, while plentiful, are never more than the whiting of eyes and a flop to the floor like a shopping bag full of shit. And yet, while we say 'nevermore', the effect is so simple in its execution that it makes each death all the more powerful, laying out quite how short and ineffectual a life can be. Nihilism at its very bleakest. There are no bombastic explosions, just cars sliding off the road, another corpse found at the wheel. Coffee shops are filled with punters slumped over their still warm coffee and streets are littered with people caught in the middle of everyday life before summarily losing it with the click of a finger. It is this that places the film squarely in the jaws of horror rather than teetering on the harder edge of a horrific thriller.
The look of the film would seem to owe a lot to The Walking Dead, but don't let that great show's deathly drop (and perhaps demise?) let you think that the comparison is in any way an insult. The locales are reminiscent of TWD, as is the grainy effect on the film stock, though one suspects this is an artistic choice rather through conversion of celluloid to digital. The lighting hits the mark; nothing is too dark, or too light in a way that would give a feeling of the artificial. It's that wonderful sweet spot, and like good editing, you simply don't notice it. Speaking of the editing, handled by one of the directors, the pace trips along nicely, giving time where needed and skipping past what could have been the slower parts.
The cast is minimal, with the two leads doing most of the heavy lifting. One notable exception to this is the policewoman appearing near to the beginning of the film played by Alicia Johnston. Her two scenes end almost heartbreakingly and add a sense of the real to the whole piece. And as for that tone, this is a serious film; don't expect any laughs or levity to lighten the mood. It starts dark and ends darkest. Dark in a good way, though, like what the term meant before Christopher Nolan stamped his boot into it, chewed it up and spat it out repeatedly.
You'll have seen Diego Klattenhoff in something before, having Pacific Rim, After Earth, and Homeland to his name. Klattenhoff plays Liam, who starts the film as an amnesiac in an overturned car, and nails the performance. By far the strongest thing in a cast of very strong actors, it's a shame we don't see him in more or at least in bigger parts when we do get to see him. He does brooding without being all frowns and forehead and brings a touch of Michael C. Hall in looks and demeanour.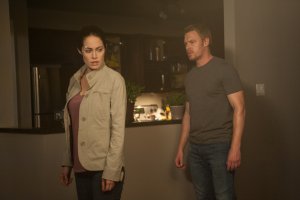 Klattenhoff (we like saying his name) is joined by Charlotte Sullivan as Jane (prizes for guessing what her surname might be, answers on a postcard please). Sullivan is something of a veteran when it comes to fire/police department based US TV shows, with her only real genre effort being an episode of Goosebumps way back in the olden days (1996). Sullivan's' Jane also starts amnesiac and if we are honest, a little bit weak. Thankfully, this subsides after the first ten minutes and while her dialogue is often relegated to plot exposition, the actor quickly stands shoulder to shoulder with her co-star. That plot exposition, it has to be said, is deftly done. There are intricate little nuggets of information that really do pay off, even as insignificant as they may seem, a line about pizza, in particular, being a good example.
So after all that teasing, let's take a gander at the plot. The central premise of the film is explored very early on, so that's safe to mention, but there are a couple of real curveballs thrown in that we will do our best to avoid.
Radius opens with that massively overused shot of an eye opening before the camera pulls back to reveal a rather battered and bruised Liam, having flipped his car on the outskirts of a small town. Bumbling his way into town, He is nearly run over by a car nonchalantly sliding off the road and crashing down the embankment. Inside the car, Liam discovers a young woman, her eyes whited out as though she's spent the night tooting on the good stuff. Realising he has lost his memories, our man checks his wallet to discover his name is Liam Hartwell and starts to wend his merry way home. Entering a coffee shop he passes, Liam discovers all the punters are dead and begins to suspect this is all the result of some airborne virus.
At this point, there comes a couple of flora based shots that make your stomach lurch into The Happening territory. Fear not, for it ain't the trees wot killed 'em. This must have been a purposeful nod on the part of the filmmakers, it is just too knowing for it to have been happenstance. Liam makes it home and begins taping up the windows, handkerchief to his mouth as he goes, trying to piece together who he might be from the artefacts around his home. Sometime later, a farmer approaches Liam's home and promptly drops dead.
It is here that we learn one half of the films' central idea. Anyone who gets within a certain range of Liam drops dead. Having worked this out, he ensconces himself in the shed for a bit of bourbon-based thinking time.
Our other amnesiac, Jane, comes to find Liam at his home, finds him in the shed and explains that (shock!) she was with him in the car crash. What's surprising about this is that she seems to be able to approach him without popping her clogs. Saying nothing of the deaths, Liam presses Jane on what she knows about the crash, which, as we're sure you've guessed, is precious little. The pair goes off to investigate the crash site.
It is here that they discover a charred circle and work out that having been thrown from the car, they both landed on opposite sides of said circle. Using a poor unsuspecting pigeon, Liam demonstrates his theory to Jane, that it is his proximity that causes death. What did the poor pigeon do to deserve that? Flying-Rat lovers beware, there is a lot of birdicide (not a real word), which perhaps belies a hatred for our winged friends on the part of the scriptwriter?
Jane freaks out, as you would, and starts to walk off. A passing cop see's the altercation and stops to ask if they are ok. Jane continues to walk away and the policewoman hits the dirt. It is now that the pair realises that, for some reason, Janes proximity to Liam stops the death effect he emits.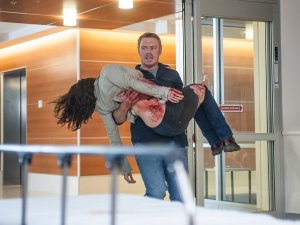 To continue further would really spoil the rest of the film. With one simple conceit, the movie layers up questions and themes with a nuance lacking in so many other flicks, let alone a 'horror' film. We use the word horror there in annoyed reference to the way most mainstream critics view horror, as nothing more sadomasochistic slashers, unable to make us think. Scantily clad girls running down corridors or leering bogeymen in the shadows. A medium for titillation, rather than insight to the human condition. Radius does make us think.
A good chunk of the first part of the film essays what it would be like to be stuck with a stranger, possibly for life, and the consequences of being pulled apart. It posits the notion of meeting, falling in love and knowing that no matter how south the relationship goes, you can absolutely never part. A couple of nights in the spare room maybe, but when separation causes the deaths of hundreds and possibly thousands, divorce would simply not be an option. It's a bleak view, sure, but in its own way it asks us a question many of us would fear to entertain 'what if I do stop loving you?' That's not to say there is a romance between the pair, but the allegory in their plight is plain as day.
Throughout, there are flashbacks and some flash-forwards; this is, after all, a film about discovering the secrets of the past. But in no way are these ever obvious or trite, instead, they give the often missing sense of what it must be like to pick up the pieces; to work out who you were and more importantly, what you were. This involves rediscovering relationships lost to the characters; relationships still very much in the moment to the loved ones they find along the way.
It's safe to say that Radius keeps one guessing all the way, but there are answers and a very definite ending. Some twists are obvious, some very much less so. Around the start of act three, the pieces start to fall into place and with that comes the realisation that the proximity/radius/MacGuffin is exactly that - a MacGuffin. You'll reach the end of the movie slack-jawed, having had the rug pulled firmly from under your edge of the seat placed buttocks, and for the realisation that Radius is much more than a horror thriller. It is about people, it is about life.
While it is a wonder to live in a time when horror is finally getting the true mainstream critical appraisal it deserves, that appraisal still seems reserved for the bigger budget Cineplex stompers. Little is said of the smaller guys trying to dip their toe in the pool. Those guys are still left to champion their work at film festivals around the world, spending their own hard earned cash pushing these little, but by no means lesser, works of art. It is not hyperbole to use that phrase in the case of Radius. Catch it on the telly box when it's on. Then make someone's day by tweeting the makers and telling them just how damn fine it is (tell 'em STARBURST sent you).
Radius deserves to be seen by as many people as it can. It is that rarest of things: thought-provoking popcorn fun that will leave you blindsided; like getting a wet kipper to the kisser. And, oh boy, what an ending.
Make sure within fifty feet of Horror Channel when RADIUS screens on June 26th. Sky 317, Freeview 70, Virgin 149, Freesat 138.