Features | Written by Ed Fortune 17/11/2017
Claire North | THE END OF THE DAY
Claire North is one of the pen names of prolific author Catherine Webb, who is also known to younger readers as Kate Griffin. As Claire North, she has written three science fiction novels, including the award winning The First Fifteen Lives of Harry August. We caught up with her to talk about her recently released novel, The End of The Day.
STARBURST: Why the multiple pseudonyms?
Claire North: At first, it was because I was getting old. The irony! When I first started scribbling I was a teenager, and I wrote books that were groovy for teenagers, because I write for my own joy and happiness. Whether writers mean it or not, what they write tends to reflect who they are; my writing reflected that I was a young adult. Then I hit my early twenties. I was changing and so did the books. As a result my publisher decided to slap the equivalent of a PG warning on my stuff, a sort of 'it's like the books of Catherine Webb, but with more swearing' tag. The fastest and easiest way to do that was to have a soft pseudonym, and become Kate Griffin. It's a way of declaring 'like this but different'.  Also if you look at most bookshelves, 'W' as a surname is in a very inconvenient place, whereas 'G' is bang smack at eye height. This stuff can actually matter....
Then a bit more time passed, and I wrote The First Fifteen Lives of Harry August, and once again my publisher was a bit like 'oops you're changing what you do, shucks' - or words to that effect - and it was pseudonym o'clock. Becoming Claire North, however, was less about the health warnings and more about how genre is perceived. I absolutely believe that science fiction and fantasy can tell some of the most incredible, exciting, thought-provoking stories out there, while being full of joy and wonder - actual wonder, a thing that leaves you gaping at the power of imagination and full of hope for humanity. But sometimes people equate it to simply orcs and aliens. Which is fine. It can be exactly that, and that's great. Entertainment, the joy of a romping adventure - these are things to be valued and cherished for the delight they bring, not to be looked down upon.
But with the Claire North books, my publisher judged that there was probably space for these books to be seen as both SF, but also as something a bit broader. And so Claire North popped into existence, as another way of differentiating what I write now, from what I have written before.
Also 'N' is at a very handy height on the bookshelves...
What's the elevator pitch for
The End of the Day
?
Hi.
Death is coming.
Asked me to send you his best.
Have a lovely day!
How would you describe The Sudden Appearance of Hope to an elderly relative?
I only have one elderly relative, and she summarised one of my recent books as: 'I could actually read this one,' so you are setting a bit of a challenge here.
Probably: 'Gran. You love me very much. I love you very much. I'm proud of this book. It's about a woman no one can remember. I'd be really happy if you felt like giving it a go, and if it's not your thing then that's ok, we need never talk about it ever again.'
I know it's not detailed.  But it's honestly what I'd say.
How did the process for writing The End of the Day compare to The First Fifteen Lives of Harry August?
This is gonna sound awkward, but... I'm struggling a bit to remember. The End of the Day was finished about two years ago. Harry August was finished six years back. I wrote Harry August while working as a lampie at the National Theatre, and The End of the Day travelling between shows, so it's a bit of a blur of snatched moments between cues.
Both had logistical challenges. In Harry August, it was tricky keeping the ages of various characters in order, and both books required attention in terms of places visited and the details that bring them to life.
Other than that... I can never really remember much about the act of writing. I remember stories, images, sounds and voices. I remember... colours as much as anything, the colour that a chapter had, or the way something tasted as it was written (synaesthesia is a bit of a family trait).  I remember looking up and being in certain spaces - the Blue Room at the National Theatre, or Manchester Central Library - but actually writing words? My brain doesn't really clock the process. Just... feelings and tangled bits of sense. Some words feel square, heavy; others are hot, some are light and fast and fluffy, others are... something else again. Harry August felt solid, four beats to a bar, different shades of blue. End of the Day was more full of popping noises, of shimmering things that come and go, reds and oranges. That's how writing feels, all the time. Which doesn't make this answer any more useful for you, I'm afraid, but remains the truth.
Why are we so obsessed with the end of all things?
Naturally - we're scared of dying.
Because, of course - we're scared of living.
Let's face it, dying itself... yes, it's a scary thought, but what's actually petrifying? A live lived in pain.  The ones we love being left behind. The hurts we never healed. The things we never achieved. A life without meaning. An existence without purpose. Being forgotten. Our achievements melting away into nothing more than a carbon footprint on a withered world. Having spent all our days in a haze of minor misery and distress, justifying the tick-tock of our existence with 'maybe tomorrow it'll be better' when it isn't, and never will be, and we blame ourselves for being prisoners of misery.  Being shunned. Being alone. Living our lives in hardship and greyness and never giving to others the joys we seek for ourselves. The end of everything isn't about the snap-pop of existence fading, or even the promise of an afterlife in which we are punished or rewarded for our actions. Afterlives just serve to enhance the great big terror of today: what is my life worth?
What am I doing with my life?
Day by day, we live with this question by never thinking about what happens after tomorrow, and after the tomorrow after that.
But the end of all things throws that question into terrifying, sharp relief.
If my life ends today, what was it good for?
And from that, the scariest question of all: who am I, really, when push comes to shove?  What will I do, when tested at the last?
It's the big question we spend our days exploring, with an answer that we never really wanna know.
Which of the Horsemen would you most like to invite for tea and scones?
Either War or Death. Famine would eat all the scones, and conversation with Pestilence will probably turn you off your supper. Whereas War will probably have incredible anecdotes, even if the entire evening ends in tears; and I can't imagine Death caring much if you have the wrong kind of jam.
Which character in End of the Day was the most fun to write?
Probably Death.
I mean, Charlie was lovely to write, because he was kind. It's not that often I write characters who value kindness so intensely in their souls.
But Death sits both outside the trivial furies of the world, above and beyond it, while also being such an integral, fundamental part of life that it creates an opportunity to do something... different.  Death is also seen, in this book, through the eyes of the beholder as something unique to everyone, which makes him/her/it a reflection of their beliefs in ultimate form.  And that was tonnes of fun.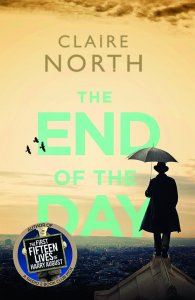 Is there a bit that you didn't get to put in the book? Is there an element of the story that didn't fit?
I feel like yes? I feel distinctly like we lopped 30,000 words off this book, but for the life I me I can't remember what they were, which does imply that they weren't very important....
I also seem to recall a lot of chopping and changing. One of the flaws of the book (and arguably there are plenty) is that the story isn't a linear 'there is a problem' - 'ah now we must solve the problem!' narrative. When death is inevitable, unavoidable, and the very essence of every story we meet is that it must end, this is kinda a needful thing. But as humans we are drawn to stories that encapsulate something neat, and forward. This book isn't really that, and there was a fair amount of wiggling to try and shape it into something that could be both true to the story it tells, but also to the stories we as readers' desire.
What's next?
My next book is called 84K and is out in spring 2018, I think. It's the story of a dude called Theo, whose job it is to audit the value of someone's murder. If you can afford to pay for the life of the person you killed, then you get off free, and there is nothing in society which can't be bought or sold, if the price is right.
Theo is just a civil servant, part of that universe, until it all goes wrong.
I'm also one of three writers contributing to an anthology of novellas for Black Mirror, which I believe is also due to be published early 2018.
And I'm writing another book as well, just to keep things ticking along, and beginning to dabble - very cautiously - a little bit in film and TV.
Apart from that: there's always another show to light!
If you were writing in someone else's world, what world would that be?
Roger Zelazny's Chronicles of Amber, which permits its characters to go anywhere you can conceive between the twin poles of Chaos and Amber while weaving in massive tales of politics, family and revenge. Although I probably wouldn't, because I'd be too scared of screwing it up. But that's sorta the nature of some of the greatest worlds out there, isn't it? Earthsea, Discworld, the Culture... these are incredible, beautiful places to sink your senses into. But as much as every reader has a unique experience in every book, every writer's best work is something that is from deep within themselves, whole and true.
Which of your works would you most like to see adapted to other media? Why?
Controversially... the Kate Griffin books (controversial 'cos I haven't written one for a while!). Urban fantasy. Things going boom! London! Magic! Dragons! Think of the hours of fun!
Also these books probably lend themselves to going beyond anything I ever wrote, if adapted for TV, and taking on a life beyond the page. I think that's a lovely thing. I think it might be the point.
What's the cleverest thing you've ever done?
Fixed an unresponsive projector that had its menu stuck upside down... and in Mandarin.
What's the silliest thing you've ever done?
Well... I did choose to spend my career writing books for cash while being a theatre lighting designer and technician. As choices go, it's pretty up there.
Apart from that blip, I'm pretty dull. Although if given a choice between hanging out talking about literature, or sneaking away to go play on trampolines, it'll be bouncing all the way. Did you know there's a street near the Excel Centre in Silvertown that has trampolines in the roads? That you can go and bounce whenever you want? How did we have to wait for the 21st century for this to be a thing?
Why is genre fiction so popular now?
Hum... you mean, popular with lotsa people as well as the millions of joyful souls who've totally known about this stuff for decades?
Because geeks have been around forever, and so the change in the perceived popularity of genre fiction has to be seen as a two-fold thing. 1. It is getting more popular, yes. But also 2. It's now ok to be a geek, sorta. You're less likely to be shunned or bullied. Geeks are coming out of the woodwork and there's a lot more of us than anyone thought....
It's worth highlighting this geek thing, because humanity has an uncanny ability to define its self-worth by diminishing others. I am better than you because I read Nabakov. He is better than she because he reads Proust. It's horrifying that something as beautiful, as humane as books should be co-opted into this dance of self-worth, given that books fundamentally are exercises in empathy. It is also a very human instinct to define ourselves by what we are not. We are not geeks. We don't like books with violence. We'd never be caught reading soft porn on the Piccadilly line. Or Harry Potter.  Whatever. Because we send signals to the world, constantly, about who we are and how we wish to be perceived, and what we read is part of that dance.
So part of the shift, I think, in the popularity of genre is that it's getting ok to read what you like reading. For it not to be another thing, like body image, which is used to shame or cruelly define us.
Films have helped, because there comes a point where you have to admit that Marvel films are fun, that Arrival is pure SF, as is Gravity and the Martian, that Game of Thrones really does have dragons too, and that Doctor Who is something the grown-ups enjoy. And that as well as being enjoyable, sometimes they have ideas too.
By opening up these universes in a huge way, I think it makes it easier for SF/Fantasy to not be 'that weird geek thing' but to be an accepted part of our cultural landscape. There's still a way to go.  A huge amount of genre fiction is still tagged as 'speculative fiction' or 'magic realism' as if 1984 or Brave New World or Frankenstein or Handmaid's Tale aren't, in fact, SF.
Genre has its uses. It serves to help us find more books that may be like the books we adore. But it is also occasionally a tool for drawing lines, for dressing ourselves up in borrowed clothes to project the image of who we think we should be, rather than celebrating the diversity of what we love and who we are.
Is the world of genre fiction as open and as accessible as it thinks it is?
Yeap. Firstly, you've used 'genre' here, which I'm gonna assume for a moment includes crime, thrillers, romance etc., as well as SF/fantasy. All of which are frequently accused of being
too
accessible, whatever that means. "It's just a bit of pulp," is I believe the phrase used to cover stories from the genres that brought us Raymond Chandler, John le Carre, Agatha Christie, Stephen King, Doris Lessing, David Mitchell, Arthur Conan Doyle and I'd argue could also cover Jane Austen and Emily Bronte.
So.... Yeap.
If you just wanna zoom into SF for a moment, then sure, I get where the question might come from.  It's easy to be thrown into the deep end, into warp drives and fire magics and so on - into a landscape that feels distant. But when we watch medical dramas on TV, or anything much of that ilk, we tolerate CT scans and PETs and MRIs and 'third lymphoplastic spinal nerve' or such like, not because we understand it, but because we understand the emotion that lies beneath it. We embrace that when someone says "intubate stat!" what they also mean is "and I still love you!"
Science fiction is no different. But it's easy to be scared of genre. It asks you to set aside your preconceptions and let your imagination soar over some of the hardest questions out there. What is humanity? What is life? What is death? What if? What if what if what if? These are scary questions.
They are also beautiful questions. They are at the heart of every piece of our daily struggle to find out who we are, and whether what we do matters as both individuals, and a species.
And what's best, is we can ask these questions in genre while having a shit-tonne of fun. It is the most accessible thing ever. It is the questions of the philosophers packed up in spacesuit, given a laser and told to go get that asteroid.
Genre is awesome, and it welcomes you with all its heart.
Where can readers find out more about you?
@ClaireNorth42 and www.kategriffin.net. Claire North, author of The End of the Day (Orbit, £8.99) is shortlisted for the 2017 Sunday Times Peters Fraser + Dunlop Young Writer of the Year Award, in association with the University of Warwick. Claire will be speaking at a panel event with the other shortlisted authors at Waterstones Trafalgar Square on November 28th (6.30-8.30pm). The winner is announced on December 7th. www.youngwriteraward.com.