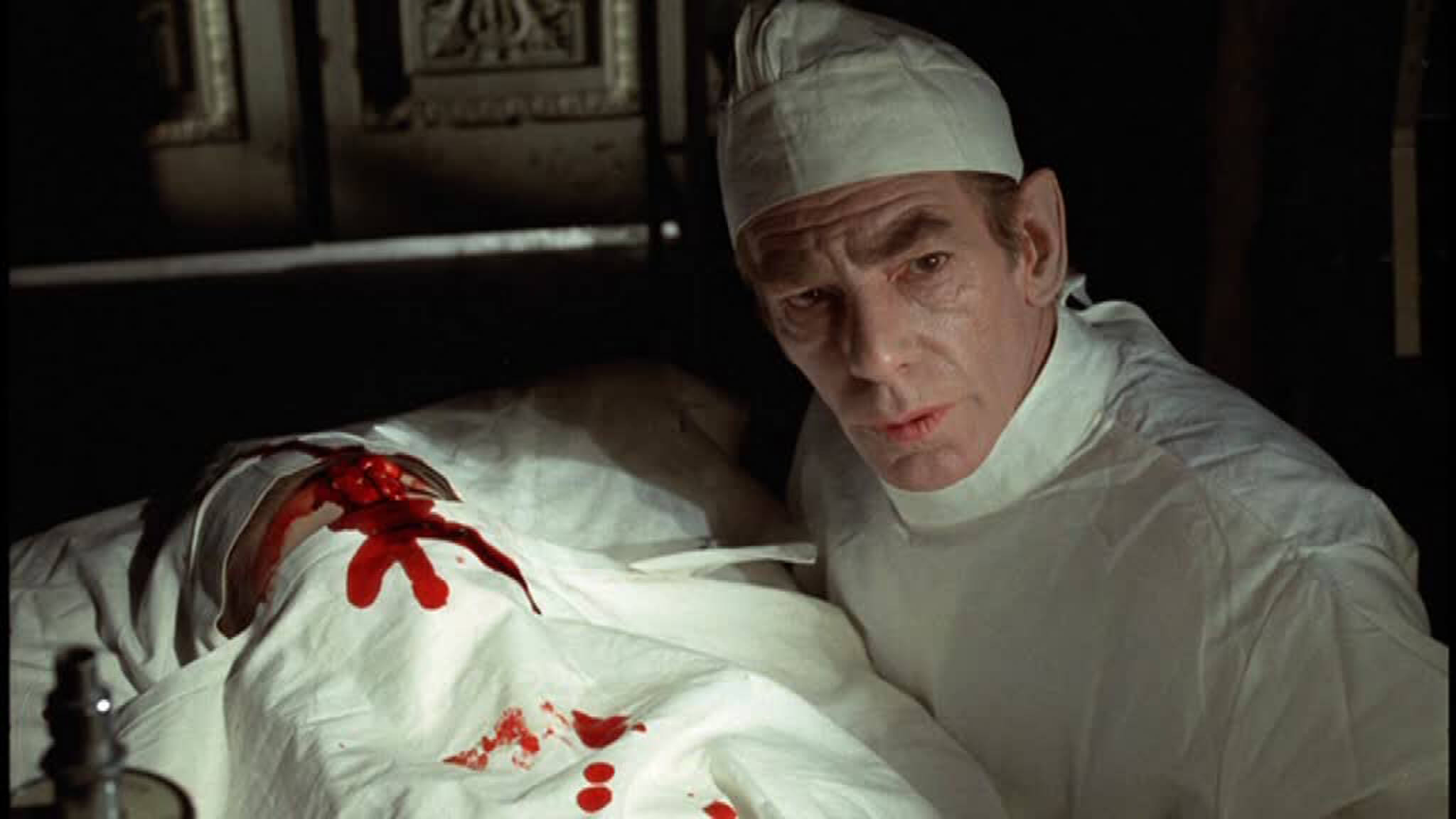 In the early '70s, British horror cinema was having something of a renaissance. Hammer was getting more sexually explicit, and Amicus were pulling big-name theatrical stars into their anthology films. On the periphery were the independents. Richard Gordon was a producer with decades of experience. He had worked with the giants of the genre, Bela Lugosi, Boris Karloff, Peter Cushing and Christopher Lee. His 1958 film Fiend Without a Face is one of the most fondly remembered of his oeuvre, not least for the stop-motion flying brains in its climax. In 1973, he followed up the hit Tower of Evil (1972) with Horror Hospital.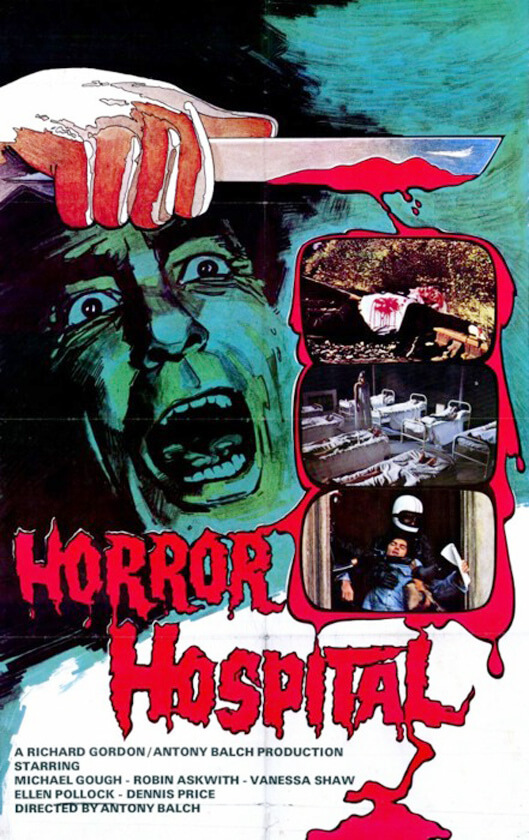 At the heart of the story is Jason Jones (Robin Askwith), a down-on-his-luck songwriter, disillusioned with bands stealing his songs, and having to suffer the indignity of being beaten up by the band's transvestite frontman. At the suggestion of his beatnik group of friends, he decides to take a break. The one advert that jumps out at him is for 'Hairy Holidays' (tagline: "fun and sun for the under 30s"). The travel agent's office is less than inspiring, being in a back street and fronted by the salacious Mr Pollack (Dennis Price, in one of his final roles). He suggests a trip to Brittlehurst Manor, a health retreat in the countryside, and he sends him off with a rather unnerving wink. While on the train Jason meets Judy Peters (Vanessa Shaw), and makes an instant good impression, reassuring her that he's not a threat. Judy just so happens to be going to the Manor to see her Aunt Harris (Ellen Pollock), who she has never met. She's not too shy to tell Jason that she used to run a brothel before running away with the mysterious Dr Storm, who runs the health farm. When the car Judy is expecting to be sent to collect her fails to turn up, the conductor (Kenneth Benda) at the station sends them in the right direction, while slyly notifying the Manor. The pair eventually get picked up by two sinister-looking bikers and are met at the imposing entrance by the diminutive servant, Frederick (Skip Martin), a sarcastic little bugger who's forever spouting random comments. Aunt Harris is not at all pleased at Judy turning up and having only one room free, the pair have to share, not that Jason is complaining. At dinner, they meet the other 'residents' who all have the same vacant expression and ugly scars on their foreheads. The only other normal-looking girl, Millie (Barbara Wendy) suddenly becomes hysterical and is led away by the mysterious biker men.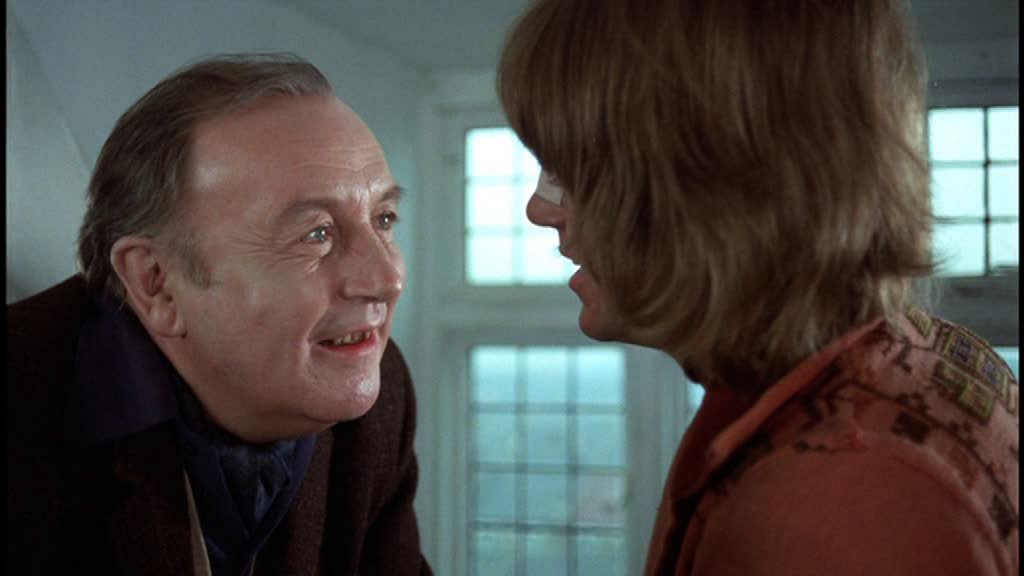 Retiring early, they are disturbed even more to find the water running with blood, prompting Dr Storm (Michael Gough) to make his presence known. Wheelchair-bound, yet imposing, he apologises, and it becomes clear he has a ruthless streak, "women can be so troublesome, Mr Jones, but then so can little men", as he gives Frederick a swift whack across the face with his cane. Cracking his knuckles, he insists they cannot leave at this late hour. Nursing his smarting face, Frederick leaves them for the night with a sardonic, "don't forget to brush your teeth". The blood in the pipes has come from the cisterns where the hapless dwarf has left the heads of two recent runaways. A fate which will soon befall Pollack as he appears at the Manor demanding payment for all the nubile young bodies he has sent Storm's way. Smugly walking away with his money, he is cut down by a car equipped with a retractable blade (and a basket for collecting the neatly severed head). Jason witnesses all this, and soon finds out what Storm's evil plans involve. He is producing a race of obedient super-humans, performing a lobotomy-style operation that makes them impervious to pain, and then able to carry out his every whim; "Just like puppets… And I'm the puppet master!"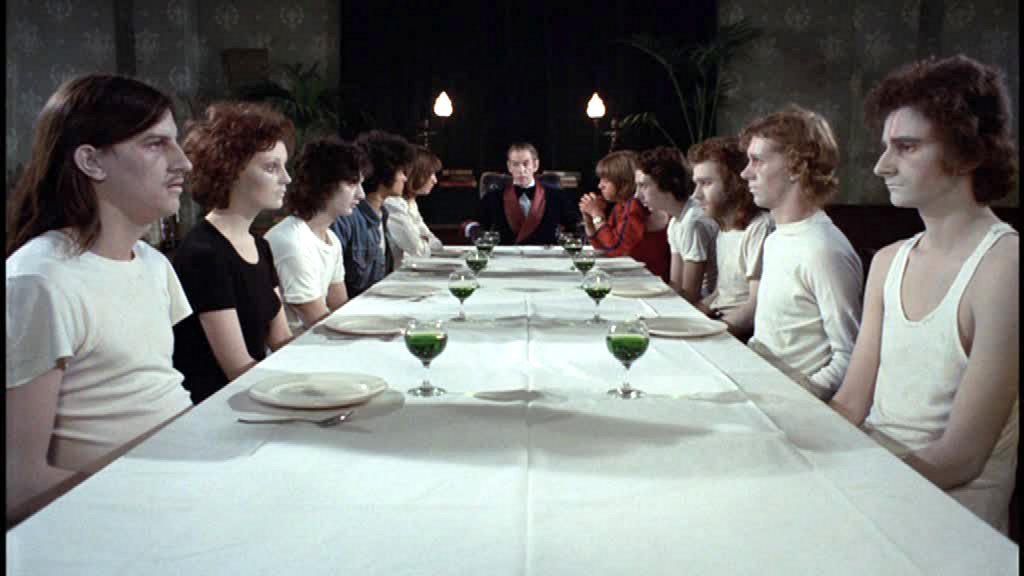 Director Antony Balch and producer Gordon had previously worked together on the 1970 film, Secrets of Sex (aka Bizarre), a film that certainly lived up to its name, in which an Egyptian mummy narrates a series of saucy, occasionally horror-tinged vignettes. Balch had made a name for himself as a distributor; one of his triumphs was getting Tod Browning's classic Freaks (1932) through the British censors, after decades of being banned, a feat even Gordon himself had unsuccessfully tried in the late '50s.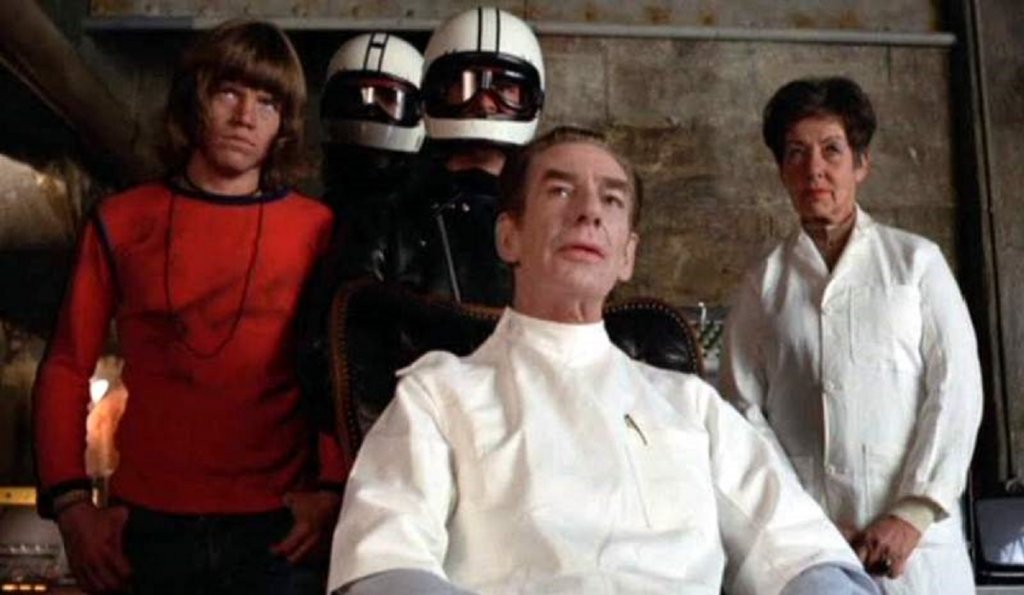 The film has many great homages to horror films of old, with nods to films such as Mystery of the Wax Museum (1933), The Tingler (1959), and Psycho (1960) for eagle-eyed fans to spot, and it was intended from the start to be taken as a comedy. Although not a spoof as Carry On Screaming was, it was certainly not meant to be taken seriously.
Richard Gordon went on record several times stating it was the most fun he ever had making a film, due mainly to the fun atmosphere Skip and Robin brought to the set. Both were more than willing to do anything asked of them and kept everyone entertained between takes. Robin Askwith, of course, is most famous in the UK for his series of films based on the Timmy Lea Confessions novels, which began in 1974 with Confessions of a Window Cleaner. It's often forgotten that the first film was directed by Hammer veteran Val Guest. Robin had already made a name for himself, with small parts in Lindsay Anderson's If… (1968), numerous UKTV appearances, and several films with Pete Walker, notably Cool It Carol! (1972), which despite being marketed nowadays as a sex comedy is actually quite a gritty look at life in the early '70s. He even appeared, urinating over a crowd, in Pier Paolo Pasolini's The Canterbury Tales (1972); a film which is also notable for having soon-to-be Doctor Who Tom Baker with his knob out. It's art, of course. However, Robin did make a number of horror films in this early period, too. He had a minor role (and is killed off quite spectacularly) in Tower of Evil (where he first met Gordon) and a similar role in Pete Walker's slasher The Flesh and Blood Show (1972). Later on, he'd appear alongside Rula Lenska and a tatty-suited giant gorilla as Ray Fay in the cult 'classic' Queen Kong (1976). Intended to cash in on the big budget Dino De Laurentiis production of the same year, this poverty row effort is so bad that you can't help but enjoy it. He pops up now and again in equally low-budget efforts cranked out by Richard Driscoll, who has so far managed to release the same film, re-edited and re-titled several times, each time removing all reference to the older version from the IMDb listings. The film is at times called Evil Calls, or The Raven, and even The Legend of Harrow Woods. When quizzed about Driscoll, Robin wisely decided to keep quiet, only saying, "Well, I got paid", which is much more than most of the people who worked on his 'films' did.
Eagle-eyed viewers can spot both Gordon and Balch in the opening scenes, Gordon is leaning against a wall in the background (his only cameo in any of his films) and Balch, under a false beard and glasses, is the one who tells Jason he needs a holiday.
While far from a household name, Skip Martin is a familiar face to horror fans. Not only did he have a very small role in the Richard Gordon-produced Corridors of Blood (1958), he was memorable in Roger Corman's The Masque of the Red Death (1964). He also appeared in both Circus of Fear (1966) and Hammer's Vampire Circus (1972), unsurprisingly playing one of the circus performers. Horror Hospital was arguably his biggest role, one in which he starts out as a villainous sidekick but ends as a hero, albeit reluctantly. He pays the ultimate price and his demise is rather touching. Skip's acting is deliberately over the top. He knew the intention was to make a fun horror film and mugs for the camera admirably. His rather surreal quips add to the sense of being trapped in a nightmare. When the script called for Skip to pile up the two biker men guarding Jason and Abraham in the cell in order to reach the top latch on the large, metal door, he was more than willing to add his own opinion on how it would be done for the best comic effect. Indeed, the sight of the actor, in his early 40s at this point, dragging the burly, strapping, leather-clad henchmen across the floor and flailing under his own tiny legs is hilarious. He didn't mind being laughed at and threw himself, literally, into the part. Robin also came up with some of the more humorous aspects of the shoot. In the climax, when Jason, Judy and Abraham are dashing through the burning building, being chased by the biker boys, they run through the kitchen, and Jason stops to help himself to a piece of pie that has been left on the table. Not in the original script, this moment is brilliant, and completely fitting for the character. Gough also entered into the spirit of the piece. After asking what would be expected from him, he hams it up like a trooper. Unfortunately for genre fans, he didn't like to talk about his horror work, of which there was plenty. It didn't stop him from delivering wonderful performances, however, no matter how bad the script was. When he was being lined up for Horror Hospital, Balch screened the Bela Lugosi film, The Devil Bat to give Gough an idea of what type of character they were looking for. Enjoying the film, he told Balch, "If that's what you want, that's what you'll get".
Knebworth House in Hertfordshire doubled for the exterior of the grand Brittlehurst Manor, with the interiors shot at the disused Battersea Town Hall, due to the cost of the insurance for filming in the famous stately home. The sequence where Jason goes to the Hairy Holidays office was filmed in a back street in Soho, and shot quickly, very early in the morning as they did not have a permit.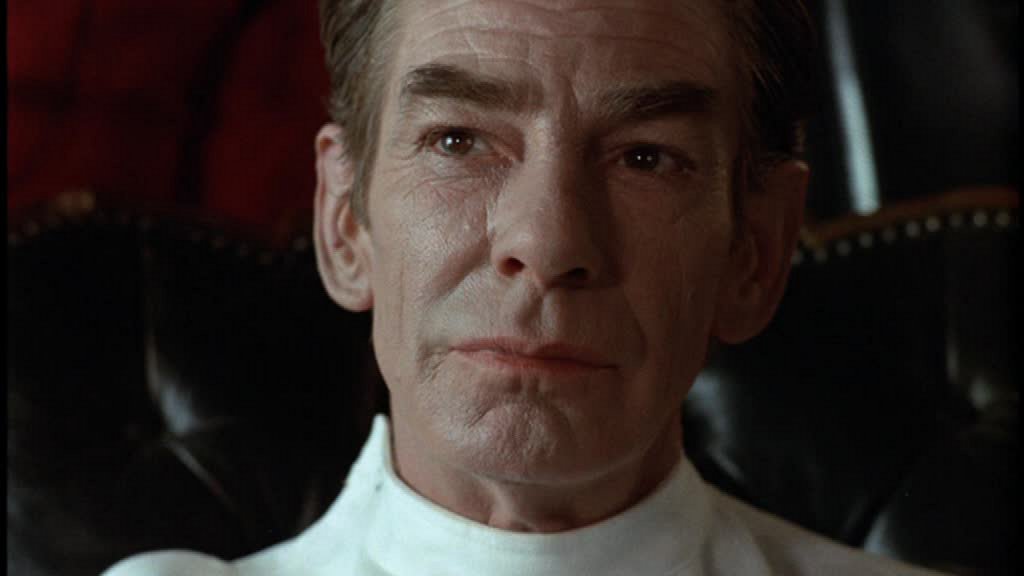 On its original release in the UK, rather than have their film play as a second feature to a Hammer film or the like, Gordon and Balch acquired Ted V. Mikels' The Corpse Grinders and put the films on a double bill. It was very successful. In the US, however, a deal was made with Hallmark Distributors (no relation to the card company) who had released Michael Armstrong's Mark of the Devil (1970). They insisted, much to Gordon's dismay, on retitling the film Computer Killers. For its German release, the character of Dr Storm was renamed Frankenstein, and the film played as Frankenstein's Horror Klinik.
Over the past few years, Horror Hospital has had a reappraisal in the eyes of fans. A Blu-ray was released a few years back and it returns to our screens thanks to Legend, who screen it as part of their superb Vintage Vault strand on Sunday nights.
Find out more at https://www.legend-tv.co.uk/
You can tune into Legend via Sky 148 / Virgin 149 / Freeview 41 / Freesat 137