Arrow Video takes us back to the days of the video shop with the eagerly awaited box set Enter the Video Store: Empire of Screams, which is released on June 26th. You can check out the exclusive reveal of the unique trailer for the set below…
The 5-disc set of classic Charles Band movies will delight fans and will become an instant collectable.
The films included are:
The Dungeonmaster (AKA Ragewar)
Computer programmer Paul Bradford is sucked into a fantasy world by Mestema, a demonic sorcerer in search of a worthy opponent.
Dolls
Fresh from the one-two punch of Re-Animator and From Beyond, director Stuart Gordon takes a turn toward fairy tale Gothic. A group of strangers find themselves forced to seek shelter at the isolated home of an old toymaker and his wife, only to find that the puppets and dolls have a vicious life of their own.
Cellar Dweller
A comic book artist (Jeffrey Combs) with a penchant for the macabre takes inspiration from an ancient tome and unleashes an ancient evil. Arena presents the ultimate fight night event: man vs monster! In the far future of 4038, a short order cook becomes the first human in fifty years to compete in an intergalactic boxing event on the far side of the universe.
Robot Jox
Stuart Gordon directs Empire Pictures' most ambitious movie yet, as men and women pilot giant machines in a gladiatorial battle to settle international disputes over territory.
Freshly restored for the digital era with a wealth of new and archival extras, these films have never looked better. No need for a time machine, these golden age video classics will send you back to the '80s!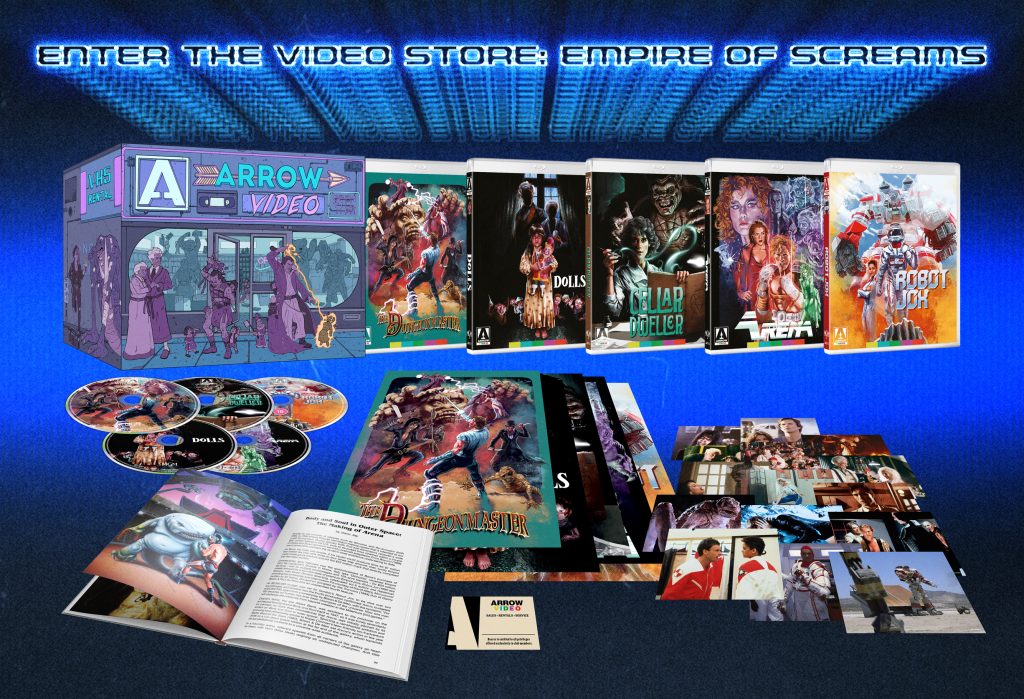 Enter the Video Store: Empire of Screams is released on limited edition Blu-ray from Arrow Video. You can pre-order the set here: https://www.arrowfilms.com/blu-ray/enter-the-video-store-empire-of-screams-limited-edition/14539097.html