News Movies News | Written by Kris Heys 06/08/2018
ONCE UPON A TIME IN HOLLYWOOD's Sharon Tate Revealed!
Following on from June's sneak peek at Leonardo DiCaprio and Brad Pitt as Once Upon a Time in Hollywood's leads, actor Rick Dalton and stunt double Cliff Booth, comes this, our eagerly-awaited first look at Margot Robbie in character as Sharon Tate…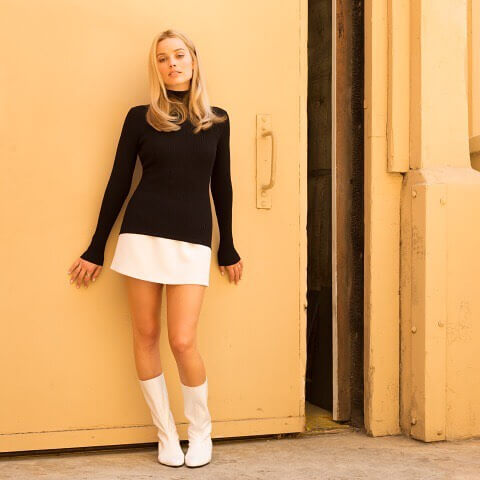 The film will mark Quentin Tarantino's ninth time as writer/director, meaning that if he sticks to his word, we'll only be getting one more film from him before he retires from features in order to avoid the all too common occurrence of a once-maverick filmmaker burning out at the tail end of their career. (We could include examples here, but that would just be cruel…)
Joining DiCaprio, Pitt, and Robbie in QT's typically terrific cast is (deep breath now…) Al Pacino, Burt Reynolds, Kurt Russell, Michael Madsen, Tim Roth, Damian Lewis, Timothy Olyphant, Emile Hirsch, Dakota Fanning, Luke Perry, James Marsden, Clifton Collins Jr., Scoot McNairy, Keith Jefferson, Nicholas Hammond, James Remar, Spencer Garrett, Mike Moh, Brenda Vaccaro, Martin Kove, Nichole Galicia, Craig Stark, Marco Rodriguez, Raul Cardona, and Ramon Franco.
Official Synopsis:
Quentin Tarantino's ninth feature film is a story that takes place in Los Angeles in 1969, at the height of hippy Hollywood. The two lead characters are Rick Dalton (Leonardo DiCaprio), former star of a western TV series, and his longtime stunt double Cliff Booth (Brad Pitt). Both are struggling to make it in a Hollywood they don't recognize anymore. But Rick has a very famous next-door neighbour... Sharon Tate.
ONCE UPON A TIME IN HOLLYWOOD opens August 2019