News Movies News | Written by Laura Potier 12/01/2022
Dave Grohl Makes Killer Music In Foo Fighters' STUDIO 666 Trailer
Dave Grohl goes full Dave Ghoul on his Foo Fighters bandmates in the first full trailer for their horror-comedy feature, Studio 666. 
Written by Jeff Buhler (Pet Sematary, Grudge) and Rebecca Hughes and based on an original story by Grohl, Studio 666 is inspired by the true story behind the band's tenth album Medicine at Midnight. The setting for the film, a mansion in Encino, California is the same house in which the band recorded said album, and a site which Grohl believes is haunted. As he succinctly told NME, "when we walked into the house in Encino, I knew the vibes were definitely off but the sound was fucking on."
The band's frontman reported strange happenings at the time: instruments would be detuned overnight, recording software would experience interference, tracks would be deleted and new ones would appear with strange open mic noise. The band then set up secret cameras and captured unexplainable appearances... exactly what those were however, they cannot disclose.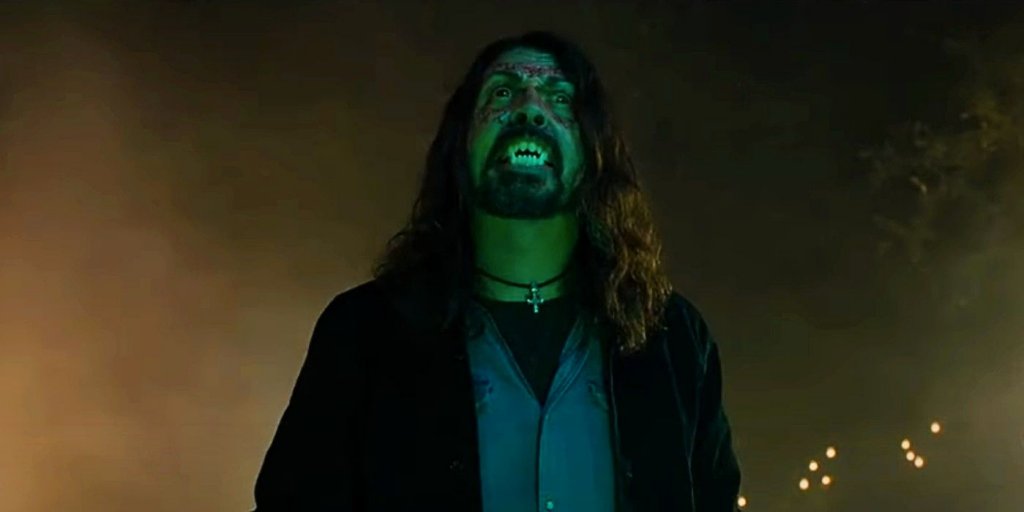 "When we found out about the history of the house," Grohl recounts in that same interview, "I had to sign a fucking non-disclosure agreement with the landlord because he's trying to sell the place. So, I can't give away what happened there in the past but these multiple occurrences over a short period of time made us finish the album as quickly as we could."
NDA or not, it seems the events provided Grohl with plenty of inspiration for this wacky haunted house comedy, which is directed by BJ McDonnell – though we hope the rock icon going full murder demon, "one flew over the cuckoo's nest crazy" on his bandmates is a strictly fictionalised element. Alongside the Foo Fighters, Studio 666 also stars Whitney Cummings, Leslie Grossman, Jenna Ortega, Will Forte and Jeff Garlin.
Studio 666 releases February 25th. Watch the trailer below.