Reviews | Written by Andrew Marshall 28/11/2017
WE ARE THE WEIRDOS
The Final Girls are a London-based film collective with a philosophy of "exploring the intersections of horror and feminism," and have previously organised screenings of the likes of classics such as Single White Female and Slumber Party Massacre, and new underground efforts such as collaborative anthology XX and Anna Biller's excellent The Love Witch. Their latest event, We Are the Weirdos, showcases ten new short films from up and coming female filmmaking talent, each in line with their creative ethos.
First off was Jacqueline Castel's The Puppet Man, in which a group of friends stumbling into an after-hours bar find themselves stalked by a menacing figure from the shadows. The ambience is set by the lurid glare and electric buzz of red neon, while dimly lit corridors shrouded with clouds of dry ice create a curtain of mist for sinister figures to dramatically emerge though, and the atmosphere is completed by a soundtrack of synth music from John Carpenter's Lost Themes (doubling up with a cameo from the man himself). A garish and loving tribute to '80s horror movies, complete with grime, sleaze and everything else.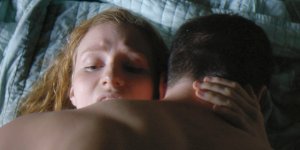 In Amelia Moses' Undress Me, a college girl experiences unexpected consequences from losing her virginity. Unsure of what she thinks and feels about herself after such a major life development, her inner turmoil manifests itself as external decay, her skin and flesh starting to melt and rot off. The introspective subtlety of the narrative allows for interpretation of its psychological setup, while the messy practical effects result in a neat body horror that will satisfy gore lovers.
In Becki Pantling's Pulse, a sleazy man trying to hide his online cheating from his wife learns that no matter what you do to hide, there will always be someone watching you. The brief tale is heavy with a J-horror vibe, and as your brain fills in the likes of Kayako's crackling gargle or Sadako's petrifying death glare, the creeping inexorability and mounting dread become increasingly oppressive. The resolution flickers in unison with the lights to pixelated blurs like the shifting auto-quality of a streamed video, as though the film itself is an artificial construct under the control of its haunting apparition, and its victim both purgatorial prisoner and unwitting deterrent against his own skeevy actions.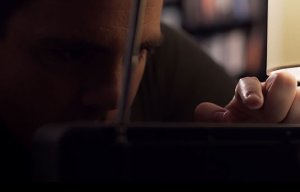 In Gabriela Staniszewska's I Should Have Run, a woman encounters something unexpected during a bout of nocturnal jogging, awaiting in the shadows beneath a bridge. A voiceover narrates with the rhyme and rhythm of poetry that weaves a parable about mental illness, its invisible terror waiting to swallow you whole and trap you forever in a darkened prison built of the lies told to yourself. Filmed at night in black and white infrared, the dark urban fairy story is brought to life with a stark contrast of light and shadow that creates an insidious unreality from which the intangible yet mesmeric menace can emerge.
Alexis Makepeace's Sorry, We're Closed sees Charlotte, the owner/waitress of a late-night diner, become fed up with fending off the clumsy advances of her horny customers, and instead develops a way of dealing with them more permanently. The almost entirely dialogue-based tale has a deliberately retro feel to it, as though it's a recreation of a tale of meet-cute romance from the '50s, but from a perspective that pierces through the rose-tinted idealism. Rather than charming, Charlotte's customer appears predatory, expecting her to be glad of the attention he had deigned to afford her and subsequently pliant to his advances. The fast-developing plot satirises male perceptions of romance while simultaneously mocking the fear of feminism, and at its climax switches gears with deft speed and seamless dexterity.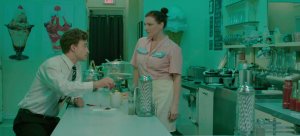 In Julia Zanin de Paula's A Mother of Monsters, a girl venturing behind the scenes at a travelling carnival quickly discovers the dark secret festering at the heart of its freak show. Based on a short story by French naturalist writer Guy de Maupassant, the grim tale deconstructs the romance of circus life, showcasing the grim reality concealed by flashy artifice. The setting of a world revelling in the weird and hideous is meticulously created, a muted colour scheme suggesting an idealism long since faded, while the final revelation cements a world driven by its own darkness.
Nestled among the various tales of terror was Natasha Austin-Green's Dead. Tissue. Love. The short experimental documentary features a voiceover from a young woman discussing her burgeoning necrophilia, from the realisation of her desires to the discovery of an accepting community. Accompanied by visuals featuring abstract imagery and closeups of nude models, the doc presents the craving as something far deeper than simple a desire to screw corpses, and provides a surprisingly sensitive discussion of a subject that could have easily descended into sensationalism or exploitation, tackling it with far more tact and lack of judgement than you'd expect.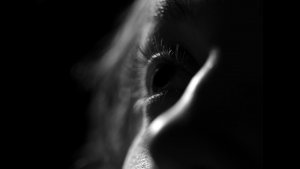 Suraya Raja's Don't Think of a Pink Elephant sees teenage Layla battle with Pure OCD, violent thoughts invading her mind every time she sees a metallic object. The stop motion animation is a neat stylistic choice that, like Layla's thoughts, is at once both real and artificial. The smooth skin of the puppets brings out the texture of the environments' soft fabric, which in turn enhances the deadly appearance of the everyday metal implements that trigger Layla's mental intrusions. Layla's imaginings of how her compulsive thoughts may come to pass allows tension to remain constant, and the flashes of illusory gore are filmed in live action, which paradoxically allows them to seem detached from the 'reality' of the main action's puppetry while also emphasising their hallucinatory intensity.
Prano Bailey-Bond's Shortcut sees an unfaithful man driving home with his sleeping girlfriend take a wrong turn into a mysterious forest road. Although less than five minutes long, an atmosphere of tension intensifies as you suspect that comeuppance will be swift in coming to the sleazy cheater. Tinted lighting glinting through the rain-spotted windows creates a luscious otherworldly ambience, while the sibilance of some unseen power hissing through the trees suggests something not quite human is observing the unfortunates to have stumbled into its domain. The ending is quite literally signposted, and comes as a delightful and satisfying payoff as gruesome as it is humorous.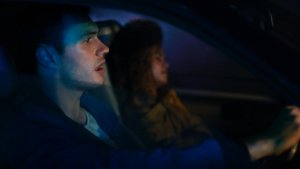 In the final selection, Alice Shindelar's I Want You Inside Me, after a teenage girl loses her virginity and awakes to find her boyfriend gone, she uses the unexpected freedom to explore her sexual awakening. Like Undress Me, the short merges a coming of age tale with body horror, although less overtly with regards to the latter. The focus is on the psychological and physical nature of female sexuality, circumstances in this case allowing a young woman to move onto new lovers without criticism or judgement, while the horror angle comes into play from a sly interpretation of the title.
The first of a hopefully regular event, We Are the Weirdos provided a welcomingly varied selection of films. Expressing solidarity with its target audience by its very name and showcasing the wealth of female talent existing both in front of and behind the camera, it's an encouraging indicator that filmmaking creativity is stronger than ever.