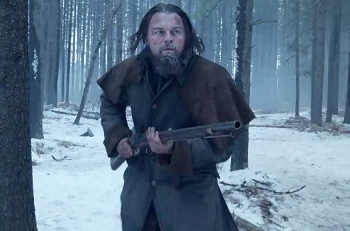 Birdman's Alejandro G. Inarritu's latest effort, The Revenant, is a survival-cum-revenge movie based upon the real-life antics of Hugh Glass (and also based on Michael Punke's The Revenant: A Novel of Revenge). Set in 1823 Louisiana, Glass (Leonardo DiCaprio) is ravaged by a bear and left for dead by his men. Focussing on his will to survive and his determination to hunt down a particular cohort who has wronged him, what unravels is a gloomy, downbeat tale of struggle, iron will and raw brutality.
To elaborate a little further on the plot, DiCaprio's Glass, along with son Hawk (Forrest Goodluck), is part of a hunting group led by Captain Henry (Domhnall Gleeson). When Glass is ravaged by the aforementioned grizzly – itself one of the most stomach-turning scenes attached to mainstream cinema in the last few years – Henry has to make a painstaking decision whether to leave one of his best men for dead or to continue with him as part of his crew in an act that will slow down their snowy journey immeasurably and put the rest of his men in danger. It's then that Henry tasks Fitzgerald (Tom Hardy) and Bridger (Will Poulter) with staying at the side of Glass until he takes his seemingly-inevitable final breath. The problem here, however, is that Fitzgerald is a self-serving sort with his eyes firmly on what is best for him.
The Revenant is a film that will firmly divide opinion; to many it will be a genuine masterpiece of modern cinema; to others it will be an overly-long, convoluted-yet-bland effort that never really knows what it's trying to become. Regardless of whether you find enjoyment in the film or not, there is simply no disputing that Inarritu and his team have crafted a tale that is phenomenal to the eye; the crisp, snowy setting radiates the movie throughout, whilst the cinematography also manages to perfectly capture the bleak reality and grey skies that serve as a frame to this desperate story of one man's determination for revenge.
There's no doubting that DiCaprio throws himself whole-heartedly into the role of Hugh Glass, but his muffled, often-muted performance falls foul of a screenplay that at times feels far too bland to keep the attention of some. Clocking in at over 2 1/2 hours, The Revenant is certainly a lengthy watch, but the heart of the story itself may struggle to keep many viewers involved. Adding to the issues of the movie is the fact that it struggles to balance itself between being an art house effort, a survival story, and a revenge thriller, never quite pulling off the necessities required to be much of either; instead leaving the viewer with a mish-mash of a narrative that soon gets old.
The real star here is Tom Hardy, who does wonders (and is literally unrecognizable) as the no-good Fitzgerald, but his time on screen is sadly shorter that we'd have liked. When all is said and done, though, The Revenant is a matter of taste. For this writer, the film just dropped off into the realm of blandness far too often, but that's not to say that others won't gush plentiful over Inarritu's latest movie.
THE REVENANT / CERT: 15 / DIRECTOR: ALEJANDRO G. INARRITU / SCREENPLAY: ALEJANDRO G. INARRITU, MARK L. SMITH / STARRING: LEONARDO DICAPRIO, TOM HARDY, DOMHNALL GLEESON, WILL POULTER, FORREST GOODLUCK / RELEASE DATE: JANUARY 15TH
Expected Rating: 8 out of 10
Actual Rating: