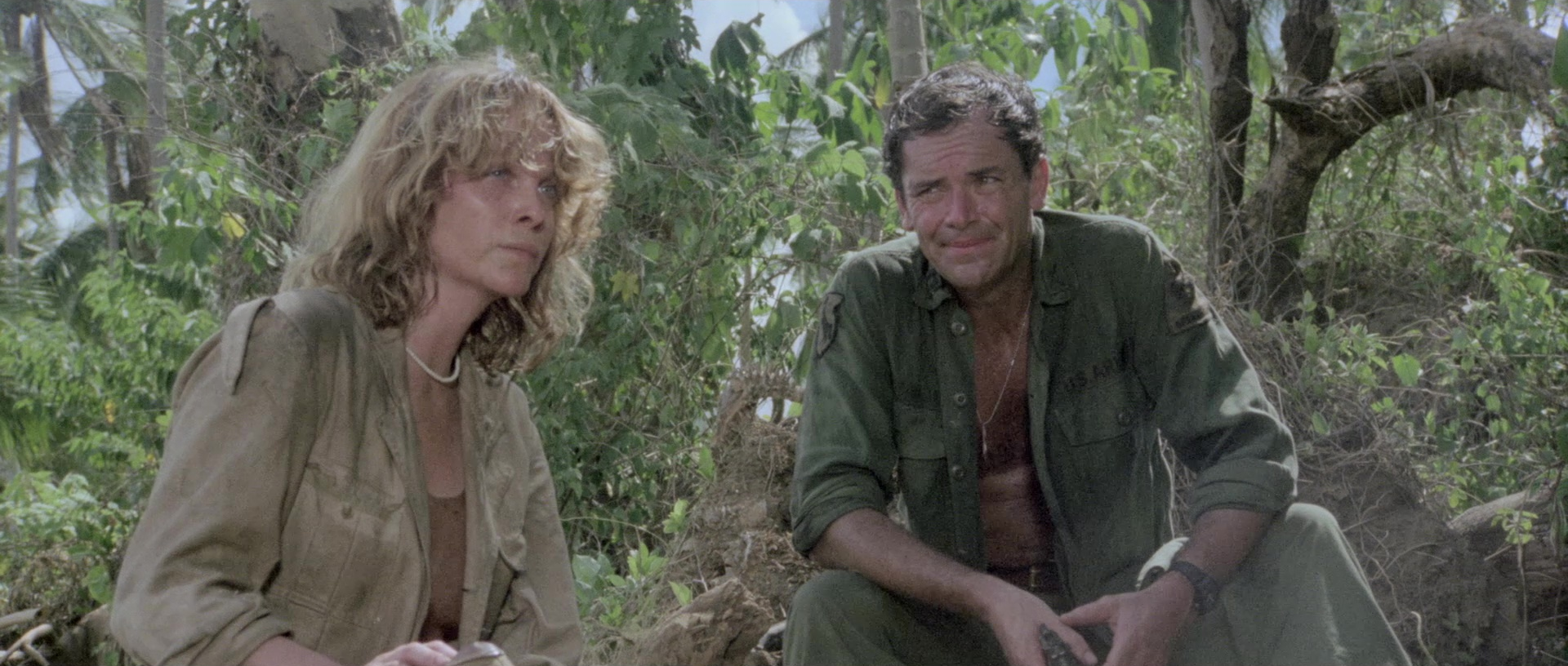 Cult Italian director Antonio Margheriti (Cannibal Apocalypse) dipped his lens in several genres over his career. This entry, set during the Vietnam War, echoes hits such as The Deer Hunter and Apocalypse Now in part but revels in its gory exploitation tropes.
Captain Henry Morris (David Warbeck, The Beyond) is sent on a mission to disable a radio transmitter deep in the Vietnam jungle. Aiding him in getting there are a ragtag bunch of soldiers led by Tony King (Sharky's Machine) and Bobby Rhodes (Demons). With them documenting the war is photographer Jane Foster (Tisa Farrow, Zombie Flesh Eaters). It won't be a peaceful mission, however, as danger is behind every corner.
Warbeck is a familiar face to fans of exploitation films, particularly Italian ones, and isn't given enough credit for his acting chops. Allegedly in the running to play James Bond at one point, his early death from cancer at only 55 was a sad loss indeed. He's in full action-man guise here and helps make the movie a highly entertaining watch. It was also included on the extended 'section 3' list of 'video nasties' in the early '80s and it's easy to see why. Margheriti deploys the gore liberally and arguably better than some of the better-known horror fare. The futility and brutality of the war is conveyed well – as much as any 'worthy' release. There's no escaping the exploitation roots, but that makes it all the more enjoyable. It's certainly a cut above the regular Euro mockbuster type, though.
This is the first release of a new boutique label, Treasured Films, and it's an impressive presentation. The film itself looks fabulous, but there are also a wealth of bonus features. A feature-length documentary about the director includes plenty of archive interview footage of the man himself (who died in 2002) and is an excellent overview of his career. There are also separate interviews with various people involved created especially for this release that cover both The Last Hunter and elements of Margheriti's career. An interesting video essay gives the film an intelligent overview. There are also more gems in the 58-page booklet, including informative pieces on Margheriti and Warbeck's Italian movies, as well as a fun archive interview with the actor. The release is an essential purchase for fans of cult horror and Euro releases, and it's a pleasure to say the film itself is much better than you'll expect.
The Last Hunter is released on Blu-ray on April 10th from Treasured Films.