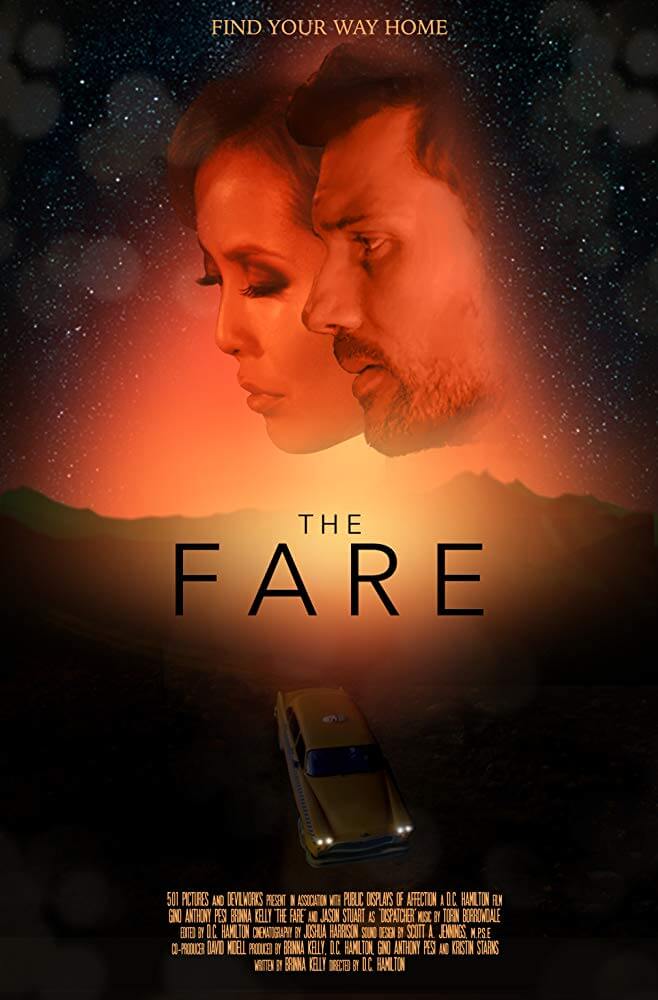 On a seemingly neverending road, cynical taxi driver Harris is assigned to pick up a fare in the middle of nowhere. On his radio, there is talk of time displacement and aliens affecting the balance of life, the universe and everything. Soon though he meets his fare, Penny, who has been waiting some time and is welcoming of the heat which Harris mentions when he picks her up.
However, a lightning storm strikes and a determined dispatcher on the communications channel simply wants Harris to pick up the fare, drop her off and head straight back to town. Unfortunately, every time he resets the fare, Penny disappears and the repeat journey begins, causing Harris to question whether his journey is real or a fabrication. Flashes of a life that was already there manifest themselves, and he begins questioning Penny about her own involvement – is this a scientific experiment or a deliberate fate?
There is a touch of Edge of Tomorrow and Groundhog Day about The Fare, coupled with some classic rural episodes of The Twilight Zone fused with The Time Traveller's Wife, but it does hold its own with a fair amount of charm, particularly based on the evident chemistry of the two leads.
Admittedly it's not a new idea, but nobody seemed to complain about Back To The Future following in the footsteps of The Final Countdown and Time After Time (and was far more successful at the box-office). So it goes with The Fare. This is quite a romantically-minded film, essentially questioning the rules of fate and destiny that films like Titanic focused on. Leads Brinna Kelly and Gino Pesi show multi-talented chops here and if the film gets a fair shot, it might just become the cult romantic film of 2019.
THE FARE / CERT: TBC / DIRECTOR: DC HAMILTON / SCREENPLAY: BRINNA KELLY / STARRING: GINO ANTHONY PESI, BRINNA KELLY, JASON STUART / RELEASE DATE: TBC