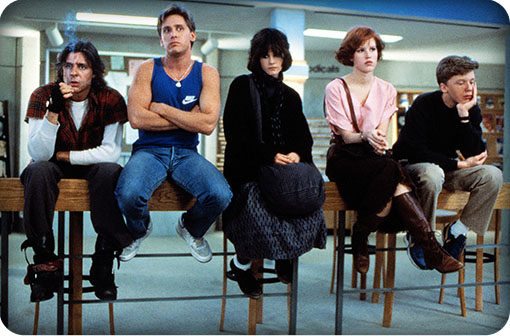 BLU-RAY REVIEW: THE BREAKFAST CLUB (30TH ANNIVERSARY EDITION) / CERT: 15 / DIRECTOR: JOHN HUGHES / SCREENPLAY: JOHN HUGHES / STARRING: JUDD NELSON, MOLLY RINGWALD, EMILIO ESTEVEZ, ALLY SHEEDY, ANTHONY MICHAEL HALL, PAUL GLEASON / RELEASE DATE: APRIL 6TH
What else can really be said about the legendary John Hughes' iconic 1985 classic The Breakfast Club? It's simply a marvel of a movie that still never fail to stuns to this very day.
Plot-wise, the focus is on five high school students who end up striking up an unexpected bond during a Saturday morning detention session. Ticking off various stereotypes, there's the brain (Hall), the athlete (Estevez), the basket case (Sheedy), the princess (Ringwald), and the criminal (Nelson). As the film progresses, the narrow lines with which these characters are drawn become to widen and you realise that they're all a lot similar in certain ways than at first thought.
A journey of teen discovery, The Breakfast Club is a film that so many have been able to relate to over the years, with each of the characters serving as some sort of entry point for near-enough everybody. It explores how everybody has quirks, bright spots and problems regardless of the perception given to others, and it's a film that is absolutely brimming with heart, depth, humour, and also some stark, hard-hitting moments at its core.
Make no mistake about it, Hughes' film is as flawless as they come and keeps finding a new audience with each new generation who discover it. Full of memorable moments, an expertly-assigned soundtrack (Don't You Forget About Me will still have you punching the air at the film's closing credits), and dialogue (we still can't help but smile at Paul Gleason's Principle Vernon's "I'm gonna knock your dick in the dirt") that somehow manages to be totally of its time yet still relevant to this very day, this is a special, special film. But the big appeal to such a new release of an established classic is just what special features are included in the package, and this is the one slight area where this 30th anniversary edition release falls down slightly.
There are some decent extras included, although the only new additions from previous releases are the inclusion of a trailer and a trivia track. The trivia track is a brilliant inclusion for fans who love to know anything and everything about the films they watch, but we were hoping that there would maybe be some other new extras included here. Still, for fans new to these extras, they'll be sure to get a kick out of the 12-part Sincerely Yours or the breakdown of just where the whole "Brat Pack" tag came from. Also notable by his absence is Emilio Estevez, who is the only member of the film's core group, bar Paul Gleason who sadly passed away in 2006, who doesn't feature in any of the extras.
All in all, this is a superb film, an all-time classic, and an all-time favourite of many a film lover, so if you don't already own it then what are you waiting for?
Special Features: Commentary with Anthony Michael Hall and Judd Nelson / Accepting the Facts: The Breakfast Club Trivia Track / Sincerely Yours / The Most Convenient Definitions: The Origins of The Brat Park / Trailer

SHARE YOUR COMMENTS BELOW OR ON TWITTER @STARBURST_MAG
Find your local STARBURST stockist HERE, or buy direct from us HERE. For our digital edition (available to read on your iOS, Android, Amazon, Windows 8, Samsung and/or Huawei device – all for just £1.99), visit MAGZTER DIGITAL NEWSSTAND.
CLICK TO BUY!
MORE FROM AROUND THE WEB: