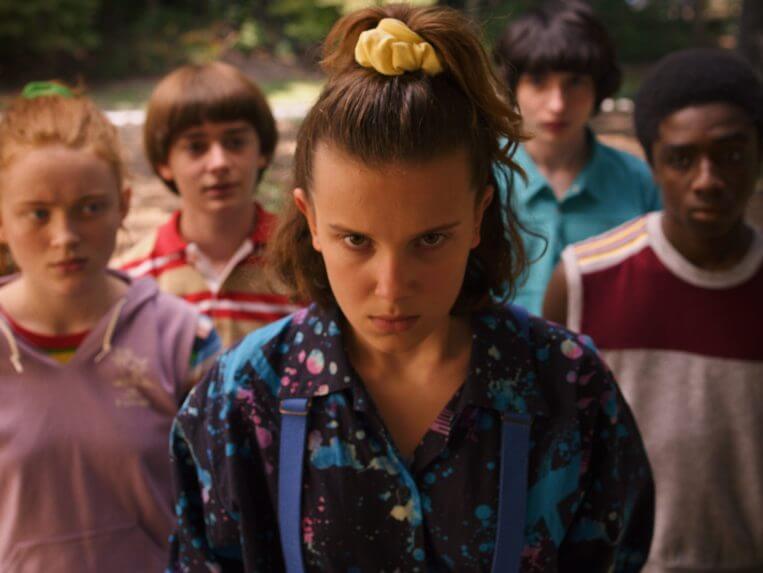 STRANGER THINGS 3 / REVIEWED: SEASON 3 (FULL SEASON) / STARRING: MILLY BOBBY BROWN, FINN WOLFHARD, WINONA RYDER, DAVID HARBOUR, SADIE SINK, JOE KEEREY / WHERE TO WATCH: NETFLIX / RELEASE DATE: OUT NOW
From the cold dark winter to the bright shining summer, Stranger Things is back with its third season and everything is bigger and better than ever before for our lovable group of 80s kids.
Set in the vibrant summer of 1985, this season finds Mike, Will, Lucas and Dustin dealing with more than just the Mind Flayer – they're now teenagers and must contend with real relationships, school and something lurking in the new Starcourt Mall. Eleven and Max take their friendship to the next level and Nancy and Jonathan are now a fully-fledged adult couple. Not to forget Joyce and Hopper who return with the latter having to fully embrace being a father figure once again to Eleven and having to once again become a dad and deal with everything a teenager goes through.
In this brand-new set of 8-hour long chapters, the tone is quickly set with our antagonist The Mind Flayer rearing his ugly head once again in his ultimate quest to take over the real world and Hawkins is first on his list – and it's definitely a much more sinister plan than the one he previously attempted with genuine chills oozing from just the first episode alone. School is out for summer break and the downtown is deserted after the new Mall opens as the new happening place to hang out and relax. Steve returns as an older brother figure for Dustin who, after returning from camp, feels left out from the group who seemed to have other ideas for fun.
Even though this current adventure is not entirely perfect, with many story beats being reused from the previous two seasons, the niggling issues can be forgiven because of the journey that the Duffer Brothers take us on. Seeing the kids all grown up will make you feel like a proud Dad/Mum/Brother/Sister and seeing their characters blossom in fresh ways is truly endearing and leaves you with a warm rewarding feeling that your time and investment in their story has been thoroughly worthwhile and excites you with what might come next.
Without spoiling too much, considering that series like these are much better watched in one sitting (essentially like an 8-hour movie), fans of the previous two seasons will be pleased to know that they are getting more of the same – which in this case is a good thing. That coupled with an incredibly emotional but satisfying ending to this season will fulfil the Stranger Things faithful.
It's clear that with the popularity of the show continuing to skyrocket and Netflix's faith in the Duffers being constantly rewarded, they have been able to take things up ten notches with Producer and Director Shawn Levy stating in our recent interview with him, that the finale (titled The Battle of Starcourt) is the most epic episode of the show's history in terms of "scope and emotion" and we can confirm that it is indeed that and so much more.