Reviews | Written by Mark Newbold 18/12/2018
THE STAR WARS ARCHIVES: EPISODES IV – VI: 1977 – 1983
Every once in a while, a book comes along that stands head and shoulders above most others, containing a special ingredient that elevates it into a different stratosphere. The Star Wars Archives: Episodes IV - VI: 1977 - 1983 is one of those books.
Framed by the six-year span of the original trilogy, author Paul Duncan expands in both directions, taking us back to the genesis of the saga in San Anselmo, California when George Lucas first gathered the earliest scattering of atoms that would explode into the big bang of Star Wars and even earlier, to his student films and formative releases. He also goes beyond, past Return of the Jedi and on to the animated shows and the TV movies. It's lavish, glossy, illuminating and impressive in every measurable way.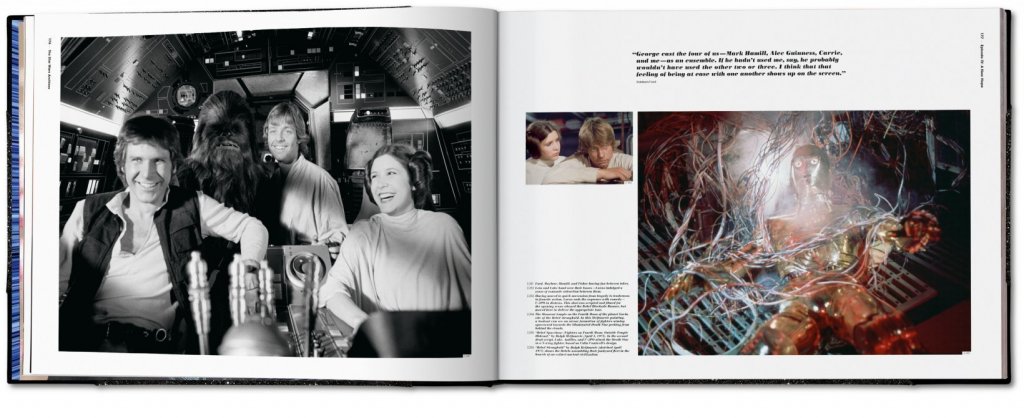 A cynic might ask 'what does The Star Wars Archives offer the reader that J.W. Rinzler's exhaustive Making of trilogy (the gold standard for behind the scenes books) doesn't?' Or even the three classic Art of books that accompanied the films back in the day? Certainly, by way of page count combined they surpass the 620 pages of this release, but Duncan's book holds a very special sabacc card up its sleeve: new interviews with George Lucas. Conducted in 2017 and 2018, these give it a fresh perspective, as the creator of all things Star Wars looks at the various choices and decisions he made while building and designing the galaxy far, far away. Rinzler's books, while contemporary, are very much written in the past tense, as if collected and released when they happened. Duncan's book takes a similar tack, collating interviews and articles from the time of production and weaving in Lucas' contemporary reflections. It looks and feels like a book that was released in 1987 but got lost along the way. Luckily for us, it's just been rediscovered.
There are unseen images, quotes from cast and crew taken from a variety of sources that congregate in a handsomely packaged book (seriously, this thing weighs a ton and comes in its own carry case) full of detail and information. It's not cheap, and it was never designed to be. This is a heavyweight book and a serious investment for dedicated fans who want to get back to those heady days of the original trilogy when Star Wars ruled everything. When Star Wars WAS everything.
Older, optical-era fans will drool, while younger digital-era followers may not 'get' its rustic charms, but wherever and whenever you came into the GFFA, as devourers of the saga and its storied history, this book is essential.
THE STAR WARS ARCHIVES: EPISODES IV - VI: 1977 - 1983 / AUTHOR: PAUL DUNCAN / PUBLISHER: TASCHEN / RELEASE DATE: OUT NOW