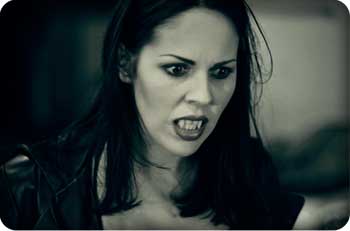 Although its premise has been tackled before – vampires and werewolves as real creatures, only this time manufactured over hundreds of years – this stylish short manages to be avoid being too derivative, generating an engrossing mood and packing some impressive visuals.
Eva (played by director and co-creator Dark) is a former vampire assassin – as in a killer who happens to be a vampire – who has managed to escape a government-run research facility and is now only interested in killing, rather than being paid for it. With an enemy closing in on her and her kind, she may have to go against her instinct and side with the werewolf packs to avoid something terrible happening.
Although it has all the hallmarks of being another run of the mill Underworld rip-off, Ms Dark's sophomore short has enough additional angles and an infectious energy to keep it fresh. The story sets up a realm of nether-creatures that exist alongside us. Shooting the film around the dockland areas of London at night certainly conveys a sinister atmosphere, and it looks as though it cost a lot more than it probably did, thanks to striking cinematography (complete with de-saturated look), some impressive action scenes (the stunt moves were coordinated by Roy Scammell, whose work goes back decades and has numerous big titles to his name), and an imposing score. There's even a nice digital special effect towards the end, which is startling.
The story itself has enough to draw one in. But herein lays the problem. Seize the Night is too big to be a short film. The trouble with creating such a high concept world is that with only twelve minutes to work with, it leaves the viewer feeling a little unsatisfied. Which could be a good thing, if they can raise the budget to make either a series or a feature film, but a casual audience may feel short changed after the impressive build-up. Let's hope someone decides to come on board and enable the story to continue in some form, because what we have with this taster is impressive enough that it would be a crying shame if we didn't see more. Keep and eye open for it on the festival circuit.
SEIZE THE NIGHT / CERT: TBC / DIRECTOR: EMMA DARK / SCREENPLAY: RICHARD HUMPHRIES / STARRING: EMMA DARK, CAREY THRING, ANTHONY ILOTT, PAUL EWEN / RELEASE DATE: TBC