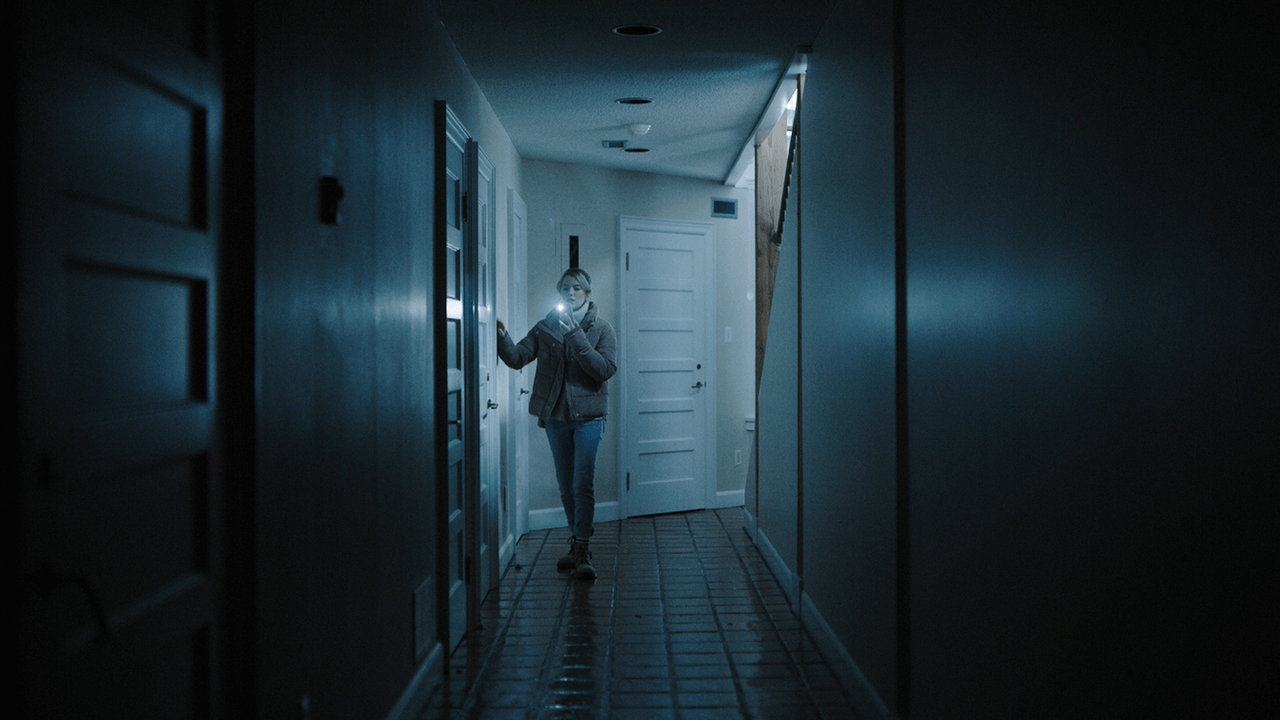 A home invasion movie that pits a tough-as-nails visually impaired person against a gang of out-of-their-depth robbers. One-time ski champion Sophie (Skyler Davenport) may not have the gulf war experience or murderous rage of Don't Breathe's Stephen Lang, but there are plenty of morally grey shades to See For Me.
Bitter and resentful at having lost her eyesight, Sophie relieves her frustrations by robbing the homes of the people she cat-sits for (in this case, Laura Vandervoort), playing on their condescending sense of pity towards her. Taking on a gig in a secluded country mansion, Sophie finds herself playing host to some unexpected visitors when a gang of thieves break into rob the homeowners' safe. The ace up Sophie's sleeve: seeing-eye-app See For Me, and its operator Kelly (Jessica Parker Kennedy). Through video chat, Kelly helps Sophie navigate a house full of thugs, putting her own experience as a war veteran and FPS aficionado to good use. But can the young hothead keep her cool for long enough to follow Kelly's advice? Or is a Leroy Jenkins-style bugout on the cards?
Randall Okita's home invasion thriller treads little new ground – it's The Call by way of Panic Room – but boasts an interesting set of heroes and villains. Trading in morally grey hues, its heroes aren't as polished or perfect as one might expect; its villains disarmingly reasonable. Like Sophie herself, Okita and writers Adam Yorke and Tommy Gushue play on viewers' perception of the hero, making Sophie deliberately hard to like. The laid-back villains aren't a particularly threatening or imposing lot, but the film's action sequences are well-done, making good use of the See For Me technology.
With the film's big-name star not making his appearance until late in the game, the film's trajectory is a predictable one, but no less tense, nor thrilling. See For Me is a smart take on a well-worn subgenre, making up for lack of invention with an alarming sense of efficiency.
Signature Entertainment presents See For Me on Digital Platforms January 24th