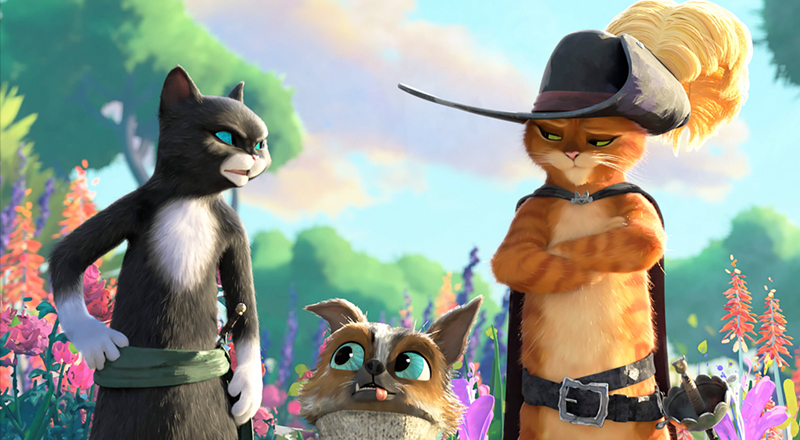 By Jack Bottomley
It has been over 11 years since our favourite cat in footwear swashbuckled his way through a big screen animated adventure, and now the man, the myth, the moggy returns to action… but is Puss' latest daring tale truly worthy of our fluffy hero?
The Last Wish catches up with our cream-lapping hero Puss (Antonio Banderas), as he reaches a scary realisation that he has used up eight of his nine lives. However, in this last life, he faces a dark threat that is calling for him. To escape his fate, Puss goes on a daring adventure to a mystical land to find the magical wishing star and have his wish for replenished lives granted. But he isn't the only one who hopes to be wishing upon a star!
Puss in Boots: The Last Wish is a dazzling, creative triumph that shares many outstanding qualities with Gore Verbinski's Rango. The Last Wish is not just an improvement on Puss' first fun solo outing way back in 2011; it's a mesmerising sequel that re-energises the Shrek-verse and ends with a tantalising tease.
This film repositions DreamWorks firmly back into the conversation for the first time in years when it comes to the best major studio in mainstream animated filmmaking. Last year, they delivered an early winner with The Bad Guys, and this year they have repeated that remarkable feat and then some with a film that is already a strong contender for the year's best animated feature.
The whizz-popping wish-chasing story is fantastical groundwork for a far deeper and richer journey into the quality of life, finding the value in what has always been in front of you, grappling with mortality, and living with anxiety. There are so many carefully crafted textures to Paul Fisher and Tommy Swerdlow's screenplay, as director Joel Crawford and co-director Januel Mercado, let the film run free, unleashing a funny, poignant and exciting torrent of imagination, sword-swinging action, and meaningfully layered family entertainment. It really is the cat's whiskers.
Taking in an array of influences from anime to Zorro, and some other surprising genres, the film's CG-meets-painted animation style is absolutely gorgeous. It provides a visual accompaniment that is just as impressive as the story, along with Heitor Pereira's culturally explosive score. The screen is just full to bursting with ideas, emotion and lovable characters and is utterly impossible not to fall in love with Harvey Guillén's ever hopeful Perrito the dog. He accompanies Puss on his journey, and is a heartwarmer and heartbreaker in equal measure, while Banderas' ever-brilliant work as Puss expands the character in many breathtaking ways and Salma Hayek Pinault's return as Puss' former friend/flame Kitty Softpaws offers further unexpected narrative heft.
Meanwhile, some of the newer characters (many who're deliriously entertaining spins on classic fairy tales and nursery rhymes) are a joy, from John Mulaney's memorably irredeemable 'Big' Jack Horner to Florence Pugh, Olivia Colman, Ray Winstone, and Samson Kayo's criminal gang take on Goldilocks and the three bears. Additionally, DreamWorks unleashes arguably its greatest ever villain (at least since Gary Oldman's Lord Shen) in Wagner Moura's genuinely terrifying, red-eyed, sickle-spinning Wolf, whom has an air of Tim Curry menace about him and steals every scene he is in.
The Last Wish is a spellbinding, funny, and gorgeous piece of animated storytelling that restores this franchise to past glory. The real cat in the hat is back, and his boots are very much made for walking! Me-wow!
Puss in Boots: The Last Wish is a purrrfect family film.
Puss in Boots: The Last Wish is in cinemas now and will be on Disney+ on July 8th.