Reviews | Written by Stephen J. Boothroyd 24/05/2019
PLAY EXPO Manchester 2019
PLAY Expo returned to Manchester, this year it took place at Manchester Central Exhibition Complex, and STARBURST stopped by on Day 1 of the event to check out the festivities.
The Manchester Central Exhibition is a fantastic venue, letting in tonnes of natural light and offering a vast amount of space for exhibitions and fans. Other than the food, the entire event fit into one room without feeling cramped in the slightest.
The event included guests: Matthew Smith, Jet Set Willy Creator, Hugo Myatt from Knightmare, Knightmare artist David Rowe, Hog of War creator Jake Habgood and Go 8-Bits Steve McNeil. Much like last years, London event it had a heavy focus around Knightmare live, the critically acclaim stage production based on the old CITV series.
For those unfamiliar with Knightmare, let's say it's one of the most ground-breaking children's TV shows of all time, and despite being cancelled over 25 years ago it still retains a special place in the hearts of many people. With one tongue firmly in its cheek, a little bit of adult humour, and consistently crowd-popping catchphrases, characters, props, graphics and sound effects, Knightmare Live is by far the warmest and most affectionate homage to anything we've ever seen.
As well as all this the event also had all the usual suspects we've come to  see at previous Play Expo's include: Pinball Machines, Arcade machines, retro and modern video game library, Cosplay, Tabletop gaming, numerous traders, VR, a selection of indie games, Minecraft and Fortnite, LAN gaming, various videogame tournaments and a streaming lounge.  The event also over an escape room for an additional price.
Cosplayers were out in full force, with Spider-Man and Thor doing the rounds, various anime characters we couldn't begin to name, a few street fighter characters, easily the best though was the girl dressed as Gnar for League of Legends, who must have been absolutely roasting in her outfit.
They had the very rare, and very difficult street fighter whack a mole cross over, Ken Sei Mogura: Street Fighter 2, where you have to hit the pop up bisons to deliver moves to your opponents, the novelty of which attracted lots of people, although the fact that it's not a very good game prevented it from ever being too busy, as once was enough for most. Still, it was a rare treat for aracde fans to see it in person. Other arcade highlights included the space harrier and outrun cabinets sit down cabinets, as well as the usual classics.  Sadly no Episode One racer or Virtua On cabinet, the TMNT and Simpsons cabs are always a pleasure to see.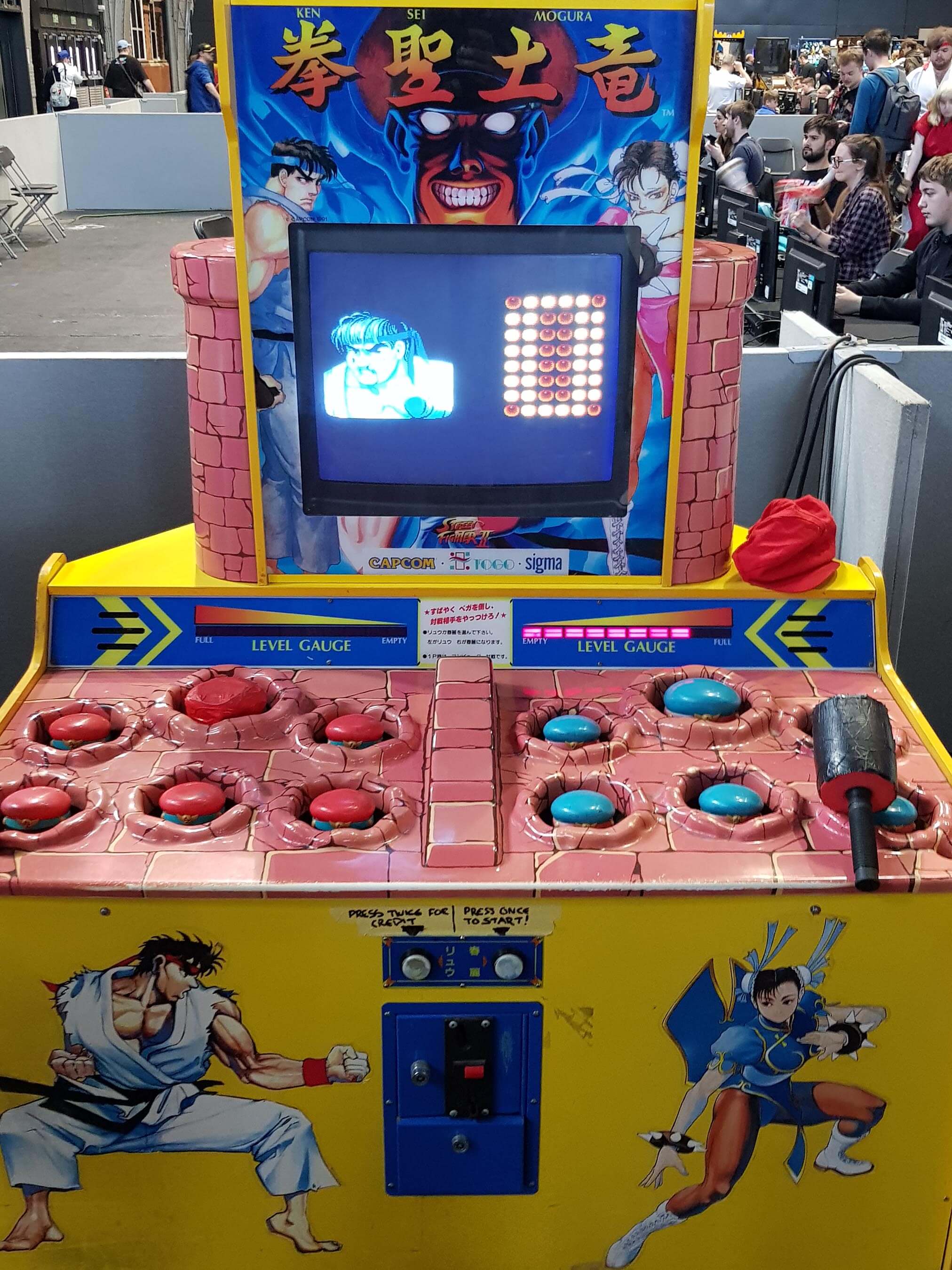 Over on the pinball front, there were competitions on the Creature From the Blue Lagoon and 1964s classic Heat Wave. We did utterly abysmal on both. Amongst the free to play, unsurprisingly the legendary Addams Family pinball game was getting the most attention, so much so that they brought 2.
R8 had a lot of space to show off Pacer, formerly know as Formula Fusion, the spiritual successor to Wipeout.  The game looks excellent, and it'll be interesting to see if it manages similar levels of success that Fast RMX and Redout had.
There was a huge range of merchandise ranging from the usual retro consoles and games, to a stunning life-size Infinity Gauntlet that most certainly caught our eyes. There were also a few stunning pieces of gaming art, including box art recreate with hama beads replacing the main character, which was especially cool.
Over on the table top front, there were a few games ready to play such as Cobra Paw, Bananagrams and of course the legendary Magic the Gathering. Helpful staff were on hand to teach you how to play the games. Their try before you buy approach clearly works as we were quickly parting over with our cash to take home the excellent Splendor.
PLAY Expo seems to be getting better as the years go while still managing to keep down queues due to the sheer amount there is to do. Another excellent show that's easily on par with their London event.