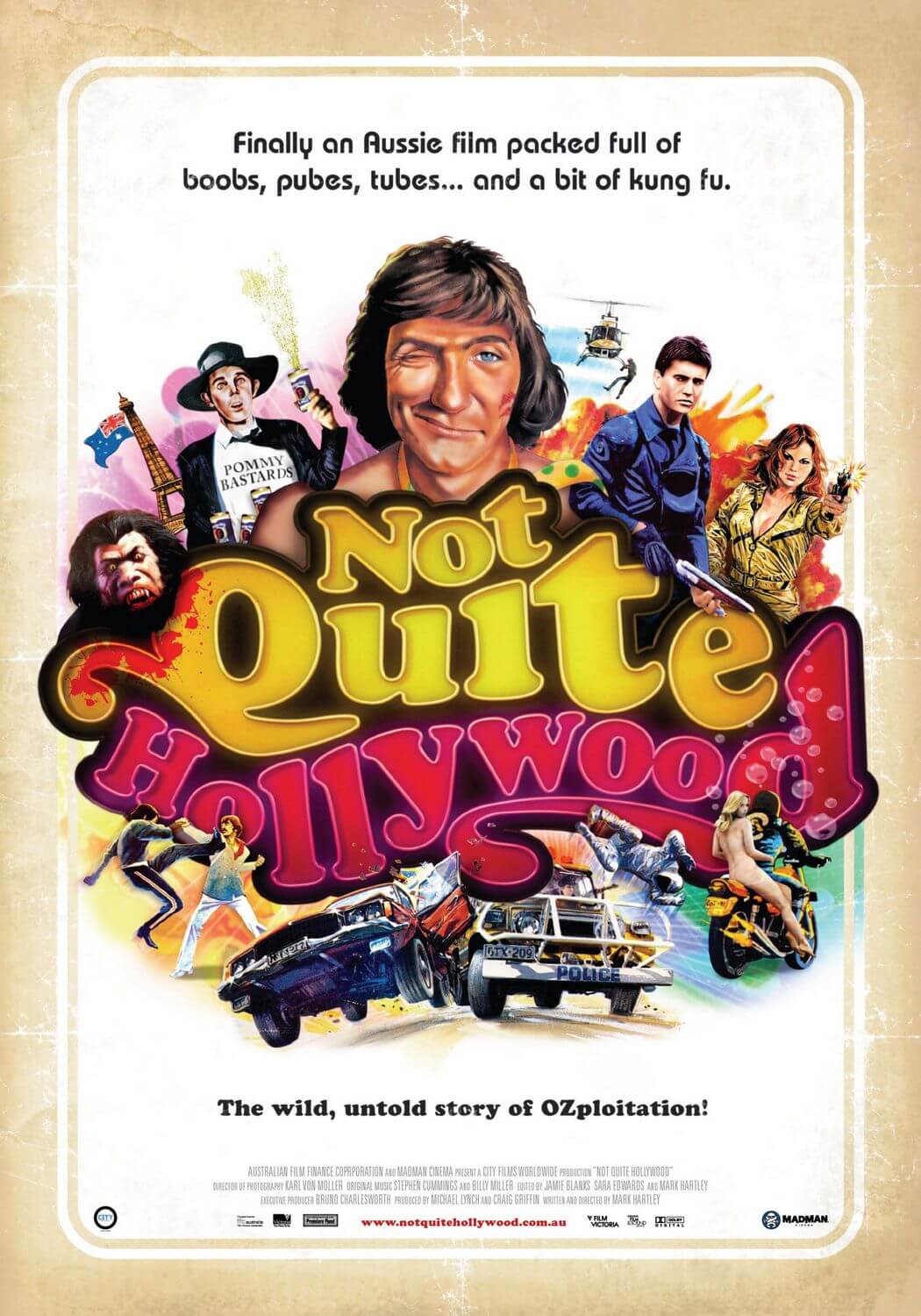 Antipodean cinema is usually represented to the rest of the world by two distinct strains: the worthy, arty work from the likes of Peter Weir and the dusty, explosive thrillers such as Mad Max. Thankfully, this informative and entertaining documentary focuses on the latter and its predecessors. The films that formed the underbelly of a cinematic revolution that appeared to pass most of the rest of world by but is ripe for rediscovery.
Mark Hartley divides his film into three separate sections; each representing a movement that, while missing the mark with the critics and worldwide audiences, scored a massive hit with Australian cinemagoers. The first, entitled Ockers, Knockers, Pubes and Tubes, gives us exactly what we can expect. It's a celebration of the brash, lude, and downright crude movies that took advantage of lax censorship in movies by throwing all manner of nudity and sex at an eager public. The documentary doesn't hold back on some of the surprisingly explicit moments, either, but despite the appearance of John Holmes in all his legendary glory, there's no hardcore porn. No, these films were more fun than arousing. They are an extension of the British Confessions series, only with a distinct 'down under' bent. Epitomised by the Alvin Purple series, a bawdy duo of pictures starring Graeme Blundell (who – believe it or not – went on to play Padmé Amidala's father in Revenge of the Sith!), who relives the 'ordeal' he had while making them (who are we kidding, he loved it). The talking heads – some of whom you'll actually recognise – are refreshingly frank about their time in the 'blue' limelight and it only makes one want to track down the films even more.
Comatose Killers and Outback Chillers is probably where most STARBURST readers would have become aware of Aussie filmmaking. Films like Patrick actually made it over to foreign climes and it's fascinating hearing how these low budget thrillers and horror movies fitted into the Oz cinematic landscape. The final section, High Octane Disasters and Kung Fu Masters, picks up at George Miller's now-seminal Mad Max and takes us right up to the likes of Wolf Creek.
Among the numerous highlights – believe us, almost every film clip is a joy – are footage and tales of Dennis Hopper being awkward and ridiculously drunk while making Mad Dog Morgan as well as Jamie Lee Curtis and Stacy Keach discussing Road Games. The stories of how dangerous everyone thought it was making Miller's classic is enthralling, particularly coming from the director himself.  Remember, these were times when 'health and safety' didn't exist so some of the recollections are quite hair-raising!
Everyone's favourite pop culture sponge Quentin Tarantino is also on hand to give his sagely perspective as well as basking in cult glory with Brian Trenchard-Smith, particularly in footage of their meeting, which is included in the disc's extras. Oh, and are those some extras! The Blu-ray released by Australian company Umbrella boasts no less than nine hours of special features, which makes it a must-buy. There are a number of archive documentaries included that are in surprisingly good condition for their age (albeit not in HD), and it's great to see more of the interviews that didn't make the final cut of the film.
Even without the extras, this is a documentary worth checking out. If you're remotely interested in exploitation movies, or indeed, world cinema itself, it's invaluable and thoroughly entertaining.
NOT QUITE HOLLYWOOD: THE WILD, UNTOLD STORY OF OZPLOITATION (2008) / CERT: TBC / DIRECTOR & SCREENPLAY: MARK HARTLEY / STARRING: PHILLIP ADAMS, GLORY ANNEN, CHRISTINE AMOR, BARRY HUMPHRIES, JOHN JARRATT, JAMIE LEE CURTIS / RELEASE DATE: OUT NOW