Reviews | Written by Fred McNamara 19/09/2019
DO NOT ADJUST YOUR SET
DVD | STARRING: ERIC IDLE, TERRY JONES, MICHAEL PALIN, DENISE COFFEY, DAVID JASON | RELEASE DATE: OUT NOW
Some historians or biographers might have you believe that a rough timeline of British comedy goes thus: The Goon Show – Monty Python – The Young Ones – the Rest. The space in between The Goon Show's finish in 1960 to Monty Python's Flying Circus' beginning in 1969 was a fertile one that was hardly the vacuum one might think. Prior to the six members of Monty Python converging together to create a landmark body of work in comedy, its various members wrote and starred in numerous television and radio productions in that time-frame, honing their comic talents. In particular, it was thanks to At Last the 1948 Show and Do Not Adjust Your Set that Monty Python was born, and both of these series have received long overdue and extensive restorations via the BFI, collecting together surviving episodes with an abundance of new features.
Do Not Adjust Your Set was written and performed by Terry Jones, Eric Idle, and Michael Palin, with additional material produced and performed by David Jason and Denise Coffey, and captures the young artists sharpening their respective comic capabilities for what would come. It's an odd thing to review material like this in hindsight, whether it be TV shows, literature, comics, movies, or music, when we see the influence that earlier material had on later work so clearly. Many contemporary audiences coming to the likes of Do Not Adjust Your Set and At Last the 1948 Show will no doubt define these shows as proto-Python, but does that prevent them from having their own entertainment value? Do Not Adjust Your Set is, essentially, Monty Python's Flying Circus, but on a smaller scale. Where At Last the 1948 Show centred on politically and socially-tinged tinged satire, Do Not Adjust Your Set prided itself on being far more bonkers.
Conceived as a children's comedy show, there's a jangling, rapid-fire looseness to the sketches of the show, its experimental attitudes in trying numerous comedy hats on heightened by another comic powerhouse gaining early exposure thanks to Do Not Adjust Your Set – the Bonzo Dog Doo-Dah Band. Their madcap musical interludes provide a further unpredictable edge to an already enjoyably bizarre landmark in British television comedy. The low-budget aesthetic of the show matches the immediacy with which Terry, Eric, Michael, Denise, and Jason throw themselves into their material.
The more cerebral wordplay of Palin, Idle, and Jones is offset by the physical comedy of Jason, whose tangible talents come most readily apparent in the show's superhero/spy parody serial Captain Fantastic. Coffey, by comparison to both, is… there. She acts as a welcome female presence, but is seen the least in the sketches. As a chapter of British sketch comedy, Do Not Adjust Your Set is a vital link in the chain, and it's exceedingly pleasant to have this lavish, detailed boxset that aims to paint as full a picture of the series as possible.
The boxset itself contains all the surviving episodes of the show, from both the Rediffusion and the Thames series, plus a wealth of newly recorded interviews with Palin, Tim Brooke-Taylor, John Cleese, and Humphrey Barclay offering their perspectives of the series. The 60-minute Bonzos on the Box documentary will no doubt delight fans of the Bonzo Dog Doo-Dah Band, while other bonus material ranges from digital copies of original scripts to audio clips of lost episodes. It's hugely welcoming to have this exhaustive compilation of material for fans to enjoy, and to have a key era in British comedy cemented for future generations.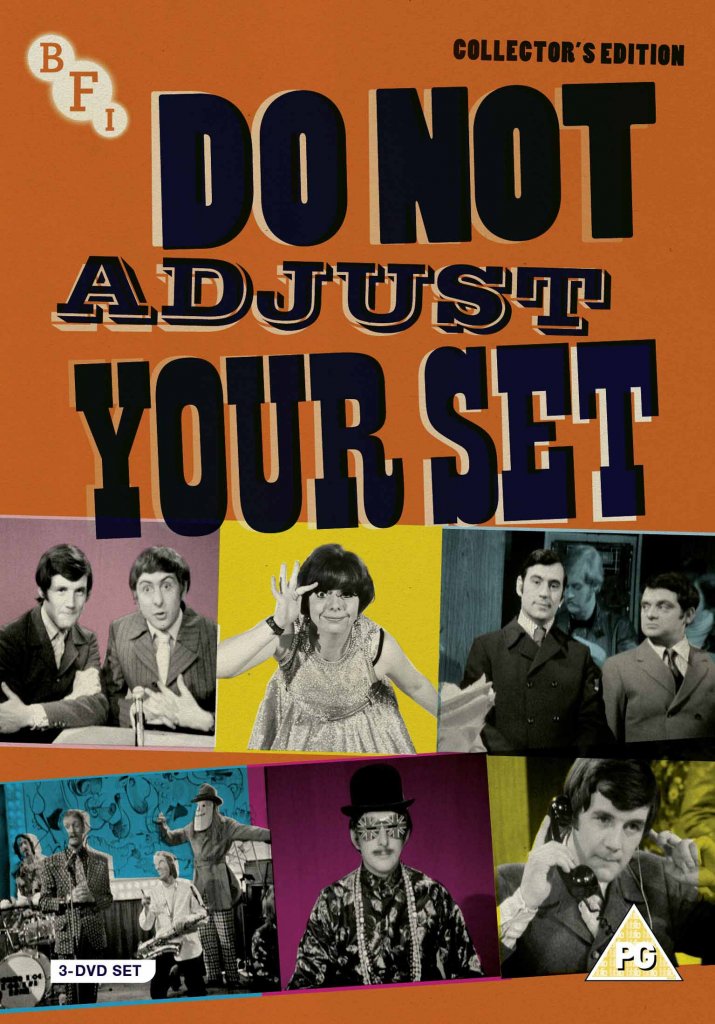 CLICK PIC FOR WHERE TO BUY