Reviews | Written by John Townsend 27/10/2017
Michael Giacchino at 50: A Birthday Celebration
It was always going to be a good night. How could it not be? Take several pieces of music from some of the most popular, most recognisable films of recent years, have them played by a full orchestra with choral backing and bring on a bunch of A-list film directors to introduce them. Oh, and put it all together in one of the most iconic venues in the world. In the end, "good" just doesn't come anywhere near it.
There are other ways to celebrate a birthday, but hosting one at the Royal Albert Hall is certainly one of the better options, and composer Michael Giacchino seemed very happy with the decision. In front of an expectant audience he, along with Ludwig Wicki, conducted the Cinematic Sinfonia Orchestra and the English Chamber Choir through performances of some his most famous music. From the opening choice - a haunting piece from video game Medal of Honour – through the Marvel suite which included music from Doctor Strange and Spider-Man: Homecoming, to a third encore when Giacchino performed music from the soon-to-be-released Pixar feature Coco, there was the sense in the auditorium that this was a special night. This was no formal event; this was a relaxed, joyous and atmospheric evening that befitted the party billing, as if several thousand like-minded individuals had been invited round to Giacchino's home to hang out with him and a few friends.
And what friends he has. Pixar heavyweights Andrew Stanton and Pete Docter introduced music from John Carter and Up respectively, Gareth Edwards entered with a deployment of Stormtroopers before Giacchino conducted a piece from Rogue One, and Matt Reeves spoke of his love for the score from his film War for the Planet of the Apes prior to a selection being played. Even The Great Gonzo made an appearance to perform I'm Going To Go Back There from The Muppet Movie.
The largest cheer, and hardly surprising given the cine-literate audience, was reserved for J. J. Abrams, a long-time friend of Giacchino's, and music from their collaborations on Alias, the Star Trek trilogy and Cloverfield was among the highlights.
But selecting highlights seems churlish given what a sensational experience the evening was. Over three hours of music and anecdotes celebrating the life and work (so far) of one of the world's greatest composers. Let's hope we're invited to Michael's next birthday party.
[caption id="attachment_116809" align="aligncenter" width="300"]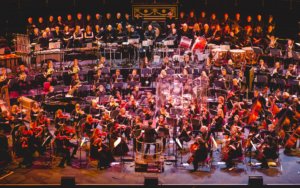 Michael Giacchino celebrating his 50th birthday[/caption] [caption id="attachment_116810" align="aligncenter" width="300"]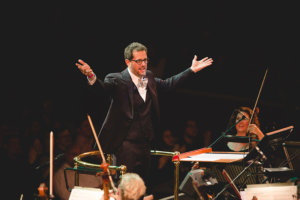 Michael Giacchino celebrating his 50th birthday[/caption] [caption id="attachment_116811" align="aligncenter" width="300"]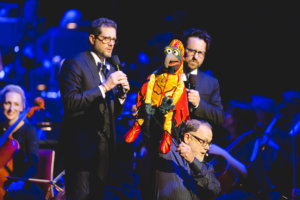 Michael Giacchino celebrating his 50th birthday[/caption]