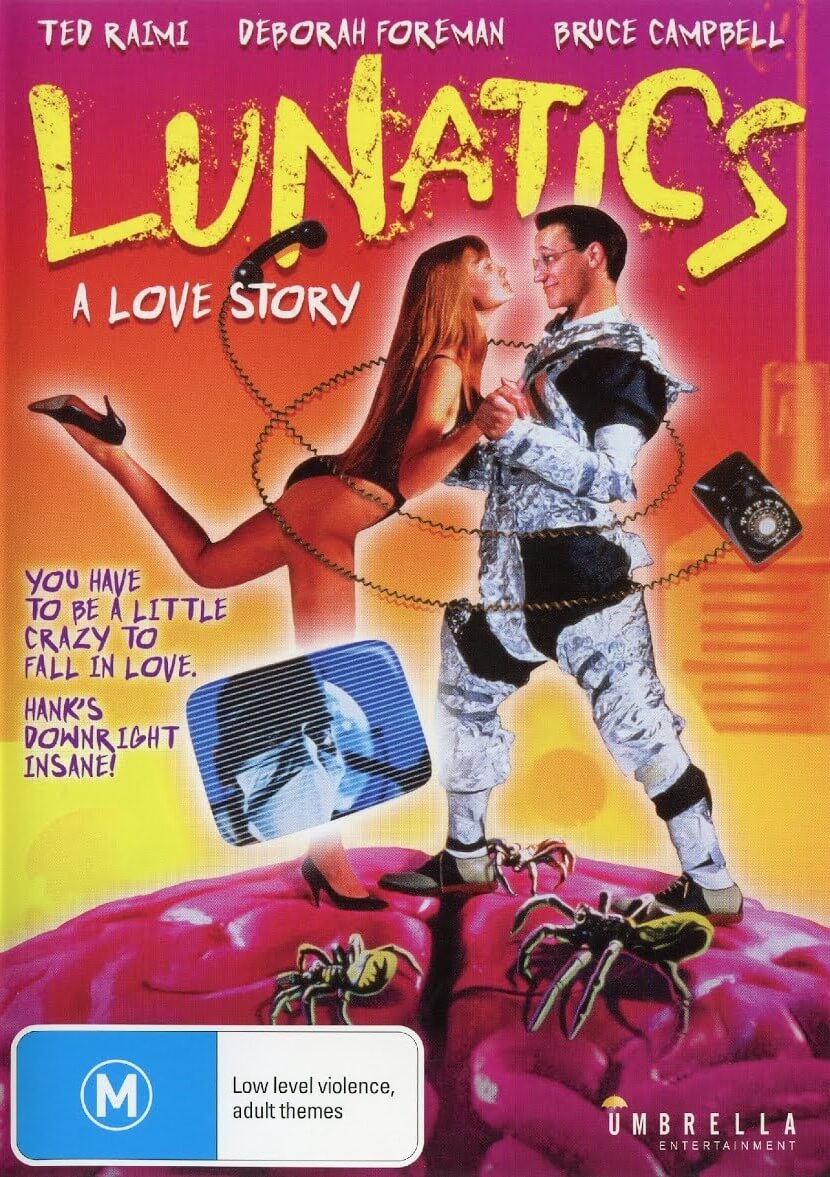 Released on DVD for the first time by Umbrella Entertainment, Lunatics: A Love Story is a curious thing. Written and directed by Josh Becker, a pal and sometimes collaborator of Sam Raimi (who produces here), it's essentially the story of two mentally-troubled individuals finding each other in Los Angeles. That's its strength – the love story and the scenes shared by Ted Raimi's Hank and Deborah Foreman's Nancy are quirky, delightful, and full of chemistry. It's a shame, then, that they only share the screen for a quarter of the movie, and that the other three quarters is such a mixed bag.
Hank isn't well. Released from a stay in the hospital six months ago, he moved to Los Angeles to get away from his family and history in Michigan, with the aim of becoming a poet. He never leaves his apartment, which is covered in tin foil to insulate him from whatever is in the outside world, and frequently has nightmarish dreams where doctors (led by a maniacal Bruce Campbell) try to operate on and sedate him. Nancy is also a recent arrival in LA, eloping with her boyfriend Ray (again played by Campbell), but finding that the streets are very much not paved with gold. Convinced she curses everything she encounters, she takes to wandering the streets of a very dangerous neighbourhood.
The two stories intersect, and that's when the magic happens, but outside this the depiction of Hank's mental illness is a heavy-handed slapstick affair, and Nancy becomes a cypher for Becker's weird, neo-noir vision of Los Angeles. Released in 1991, it's very much of that period when the 1980s bled into the following decade, and the squonking jazz soundtrack and interjections of rap (from Detroit's Most Wanted) are a distraction rather than an enhancement.
Still, Foreman is alluring, and it's a great loss that this was her final film until 2007's Beautiful Loser, and that she's made nothing since. Campbell is as Campbell does, and Raimi occasionally reminds why Joxer the Mighty was such a popular recurring character on Xena: Warrior Princess (which Becker went on to work on after this).
Lunatics could very well gain a second life as a cult hit. There's certainly enough there for that, but part of you wonders how the film could have turned out if the balance between wacky craziness (literally) and unconventional romance had been more in the latter's favour.
LUNATICS: A LOVE STORY / CERT: M (AUSTRALIA) / DIRECTOR: JOSH BECKER / SCREENPLAY: JOSH BECKER / STARRING: TED RAIMI, DEBORAH FOREMAN, BRUCE CAMPBELL / RELEASE DATE: OUT NOW (AUS)