Reviews | Written by Kieron Moore 18/04/2019
KINGDOM – Manchester HOME
The 25th anniversary edition of the ¡Viva! Spanish and Latin American Festival recently hit Manchester arts venue HOME, with the headline attraction taking place every evening in the spacious and comfortable main theatre. From theatre group Señor Serrano, who saw success at the 2017 festival with Birdie, comes Kingdom, described by them as "an irreverent cocktail mixing bananas, consumerism, virile choreographies, commercials, punk rock, King Kong, supermarkets, growth, confusion, expansion, multinationals, shortages, coups d'état, bestiality, trap music and very macho men in an endless party."
Yep. There's a lot going on in this production, though the main narrative is a history of the banana within consumer culture. Early on, we're treated to a hip hop number about how it's a common misconception that the forbidden fruit in the Book of Genesis is an apple, and it was much more likely to have been a banana. From there, we jump ahead to 1870, when railway tycoon Minor Cooper Keith discovers bananas in the jungles of Costa Rica, and brings them back to the western world, with his United Fruit Company predating Ford Motors as arguably the first major multinational corporation. Up to this point, it's all been based on real historical research; this complete veracity continues (mostly) as, in 1933, King Kong is discovered, and becomes a worldwide symbol of the powerful commodity that is the banana.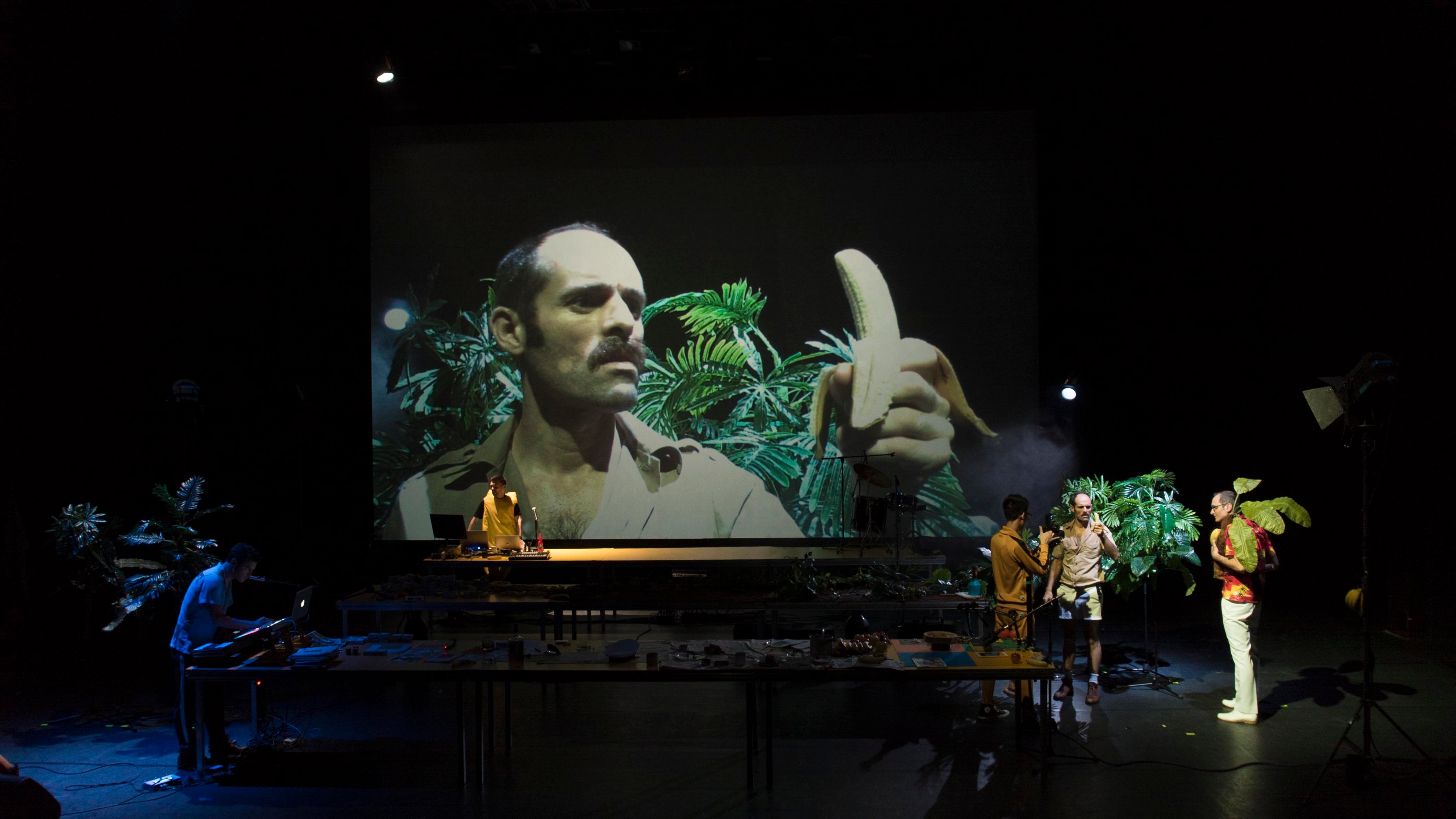 It sounds absurd, and we've not even scratched the surface, but the real joy of Kingdom is not just the alternate history Señor Serrano present but the way they present it. As all the parts of this story are acted out, someone on stage is always carrying a camera, the feed from which is displayed on a big screen at the back. This isn't just a theatre show, it's the production of a movie – a King Kong movie! With clips of the big monkey himself included, as well as the live additions of elements such as greenscreen, one member of the group performing the Kong sound effects, and some miniatures that Merian C. Cooper would be proud of, it's a remarkable technical achievement and an awe to watch.
Oh, and large parts of it are in Spanish. There are subtitles.  Just one more complex technical element that somehow runs completely smoothly.
The satirical elements of Kingdom might leave you pondering consumerism. Or you may simply enjoy the madness of it all, which culminates in a loud, bright dance performance encapsulating the show's ethos of "the world is going to shit, let's celebrate." Who are we to argue with that?