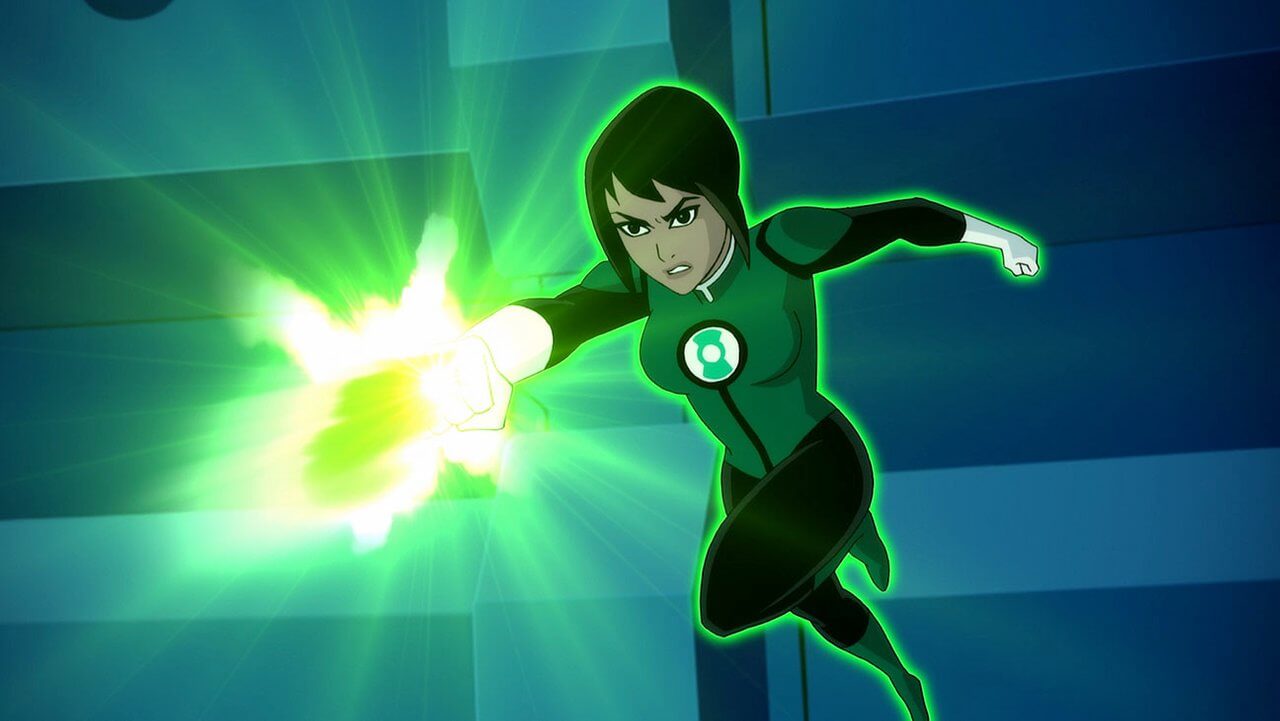 Whether you've been a fan of their recent big-screen output or not, there's no doubting that DC is most certainly king when it comes to the world of animated superhero shenanigans. So with that in mind, let's take a look at Warner Bros. and DC Entertainment's latest animated release, Justice League vs. the Fatal Five.
Now whilst the majority of recent DC's animated offerings have existed in the crafted and created world left behind after 2013's Justice League: The Flashpoint Paradox, this latest movie takes place in a very different, but also very familiar, setting: the classic DC Animated Universe that began with Batman: The Animated Series and largely concluded with 2006's Justice League Unlimited.
Plot-wise, we open the action in the 31s century as three of the nefarious Fatal Five – Tharok, Persuader and Mano – attack the Legion of Super-Heroes' base of operations in search of a time travel device. Overpowering the Legionnaires present, the three no-good bad guys manage to make off with said device and head on back to the present day. Luckily for the 21st century, Star Boy has managed to tag along for the ride to the present, although it comes at a cost. Devoid of his memories and unable to find anything close to the mind-stabilizing medicine he needs from his own time, one of the Legion's finest ends up locked up in Arkham Asylum as the threat of the Fatal Five zones in on reluctant new Green Lantern, Jessica Cruz. With some classic Justice Leaguers around to help fight the good fight, the battle is on to protect the present and the future of Earth and the stars beyond our planet.
Pretty heavy stuff, right? For sure, for Justice League vs. the Fatal Five has so much on the line should our heroes not be able to step up to the plate and defeat what is positioned as a truly unstoppable threat. Hell, the battle lines are well and truly drawn from the moment we see Superman left bloody and defeated! But while it's the physical battles that are so often highlighted in such movies, here we also see mental battles delicately showcased by the creative team involved in the feature. At the forefront of this issue, we find Star Boy and Jessica Cruz. For Star Boy, his mental instability has seen him shunned by the Justice League and locked up with some of Arkham's most infamous villains. Whereas for Jessica, she is suffering heavily from PTSD and is often far too scared to even leave her own apartment, yet alone embrace her Green Lantern ring and be tasked with protecting a corner of the galaxy.
In comparison to other animated DC offerings, Justice League vs. the Fatal Five is an utterly unique beast due to the issues that it highlights. Far more than just the usual collection of capes 'n' tights fighting the good fight – to be fair, the DC animated efforts do often tend to offer up more than generic paint-by-numbers action, of course – the characterisation of Jessica Cruz and Star Boy is refreshing as we see that even the most powerful of heroes have their own personal turmoil and personal battles to deal with. It may be iconic returning voices such as Kevin Conroy, George Newbern and Susan Eisenberg that might attract in many fans, but you'll leave Justice League vs. the Fatal Five wowed by the nuanced, multi-faceted performances put in by Elyes Gabel as Star Boy and Diane Guerrero as Jessica Cruz.
Key to making Justice League vs. the Fatal Five work, mind, is the story at the core of this adventure. In the Fatal Five, we have some truly badass and brutal villains, while the writing team of Eric Carrasco, Jim Krieg and the legendary Alan Burnett manage brilliantly to make the lesser-known duo – at least in a mainstream sense – of Jessica Cruz's Green Lantern and Star Boy feel like hugely compelling characters who are positioned as genuinely big deals that don't look out of place alongside some of DC Comics' greatest heroes. And again, this feature is another string to add to Sam Liu's ever-expanding director's bow; Liu having previously helmed Teen Titans: The Judas Contract, Batman: The Killing Joke, Batman: Gotham by Gaslight and the recent, monumental two-part adaptation of The Death of Superman.
As ever, this release also includes several classic animated episodes of yesteryear – which, let's face it, is never a bad thing – and the chat track and Batman: Hush preview round out a overall great package. Mark this one down as another home run for DC Entertainment's animated output.
Special Features: Audio commentary / Two featurettes / Sneak peek at Batman: Hush / Revisited sneak peeks of Justice League Dark and Justice League vs. Teen Titans / Justice League Unlimited episode 'Far From Home' / Legion of Superheroes episode 'Man of Tomorrow'
JUSTICE LEAGUE VS. THE FATAL FIVE / CERT: 12 / DIRECTOR: SAM LIU / SCREENPLAY: ALAN BURNETT, ERIC CARRSACO, JAMES KRIEG / STARRING: ELYES GABEL, DIANE GUERRERO, KEVIN CONROY, SUSAN EISENBERG, GEORGE NEWBERN, DANIELA BOBADILLA, KEVIN MICHAEL RICHARDSON, TOM KENNY / RELEASE DATE: APRI 29TH