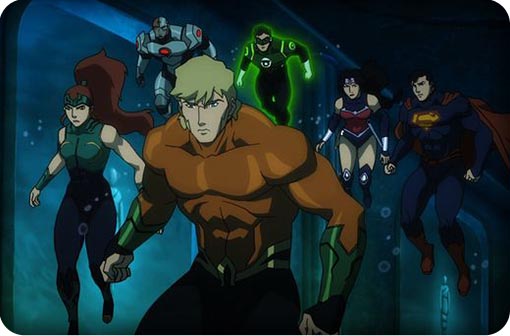 BLU-RAY REVIEW: JUSTICE LEAGUE: THRONE OF ATLANTIS / CERT: 15 / DIRECTOR: ETHAN SPAULDING / SCREENPLAY: HEATH CORSON / STARRING: MATT LANTER, SAM WITWER, HARRY LENNIX, JASON O'MARA, JERRY O'CONNELL, SIRENA IRWIN / RELEASE DATE: FEBRUARY 23RD
The DC animated realm is a peculiar beast. For so, so many years, you could count on Warner Brothers' animated DC output to be something truly special. The likes of Batman: Mask of the Phantasm and Batman Beyond: Return of The Joker live long in the memory and stand proud as genuinely engaging, enjoyable and gripping films in their own right. Then the mid-2000s saw a slightly tweaked take on the animated adventures of DC's finest, with Bruce Timm taking a step back and Warners deciding to run with a slightly more adult-themed world. Don't get us wrong, the likes of Justice League: The Flashpoint Paradox, Batman: Under the Red Hood and the breathtaking two-part adaptation of Frank Miller's The Dark Knight Returns were huge bright spots, but the current DC animated product is hit-and-miss, to say the least. And so here we are, with Throne of Atlantis looking to continue the JL action that was last seen in the frankly dull Justice League: War.
As the title would allude to, Aquaman (Lanter) plays a pivotal role here, with Spaulding's film essentially being the King of Atlantis' origin story. To get it out of the way, Throne of Atlantis isn't actually as bad as we were expecting. We meet Arthur Curry during a particularly bad time in his life; his father is dead, he's taking a barroom beating, and he's drowning his sorrows whilst talking to a lobster that's waiting to be cooked. Elsewhere, the rest of the Justice League team are slowly brought back into the picture; Victor Stone (Shemar Moore) is a tormented soul as he struggles to deal with life as Cyborg; Superman (O'Connell) and Wonder Woman (Rosario Dawson) are lovers who have are struggling to adapt from being gods to blending in with mere mortals; Batman (O'Mara) is, well, Batman; Green Lantern (Nathan Fillion) and The Flash (Christopher Gorham) are largely just there to quip wise; and Shazam (Sean Astin) is mainly present for comic relief, giving the viewpoint of an annoying child. Safe to say, this whole "Justice League" thing is all a bit new for our heroes. But under the ocean waves, treachery is afoot.
Blaming the destruction seen in Justice League: War for the death of his father (which is a nice continuity nod), Orm (Witwer) wants to take revenge on the surface dwellers by attacking Metropolis. He's quickly shot down by Queen Atlanna (Irwin), whose main concern is on finding her lost son; the one who is of both worlds. Me and you know him as Aquaman. Whilst the Queen sends Mera (Sumalee Montano) to assist in this search, Orm is still pushing for all-out war with the world above him and those he deems to be terrorists, using Black Manta (Lennix) to carry out his bidding. Seemingly it is only Arthur Curry who can bring the two worlds together and save a whole lot of bloodshed.
Throne of Atlantis is a truly mixed movie. The actual Justice League itself is a fairly weak part of the picture, but the story shines when focussing on Curry's ascent towards taking his rightful place as the ruler of the seven seas. Yes, the Justice League is supposedly in its infancy here, but the dialogue and interaction between the characters could serve as a major turn-off for some long-time fans. In the film's defence, the dialogue is more likely to engage younger, newer fans, so that could be part of the reasoning behind that decision. As for the League members, only Batman really comes across as having any sense whatsoever; he's a realist who makes the right decision and talks sense. Superman, whilst not being anywhere near as much of a cock-sure prick as he was in War, is still never more than 'meh', with Wonder Woman also feeling the same. The Flash and Green Lantern are just there, and Shazam is like the annoying younger brother of the team. Victor Stone's arc is actually quite interesting, but his story is only a side dish to the bigger fish of the film.
Arthur Curry is the main course in Throne of Atlantis, and if the aim of the movie is to make Aquaman feel relevant and important, then it's mission accomplished. Curry comes across as a tragic figure, full of resolve and courage, and this feels like a great portrayal of an oft-mocked comic book character. Once the story gets going, the Justice League essentially becomes redundant and this is firmly Aquaman's tale. The action sequences are fantastic at times, with the action following the brutal lead of The Flashpoint Paradox and War, and it pitch-perfect score accompanies the piece.
There are still a few gripes with this recent incarnation of the DC Animated Universe – largely the portrayal of some of its key heroes, not to mention the shoehorning in of Lois Lane and Jimmy Olsen here – but Throne of Atlantis, itself based on the 2013 comic book arc of the same name, is a step in the right direction.
Special Features: Three featurettes / Robin and Nightwing bonus sequence / A sneak peak at Batman vs. Robin / Bonus cartoons

SHARE YOUR COMMENTS BELOW OR ON TWITTER @STARBURST_MAG
Find your local STARBURST stockist HERE, or buy direct from us HERE. For our digital edition (available to read on your iOS, Android, Amazon, Windows 8, Samsung and/or Huawei device – all for just £1.99), visit MAGZTER DIGITAL NEWSSTAND.
CLICK TO BUY!
MORE FROM AROUND THE WEB: