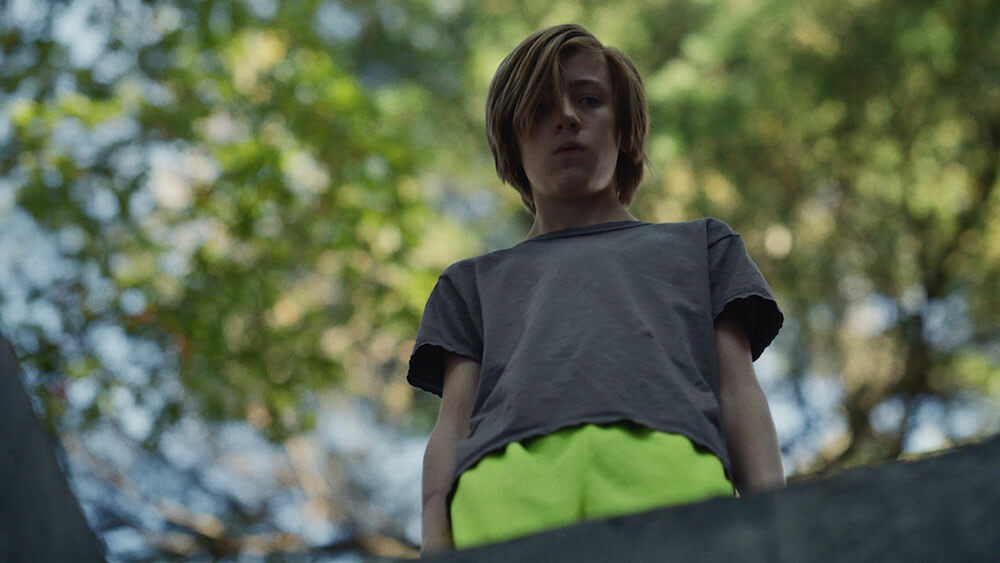 13-year-old John (Charlie Shotwell, The Nightingale) is a typical moody teen; on the cusp of adulthood while inquisitive and monosyllabic in equal measure. When he discovers a large hole that was part of an abandoned shelter in the family's large wooded grounds, he hatches a plan to discover what it's like to live like a grownup. During the night he takes his parents, (Michael C. Hall, Dexter) and Jennifer Ehle (Saint Maud), and sister (Taissa Farmiga, American Horror Story) and leaves them at the bottom of the concrete hole. He provides them with basic food and drink, and following a rainstorm, some thicker clothes but essentially leaves them while he plunders his father's bank account and 'enjoys' the perks of living alone. He doesn't find the fun he perhaps expects from this newly grasped freedom, as the abyss in his psyche continues to grow.
Despite the star-studded cast, this moody, dense psychodrama is far from Hollywood territory. Its pedestrian pace and languid narrative will put off many, but stick with it and there's plenty to unravel. One of John's 'games' involves him and a friend holding each other under the water of the family swimming pool to see if they can have a near-death experience. It's this search for something which has meaning that is at the core of the film and how much the viewer takes from the movie depends on relating to that feeling to some extent.
The feature debut of Pascual Sisto, who directs with muted flair, and boasting a screenplay by Oscar winner Nicolás Giacobone (Birdman), John and the Hole doesn't give easy answers and is certainly a challenging watch. Shotwell is superb as the troubled youth seemingly trapped in a life that is cosy, comfortable, and prosperous. A story-within-a-story approach has a doting mother (Georgia Lyman) telling the story of a boy named John and his hole to her daughter (Samantha LeBretton). As we discover, this loving engagement has sinister overtones itself.
John and the Hole isn't a film you'd choose for a popcorn-munching treat, but for the more cerebral evening, it's worth checking out.
John and the Hole is available on digital platforms now.