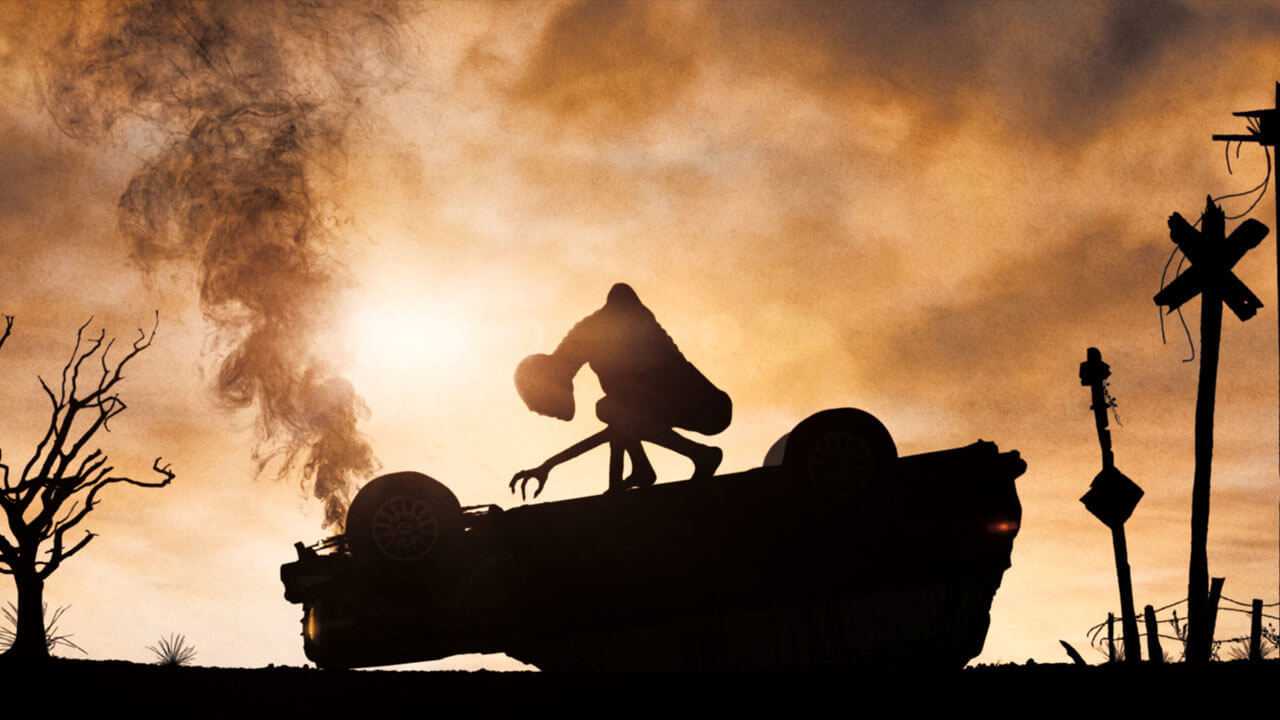 With the likes of The Walking Dead and Cloverfield very human stories against the backdrop of apocalyptic events have proved immensely successful over recent years and another of this year's FrightFest Halloween offerings, Mathieu Turi's Hostile, did its best to approach the idea from a different angle. Director Xavier Gens, responsible for the likes of The Divide and Frontier(s), handles producing duties.
Juliette (Brittany Ashworth) is in the desert looking for supplies and civilization in a redesigned truck, but an error of judgement causes her vehicle to veer off the road and flip over. Trapped in the vehicle with no way of actually escaping, due to her leg being caught in a wheel, she tries to call for help, but is restricted in terms of communication and other matters.
Resigned to her seemingly inevitable fate, she reflects on her troubled relationship with boyfriend Jack (Gregory Fitoussi), the owner of a New York art gallery and the numerous factors that helped define their connection and ideas. However, neither of them are prepared for the imminent fate and bad hand that life is about to deal them.
Hostile is an intriguing variant on the genre and director Turi has at least tried to focus a bit more on the human element and emotion that is somehow missing from films of this ilk. Shot over three continents, including a sun-drenched Morocco, Turi said at the post Q and A after the FrightFest screening that he intended the film to be shot in English, as shooting in his native French dialect would have proved problematic in terms of funding. However, perhaps that would be an element to consider for a movie that we could see in the future.
Overall, this film is strengthened by the performances of the two leads, particularly Ashworth who communicates a wide mix of emotion in the context of both stories that the film tells – the loneliness and isolation in the desert and the city sequences. Juliette is a complex woman, troubled by her dark past and her desire to overcome her demons with help from her partner, particularly when another factor imposes on their future. Fitousse also shines in his role and it is great casting.
The film is technically sound, with good production values on a limited budget and holds the attention throughout. It does require its audience to be flexible and Turi tries to give the viewers some credit for interpretation, another factor he brought into the Q and A afterwards, about the circumstances the characters find themselves in. There is a touching climax to the film as well, a rarity in a movie that also features monstrosities roaming the desert like extras in The Descent, so worth sticking with for the duration.
HOSTILE / CERT: TBD /  DIRECTOR: MATHIEU TURI / SCREENPLAY: MATHIEU TURI / STARRING: BRITANNY ASHWORTH, GREGORY FITOUSSI, JAVIER BOTET,  JAY BENEDICT / RELEASE DATE:  VOD OUT NOW