Reviews | Written by Paul Mount 25/11/2021
HAWKEYE Episodes 1 + 2
After an understandably fallow twelve-month period in 2020, this year has been a busy ol' time for the MCU and its small screen spin-offs. Three previous live-action shows and an animated series on Disney +, three feature films (with a fourth – possibly the most anticipated Marvel movie of all time – so close you can almost touch its webbing) have inevitably led to renewed cries of superhero movie overload (wind yer neck in, Sir Ridley) and MCU burnout. Marvel is certainly moving in some mysterious ways these days; WandaVision dazzled with its visual pizzazz and wildly-outre storyline and Loki took a deep dive into the "multiverse" concept likely to dominate the MCU certainly for the immediate future. Eternals attempted to get all spacey and arty on its ass with mixed results, but there's a sense that Kevin Feige and co are well aware of the need to broaden the MCU's horizons if they're to keep the flag flying now that many of their early big hitters have moved on or bitten the dust. The future for the MCU may lead its audience into less-transparent waters than they're familiar with, so Hawkeye, the new six-part series that has just premiered its first two episodes on Disney +, will be a welcome shot of the familiar as all-around threatens to change into something else – and something weirder – entirely.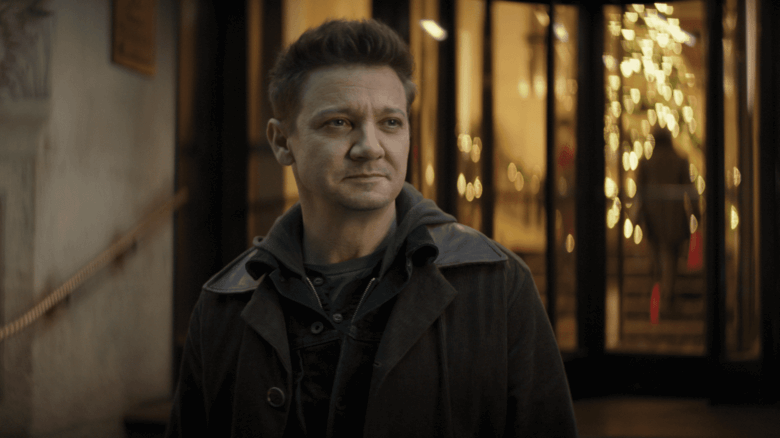 Hawkeye is a warm comfort blanket of a show (appropriate considering the Christmas trappings it is liberally layered in - if not sometimes swamped by) as we're reintroduced to one of the MCU's most reliable side characters as we also make the acquaintance of a bold and lively new addition to Marvel's ever-expanding roster of heroes. Kate Bishop (Hailee Steinfeld) is a clever, witty, sassy - but slightly troubled – young woman who, inspired by the sight of Clint Barton/Hawkeye in action during the Battle of New York in 2012 (a lovely opening sequence that thrillingly reminds us how joined up the MCU is at its best), has herself become an expert archer, fencer, fighter and, it seems, acrobat. Her relationship with her widowed mother Eleanor (the brilliant Vera Farmiga) is slightly fractious and when Kate discovers that her mother is engaged to the distinctly dodgy if entirely plausible Jack Duquesne (Tony Dalton) whose uncle Armand (Simon Callow) clearly doesn't think Eleanor is a suitable match for him, her investigations lead her to a black market auction gate-crashed by the Tracksuit Mafia, a rather inept Russian street gang. Kate recovers Clint's old Ronin fighting suit, one of the lots at the auction, and dons it to take on the Tracksuit Gang. Clint, determined to spend time with his family in the run-up to Christmas, sees a news report suggesting that the mysterious Ronin is back in action and, inevitably, Hawkeye can't help but get involved…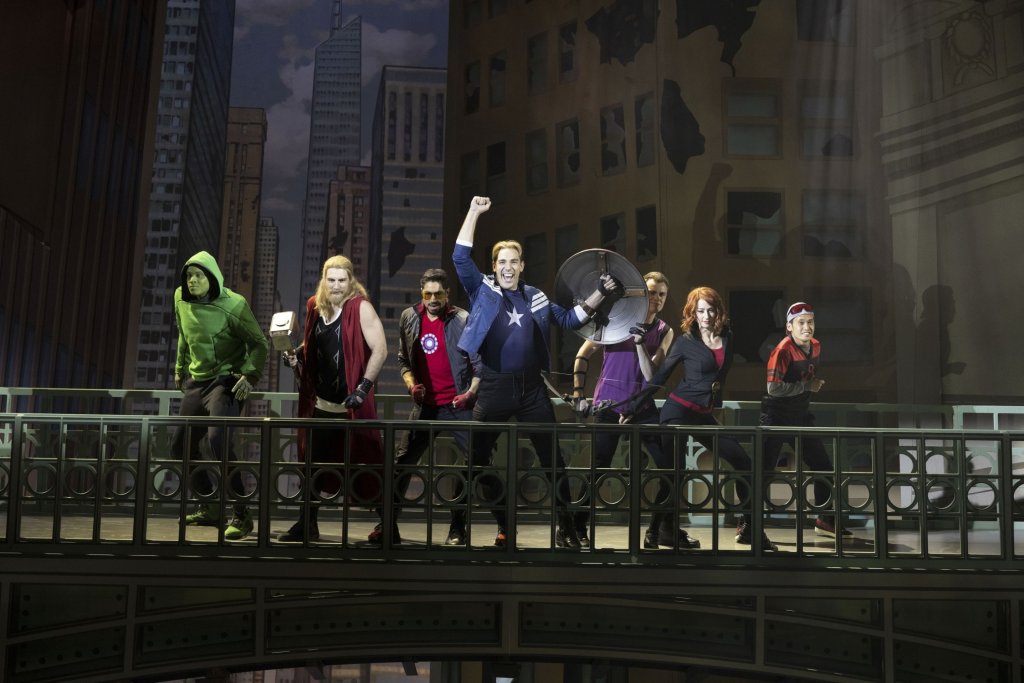 On the basis of this slick, lively opening double bill, Hawkeye is going to be an absolute blast. Some have complained that for a show called Hawkeye there's not really a lot of Hawkeye in sight, but this is inevitable as we already know Clint, we know what he does, who he is and what he's been through. Episode one poignantly reminds us of his trauma in the otherwise-hilarious sequence where Clint and his kids are watching a musical based on the exploits of the Avengers ("I Can Do This All Day" will be running through your head for weeks), and Clint's reaction brings back fond memories of Mel Brooks' original The Producers; but seeing a stage performer playing Black Widow just reminds Clint of the tragic loss of his friend during Endgame and we're reminded that this is a fractured, damaged man touched by grief and loss. But episode one, understandably, spends a lot of time setting up Kate because we've not met her before, she's new to us and if we're to invest in her and give a damn about her, the show needs to focus on her at first so that by the time she finally meets up with Clint at the end of the episode, we know enough about her and her life to care about what's in store and how her relationship with Clint will develop across the next few episodes.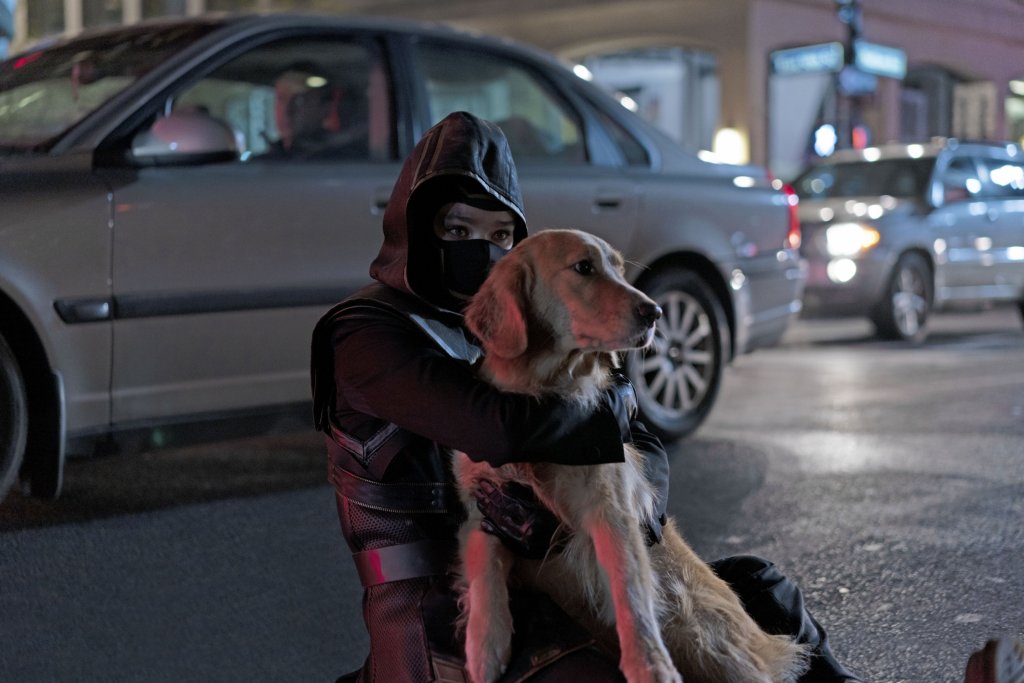 Kate is a little brittle, blunt and abrasive – perhaps hard to take to at first – but once we've privy to the problems that plague her and her own personal uncertainties, we can see that, whilst she's clearly a dab hand with a bow and arrow, her feet and fists and the odd beer bottle, she's not particularly practical in more mundane matters. The contrast is quite clear in episode two where Clint takes charge, makes the decisions and tries to set the agenda for them both going forward as ships that have passed in the night but need spend no further time closely berthed. Episode two gives us a lot more Hawkeye action as our boy tries to get back to his family but finds himself drawn deeper into trouble when his attempts to recover the Ronin suit (a charming and amusing scene involving a bunch of LARPers) and deflect attention from Kate lead him into even greater danger. He's captured by the Tracksuit Mafia and Kate's attempt to ride to his rescue end up with them both in jeopardy, prisoners of a character who has her own future already mapped out on Disney +. But that's another story, a  year or two away from the telling…
Hawkeye is off to a blazing start. It's great to see Renner toplining his own show (he's refreshingly deadpan), and Steinfeld gives the series its real youthful energy and sense of momentum. Add to the mix a story that's pleasingly linear and unshowy, lots of Easter eggs for the hardcore and lashings of Christmas cheer, it looks as if we're in for a proper festive Marvel treat across the coming months.
Bullseye!
HAWKEYE airs new episodes every Wednesday on Disney+