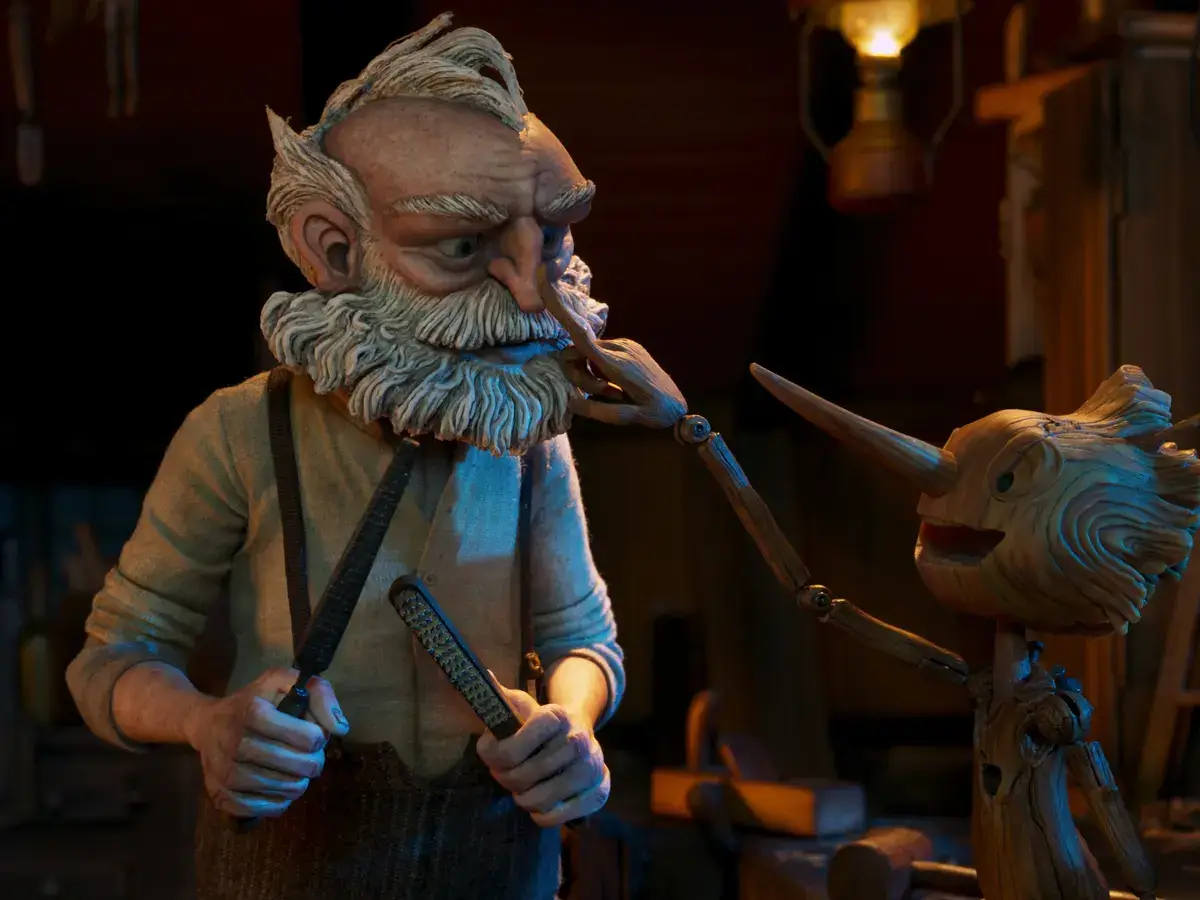 Earlier this year we reviewed Robert Zemeckis' overly hated, if easily overlookable live-action Disney remake of Pinocchio, ending by saying that Guillermo del Toro's take on Carlo Collodi's story would likely be the one this year we'll all be remembering. How little did we know just how right that prediction was. Guillermo del Toro's Pinocchio is a spellbinding, innovative, and original take on a story so many will think they know inside and out… but they don't.
It tells the tale of carpenter Geppetto (the wonderful David Bradley), who lost his son years prior, and creates a puppet to focus his spiralling grief. That night, a Wood Sprite brings the puppet to life, and so begins a journey in this mad little thing we call life. Within a minute, you realise that you are in the very safest of hands with this – dare we say definitive – take on Pinocchio. The hands of a gifted team of creators firing on all creative cylinders. A Netflix production this may be, but it feels so inherently cinematic, and directors del Toro and Mark Gustafson have orchestrated a stop-motion triumph that is undoubtedly the best animated feature of the year. 
A longtime coming passion project for del Toro, it is so satisfying to see his vision so magically well realised. And what a vision it really is – embracing wholeheartedly the darkness of the 1883 Italian story, but translating the narrative so expertly to 1930s Italy, and touching upon some of the most complex of themes. 
This recreates Pinocchio as a fable of disobedience in the face of fascism. It is a film of faith, an existential fantasy tackling the shape life takes and its journeys and destinations, and a most human story of dealing with often unattainable paternal expectations and finding love all the same. The fact it is dedicated to del Toro's mother and father only speaks further to its truthful soul.
This is a film which has something different to say for any age that watches it, all of which are just as important. It is a breathtakingly animated musical (the select songs capturing a range of emotions) that does not speak down to its younger audience in any way, treating them with the clear respect it also has for more mature viewers, leaving people of any age in tears, be they of relatable sorrow or utter joy.
Speaking of its voice, the voice work and characters are so full of heart that they each remain in the memory. Ewan McGregor offering comedy and pathos as Sebastian J. Cricket, Bradley capturing true love and pain as Geppetto, and young Gregory Mann encapsulating a child's inquisitive innocence, honesty and strength as Pinocchio. There is a fierce supporting performance from Christoph Waltz as the nefarious Count Volpe, some equally memorable work from Tilda Swinton as forces of both light and dark, and you'll never guess who Cate Blanchett voices when you first watch it!
Everything here, appropriately enough, is crafted with such expert care. The animation is an utter painstaking delight and anchors this method of animation still as one of the best. Meanwhile Alexandre Desplat's awards-worthy score is outstanding and among the most tender and impactful work of his career. Even outside of the aesthetics, the craft is expert, with a rich story packing powerfully poignant adult punch alongside its youthful freedom, attitude and fun. 
Simply put, Guillermo del Toro's Pinocchio is stunning on every level, and the best work of its kind since Kubo and The Two Strings. Behold, another masterpiece from the mind of a living moviemaking legend, which will – unlike all of us – live forever.