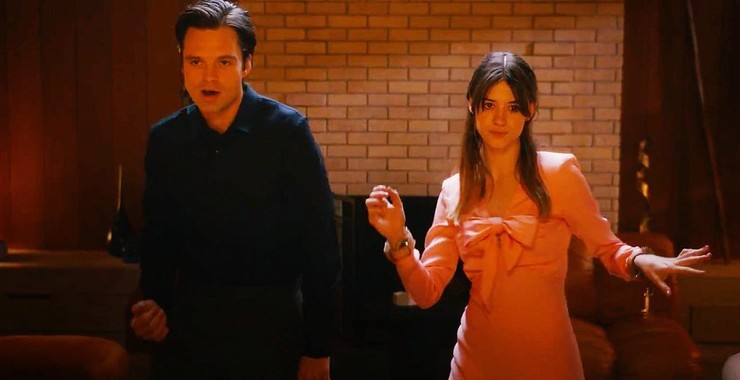 A refreshing break from the horrors of modern dating goes wrong when jaded singleton Noa (Daisy Edgar-Jones) discovers that her new beau is a cannibal. Unfortunately, by 'discovers' we mean 'is kidnapped by,' and by 'cannibal' we mean 'yes, a cannibal, but also a chef and butcher to an underground network of people who are also cannibals.' Trapped in Steve's (Sebastian Stan) underground lair and dungeon, Noa must find a way to outwit her captor before he's done chopping her up and eating her out. Sorry, eating her up. 
Cynically roasting the modern dating pool, Mimi Cave's pitch-black comedy horror makes a magnificent monster of star Sebastian Stan. Fresh (heh) from his energetic turn as Tommy Lee in Pam and Tommy, Stan continues to prove that he's so much more than his boring Winter Soldier performances – turning in what might be the horror villain performance of the year (calling it already). In keeping the beast at bay, Edgar-Jones proves more than capable too, and the film does good work of maintaining her agency while also driving home the horrors of her situation.
While there are shades of Get Out to the film's subplot – in which Noa's savvy best friend (Jojo T. Gibbs) grows increasingly suspicious of Steve's motivations – no-one could predict the story's full trajectory. Indeed, had the film not worn its genre affectations on its sleeve, audiences could have been in for a mind-blowing Audition-level twist – kicking off with the title card appearing some thirty minutes into the movie. But even with its game well-advertised, Fresh isn't short on surprises.
Directed with verve and snappily written by Lauryn Kahn, this is an exciting feature debut for Cave. Equal parts hilarious and horrifying, Fresh should put viewers off both men and meatball dinners for at least  a few days.