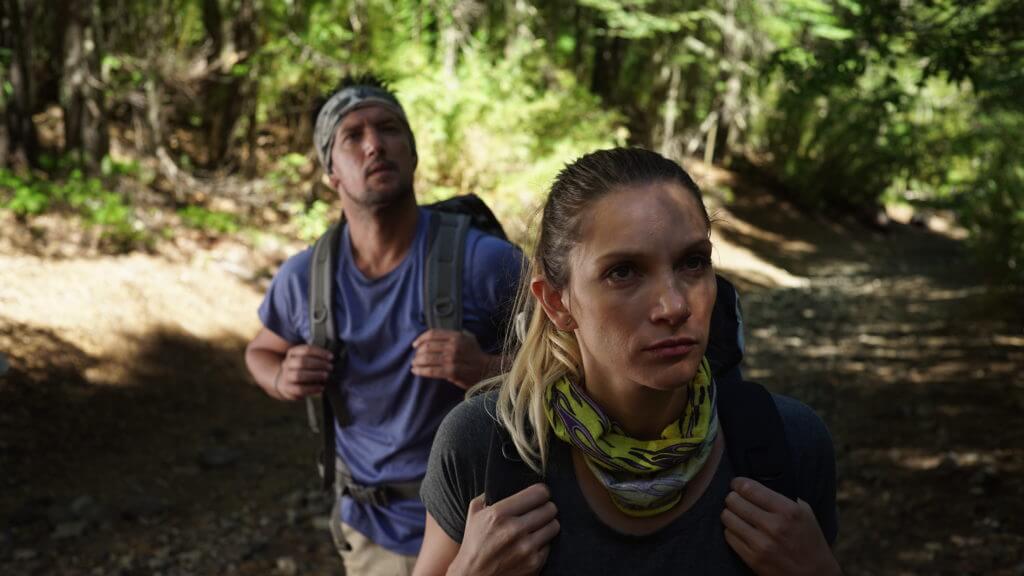 This Chilean sci-fi horror takes place in the Snowdevil Mountains, a place purported to be rife with extra-terrestrial activity. Kevin (Domingo Guzmán) and Evelyn (Romina Perazzo) are out camping, but during the night, Evelyn is abducted by aliens (well, a bright light). Kevin finds her naked and covered in slime. While the doctor is checking her over, there is movement in her stomach and her eyes turn black. When Kevin comes in to see how things are going, she is hunched over the doc chewing away and covered in blood.
This is just the first of three separate occurrences that make up the film. The (mis)adventures of Evelyn and Kevin are interspersed throughout and get bloodier and bloodier as her lust for blood to feed whatever's inside her increases.
Mostly shot amongst some spectacular scenery, Embryo's structure moves between camcorder footage and the slicker main segments, which has flashes of gore and at times reminds us of Cronenberg's Shivers and Rabid. There are several moments that are impactful during the 'found footage'-style sections, in particular a youngster who draws aliens and calls her mother 'Martian Mummy', while she's trying to keep out something with tentacles. Even though it's not really needed, everything's brought together in a TV news report coda.
According to co-writer/director Patricio Valladares (Hidden in the Woods), he couldn't raise the budget for the original idea for the feature, so he improvised by adding the found footage elements to create a discordant but always interesting patchwork.