Reviews | Written by Andrew Marshall 07/05/2018
Edinburgh Comic Con
Edinburgh Comic Con, the Scottish capital's premier geek gathering, returned in April for another weekend of glorious nerdery.
Now fully settled into its home at the EICC, the event spreads across various rooms of the conference centre with the main hall holding the bulk of attractions and most stalls run by the writers and artists of quality independent comics, along with others featuring associated geeky paraphernalia.
The layout used the available space to great effect, fitting in as many tables as possible while still leaving the aisles wide enough to walk along unimpeded even if people were stopped on both sides, while the tables of the con guests were positioned around the room's periphery to give them maximum visibility.
Various life-size models for photo ops were scattered around the area, such as a Dalek, a TARDIS, a DeLorean, a carbonite-frozen Han Solo, and a barricaded doorway emblazoned with "Don't dead open inside" a la The Walking Dead, complete with pounding on its other side that freaked out dozens of people posing for pictures.
Another well-stocked room contained further assorted distractions such as a wrestling ring with numerous exhibition bouts, arcade cabinets programmed with countless dozens of retro titles for impressing youngsters with your mad gaming skillz, a Lego exhibition with fantastic models such as a SHIELD Helicarrier and a Millennium Falcon, a Nerf shooting range, a VR setup, and Magic: The Gathering gaming tables.
Additionally, new events this year was a pair of comics workshops, one on character design run by artist Gary Erskine (Judge Dredd, The Filth, Roller Grrrls) and another on creating comics run by writer John Farman (The School of the Damned, Royal Descent), which was engaging enough that only one person fell asleep.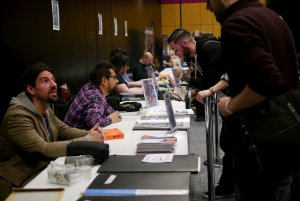 Photo: ©MustBeTuesday.co.uk
The panels were an expectedly varied affair, beginning with a pair of grown men talking about playing with plastic bricks. Rod Gillies is one of the authors of the Lego Build Your Own Adventure books, and went in depth into the rules and inspiration necessary for writing and designing them, including consulting with Lego's people at every turn for colour and brick combinations allowed, and ensuring adherence to the most important rule that the books are a fun experience for the kids reading them. Also speaking was Warren Elsmore, who operates a company that constructs elaborate custom builds (such as the model of Olympic Park created for the London Olympics in 2012) and produce books about making them. Although slightly different professions, the tales of both perfectly encapsulated the sense of creativity, inspiration, imagination and wonder that have always been at the core of Lego's very purpose for being.
The first of several panel interviews was Dominic Keating, best known as tactical officer Malcolm Reed from Star Trek: Enterprise. The breadth of his career was discussed, from his local connection as being part of the team who started the Pleasance theatre, learning to act from being taken to opening night plays by a critic friend and "watching other actors act," his big break as the "token honkey" in barbershop sitcom Desmond's, blasting through his years as a jobbing actor in Vancouver before his arrival on the Federation's exploration vessel. An engaging raconteur with charismatic presence and swaggering confidence, he had an endless supply of anecdotes where he fired out uncanny impressions of the various people featured in them, such as auditioning for Reed with a Yorkshire accent and having the producers argue if it was Welsh or Scottish, or becoming only the fourth person ever to have recorded a reading of The Iliad.
Comic Creators Anonymous is a regular panel that focuses on unsung creatives working on big-league comics, this time talking to Spanish artists CAFU, Jorge Fornes, and Fernando Dagnino. Despite Spain not having a comic book industry and the country still largely having the perception that the medium is solely for children, there was revealed to nevertheless be a lot of passion for those who want to work in it, to the extent that they each got their start by inundating publishers with samples until they got noticed. Their ability to speak English varied the complexity of their answers, but each got his point across clearly, whether it was on which specific titles they would recommend to anyone, the physical complications of maintaining a vast comics collection, the gradual push of comics cons away from comics, or the occasional problem with not initially understanding subtleties in the English-language scripts they are sent.
The big name of the day was Fabian Nicieza (in case you've been wondering it's pronounced Neesiasa, or apparently Nicunza if you're American), currently in public consciousness as the co-creator of Deadpool. Between writing and editing, he has been involved in the production of over a thousand comics and it was surprisingly the latter of these that dominated the early conversation. From his early days at Marvel as part of a team who elevated it to somewhere great to work before it was driven to bankruptcy in the '90s by "That Scumbag" Ron Perelman (not that one), the stories gradually related his growth as a writer and rise as an editor. Even more amazingly, the conversation ran well over half an hour before the Merc With a Mouth was even mentioned, and even then he came up organically. A veteran of countless such appearances, his stories were related with clarity and humour, simple queries and deep observations each given the same amount of thought and consideration.
Finishing off the day were the Yancy Street Awards, celebrating the best and brightest of the year's indie comics and associated media. The winners are listed below.
Best International Writer: Scott Snyder
Best International Artist: Mitch Gerrard
Best International Colourist: Jordie Bellaire
Best International Newcomer: Chris O'Halloran
Best Superhero Comic: Mister Miracle
Best Action Comic: Detective Comics
Best Humour Comic: I Hate Fairyland
Best Horror Comic: City of Lost Souls
Best International TPB/OGN: Savage Town
Best International Cover: The Flash #39
Best UK Writer: John Lees
Best UK Artist: Thomas Crielly
Best UK Single Issue: Sink #1
Best UK TPB/OGN: The Penned Guins
Best UK Cover: Vampires Everywhere
Best Comic Movie/TV Show: The Punisher
Best Specialist UK Magazine: STARBURST
*takes a moment to bask in the warm glow of self-congratulation*
Best Specialist Website: Comics Anonymous
Best Specialist Podcast: Awesome Comics Podcast
Lifetime Contribution Award: Fabian Nicieza
Sunday morning opened with the recurring panel on fan films, and returning were its regular hosts of Starship Intrepid creators Nick Cook and Steve Hammond, and implausibly prolific blogger and podcaster Craig McKenzie. Screened was the pretty decent fan film Chance Encounter, a short that captures the feel of Star Trek by its focus on people and story, with the sci-fi setting being a secondary consideration that facilitates the plot rather than drives it. At 20 minutes it's a little longer than necessary for portraying its straightforward ideas, and while its final twist becomes apparent early on, the central performances and focus on humanity and compassion give it the feel of a tale ripped directly from Trek lore. Just for the hell of it, also shown was the latest Intrepid story The Story, which aside from one amusingly glaring anachronism is a brief yet compelling tale about the importance of preserving memories of the past. It also demonstrates the international DIY collaboration of the fan film community, being filmed at abandoned lime kilns near Montrose, with the sound mixed in Los Angeles and the matte painting used to composite the final shot created in Australia.
Inevitably, the questions went straight into the controversy surrounding the production of Axanar and the subsequent guidelines CBS produced for fan film productions, which range from reasonable requests to draconian fascism depending on who you ask, and accordingly, some people follow and others completely ignore. There was also advice for people on how to begin making their own films, which boiled down to start small, find help, make mistakes and have fun.
Another regular recurrence are panels involving actors from Game of Thrones, this time featuring Fintan McKeown (sadistic Lannister soldier Amory Lorch), Dominic Carter (corrupt and cowardly Night's Watchman Janos Slynt), and Clive Russell (Riverrun commander Brynden 'Blackfish' Tully). Discussed was the strive for authenticity in filming the production, including grimy costumes that restrict movement and helped with getting into character by making them aware of what a person dressed in such a way would actually be physically capable of doing. Other discussion points included how different greenscreen filming is from physical locations, favourite filming locations and other characters on the show they would have liked to play, and the necessary secrecy against leaks creating problems from only receiving scripts at the last minute. Despite having made relatively minor contributions to the overall story, each had plenty of memories from his time filming the show and was a point of pride to have been in it, even though, like a significant percentage of the cast, they're all dead now.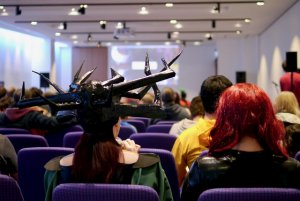 Photo: ©MustBeTuesday.co.uk
The final interview was Paul Amos, known principally as mind-controlling puppeteer Vex from Lost Girl, and brash brawler Jacob Frye from Assassin's Creed: Syndicate. Most of the lively conversation revolved around these two, the tales periodically punctuated by giggling from Amos' adorable daughter. The Lost Girl conversation delved into Vex's character development from full-on villain to someone with a degree of moral ambiguity, Amos' regular dread to discover what new outrageous costume the wardrobe department had in store for him (which included bondage gear), and the importance of the diversity in sexuality the show portrayed. The Assassin's Creed tales went into the endless auditioning Amos endured, each time convinced he had the part only to be repeatedly called back (usually while on holiday), demonstrating the ridiculous flapping motion Jacob performed in the game's test build whenever it broke, Ubisoft's slightly unnerving global ubiquity, and his demand that the DLC ending be rewritten because it originally gave Jacob a terrible send off.
After a highly enjoyable screening of Deadpool (because why the hell not?), finishing things off was the annual cosplay contest. The varied and vibrant creations included the likes of the Traveller from Journey; a father-daughter duo of Moana and Maui; Pyramid Head from Silent Hill; Princess Carolyn, Todd and Diane from BoJack Horseman; a Warhammer space marine; a Borderlands psycho; and a pairing of Mad Max and Nux by a father and son that incorporated the latter's wheelchair.
Third place in the contest was won by a couple's costume of Sergeant Calhoun and Fix-It Felix from Wreck-It Ralph; second was Alice (of Wonderland fame) with a hand-sewn and embroidered homemade dress perfectly matching the one from Tim Burton's film; and the overall winner was Zoe from League of Legends with a costume combining various aspects of crafting and costume-making to perfect the look, even incorporating electric lights to get the required sparkle in her hair.
Another year and another successful weekend, Edinburgh Comic Con's unabashed celebration of sequential art and the tireless independent creatives who keep it fresh and innovative, along with a wide variance in attractions, make the event a perpetual highlight of the increasingly crammed convention calendar.