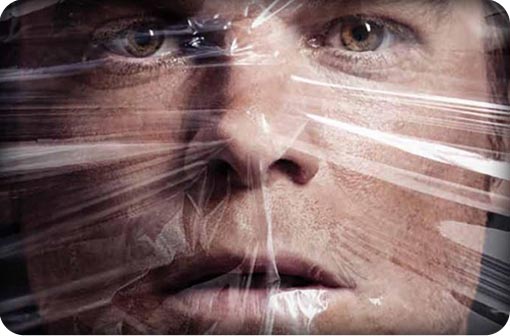 Review: Dexter – The Final Season / Cert: 18 / Director: Various / Screenplay: Various / Starring: Michael C. Hall, Jennifer Carpenter, Desmond Harrington / Release Date: November 18th
What's eating Dexter Morgan? Once television's primo serial killer, we've seen the dark defender slip from his throne in recent years, as a number of equally charismatic antiheroes tussle to take the crown. Doctor Hannibal Lecter, Norman Bates – even a mild-mannered chemistry teacher turned drug baron with an alliterative name – all relative newcomers (to TV, at least), and all much better now than Dexter has become. Well, they say that all serial killers make mistakes in their dotage.
The final series of Dexter starts like every other previous one – life has returned to the status quo for Dexter and the Miami Metro, when the crimes of a new serial killer are discovered. This heralds the arrival of Doctor Vogel, a police consultant with links to Dexter's past. Meanwhile, sister Debra is still reeling from the events of the previous season, having quit the Miami Metro and turned to the booze in a big way. Was this anything but the final series, it'd be fine – but this is supposed to feel important and big and climactic, and, sadly, it doesn't. And the repeated use of Mama Cass' 'Make Your Own Kind of Music' just leaves one longing for the comparatively wonderful Lost. Say what you will about that show's final series, at least it felt as if it were building to something. The concept of Dexter hunting a number of serial killers is a great idea, but not one worthy of a final series – one that should be more concerned with Dexter himself.
Dexter fans have been trying to come to terms with the fact that the series hasn't really been good (although his battle with Colin Hanks in S6 was something of a return to form) since Season Four, and this is just the nail in the coffin. Still fumbling about with flimsy subplots and dodgy guest stars (Charlotte Rampling is particularly annoying, while Shameless's Aaron McCusker is miscast as a serial killer with a foot fetish) it makes one long for the days of Sergeant James Doakes (an absence the show has never really recovered from) and Trinity. Thankfully, Michael C. Hall is as affable as ever as dear Dexter, while Jennifer Carpenter is a great Debra. In spite of its flaws, this is perhaps the actress and the character's strongest series yet. The supporting cast remain well rounded and likeable, but are largely underused. Desmond Harrington's Quinn once had the potential to fill the Doakes-shaped hole in the show, but he's spent too long floundering around with love interest after love interest (the latest being Angel's sister) instead of doing something meaningful with his life. It's a story of wasted potential that reverberates throughout every episode of this final series. Even at its worst, it remains engaging and even entertaining (Dexter's encounter with a cannibal is particularly fun), well-acted and visually quite lovely, but compared to what it could have been, it is sorely lacking.
"Over the time I've spent with you," says one character to our darling Dexter, "I've come to realise that you're not the perfect psychopath I thought you were." Alas, we know the feeling.
Extras: None