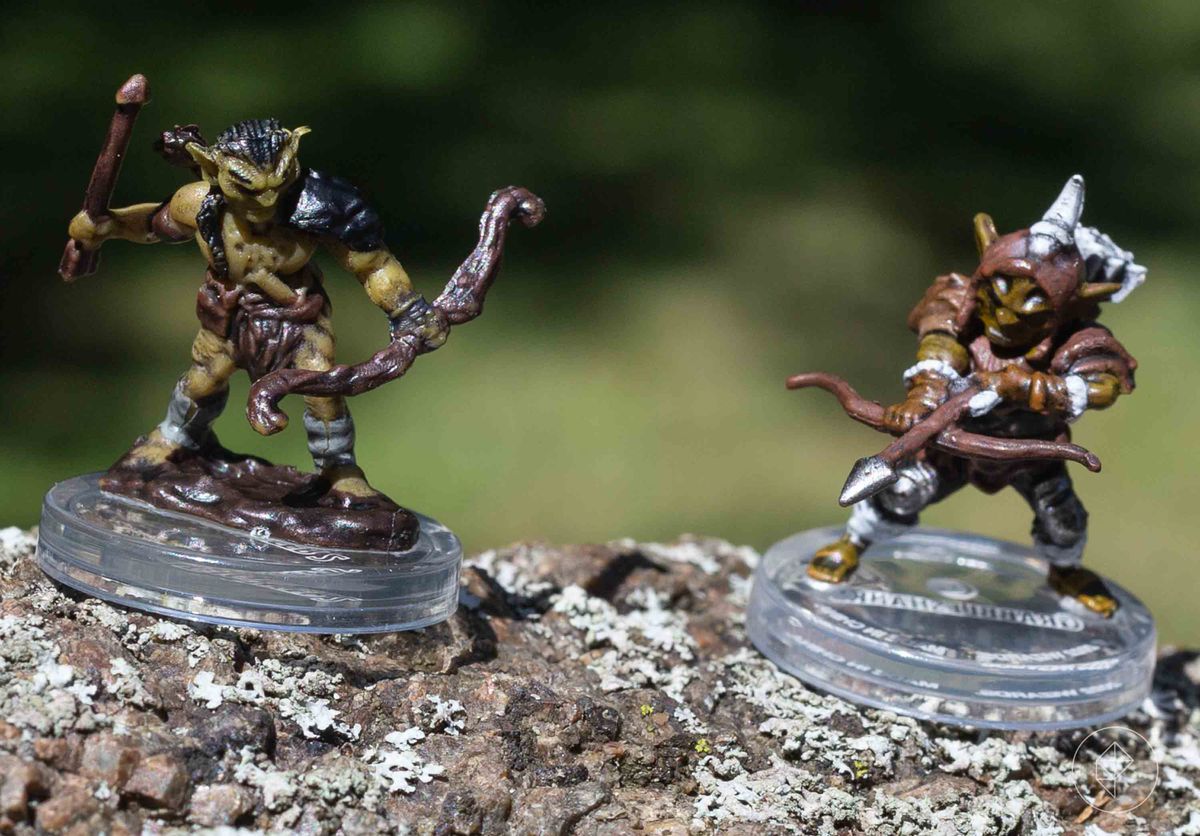 Dungeons and Dragons is currently the world's leading roleplaying game, but it began life as an adaptation of table-top wargame called Chainmail. Which is why even the most current edition of D&D has fairly involved rules that encourage the use of miniatures for combat.   Merch and miniature makers Wizkids have brought it all full circle by producing a separate wargame inspired by the Dungeons and Dragons Fifth Edition called Dungeons and Dragons: Onslaught.
To be clear, Onslaught is not a replacement for combat in D&D, but it's clearly an evolution of combat rules familiar to D&D players. It also draws heavy inspiration from Fifth Edition D&D, as it's a flexible and fast flowing skirmish game. It's also very clearly a game designed by Wizkids; much like their other skirmish game, Heroclix, this is a miniatures game designed to be played out of the box, and accessible to pretty much any age group. Unlike the something such as Warhammer Underworlds,  a quick read of the rules (or watch of a video) is all you need to be good to go.
At it's core, it's a scenario driven faction vs faction miniatures skirmish game. However, it's not just your team vs their team.  You've also got to deal with the environment, which normally means also have to deal with monsters that want to kill both sides. These creatures are driven by a set of behaviours detailed in each scenario. For example, you may be racing your opponent to loot a dragon's hoard, while the dragon itself slumbers, and certain conditions wake the beast, making everything much more dangerous for both sides.
The box is filled with goodies. We get 21 fully painted miniatures. This includes two adventuring parties of 6 characters each. The factions will be familiar to fans of D&D's Forgotten Realms setting; the meddling by heroic Harpers and mercenary (and villainous) Zhentarim.   These are good models, varied and useful for other games. We also get a two-headed giant, four crazy looking kobolds, an angry looking troll,  2 hyena-like gnolls and a young Black Dragon.
These are all well-done to Wizkids now established good standard and the dragon is particularly deadly looking. Combat dial cards (which are rules cards with moving parts to track points) are provided for the adventurers and the bigger monsters. The cards, cardboard terrain and tokens are all solid, though the provided token bag is basically an envelope. Overall, solid components that will last a while.  We also get a flappable game board, with a different sort of dungeon on each side. The board and minis all scale with regular D&D, so you can use them in regular games if you want.
Game play wise, this feels like a very streamlined version of D&D's combat rule, with tactical depth added in the form of ability cards and treasure. Models move, then act, casting spells or using powers.  The rhythym of the game is fast and straight forward, meaning you're never simply waiting for your turn.  They are campaign rules of a sort built into the game and characters can level and improve between scenarios.  The combat is perhaps the least interesting bit of a regular game of D&D, but Onslaught makes it the most fun by focusing only on the action so it is all smooth and fun. For example, they are no damage rolls, just automatic damage. Most effects just work. It's simple enough, but has enough variety to be very replayable.
This feels like a classic skirmish wargame updated for modern audiences, and certainly it's one of the easiest (but just a fun) fantasy skirmish games out there.
Onslaught is it's own thing, but the tie-in to D&D (and the familar rules) are certainly a point in it's favour.  There's also potential to expand beyond the starter box, especially if you have your own D&D terrain and we hope to see more scenarios for this game (as well as factions) as the game rolls on.
Dungeons and Dragons: Onslaught is fun, and potentially a very big deal in world of fantasy skirmish games. It can be pre-ordered here, and via all good friendly local game stores.