Reviews | Written by Michael Coldwell 18/08/2018
Claudio Simonetti's Goblin – SUSPIRIA Live
So you've purchased your shiny new 4K restoration Blu-ray of Dario Argento's supernatural motherlode, Suspiria. You stick it on at home one night, whack up the surround-sound and let the diabolical art-rock typhoon of Goblin's famous score startle your ears to death. Heaven. That is, until ten minutes into the film when the bloke next door starts hammering on your front door. You turn the volume down and guiltily face the music.  Yes, it was very loud, sorry all your plaster coving has crumbled and your cat's keeled over. Do send a bill for the damage. And the funeral.
Who needs all that crap when you can go and see Goblin themselves (well, main man Claudio Simonetti and his band of several years) in a bloody big church, bathed in blood red light and dry ice, playing Suspiria live through a great big PA beneath a giant screen projecting the movie. Talk about a rhetorical question. The sold-out congregation that take their pews in awed expectation this evening is a delight to behold: you don't find yourself at a gig like this on a whim - each and every black-clad punter here tonight, from the meekest Goth kid to TV's Jonathan Ross, has already jumped down a winding rabbit hole of classic horror/art rock appreciation that emerges in this place of worship, literally at the altar of Argento's 1977 masterpiece. We are among friends.
Endearingly bashful for a man who has written some of the most unsettling and disturbing film music ever, Simonetti takes the stage and introduces his band a classy full hour after the advertised start-time. The maestro initially has a bit of trouble getting the film to start and we all have a nervous laugh as the opening credits are suddenly replaced on the giant screen by a familiar Windows PC browser screen with Simonetti's mouse pointer moving about on it. Surprisingly, it's far from the only chortle we'll share tonight. Watching with such an appreciative crowd ooh-ing and aah-ing along with every familiar beat is always going to emphasise the jokes, but it's a revelation just how many cathartic laughs Suspiria offers up. Intentional humour, such as the side-glance to camera by the mute servant with over-sized false teeth or the expulsion of the blind piano teacher, is greeted with roars of delight. But just as funny is the dodgy English-language dubbing of certain Italian actors, like the camp doctor who attends frazzled heroine Suzy Bannion. He'll never be the same again after tonight, poor bloke.
Beneath the screen, Simonetti switches between his bank of keyboards and acoustic guitar supported by a bassist, a drummer and mandolin player. It's fascinating to watch a band perform a live score and the veil-lifting instinct is strong with Suspiria: how, for example, will they pull off all that spooky demonic chanting? With raspy voices and fancy digital processors, as it turns out, but there's still an odd disconnect as your eye flickers back up to the screen and you try and comprehend the fact that the four studious musicians below are truly creating this legendary cacophonous din. When things get loud, as they frequently do with each reprise of the signature incantation, there's a real gut punch from the bass and percussion that no angry neighbour can do a damn thing about. At the quiet end, delicate isolated notes from a guitar or a percussive effect are enough to transform the mood of a scene.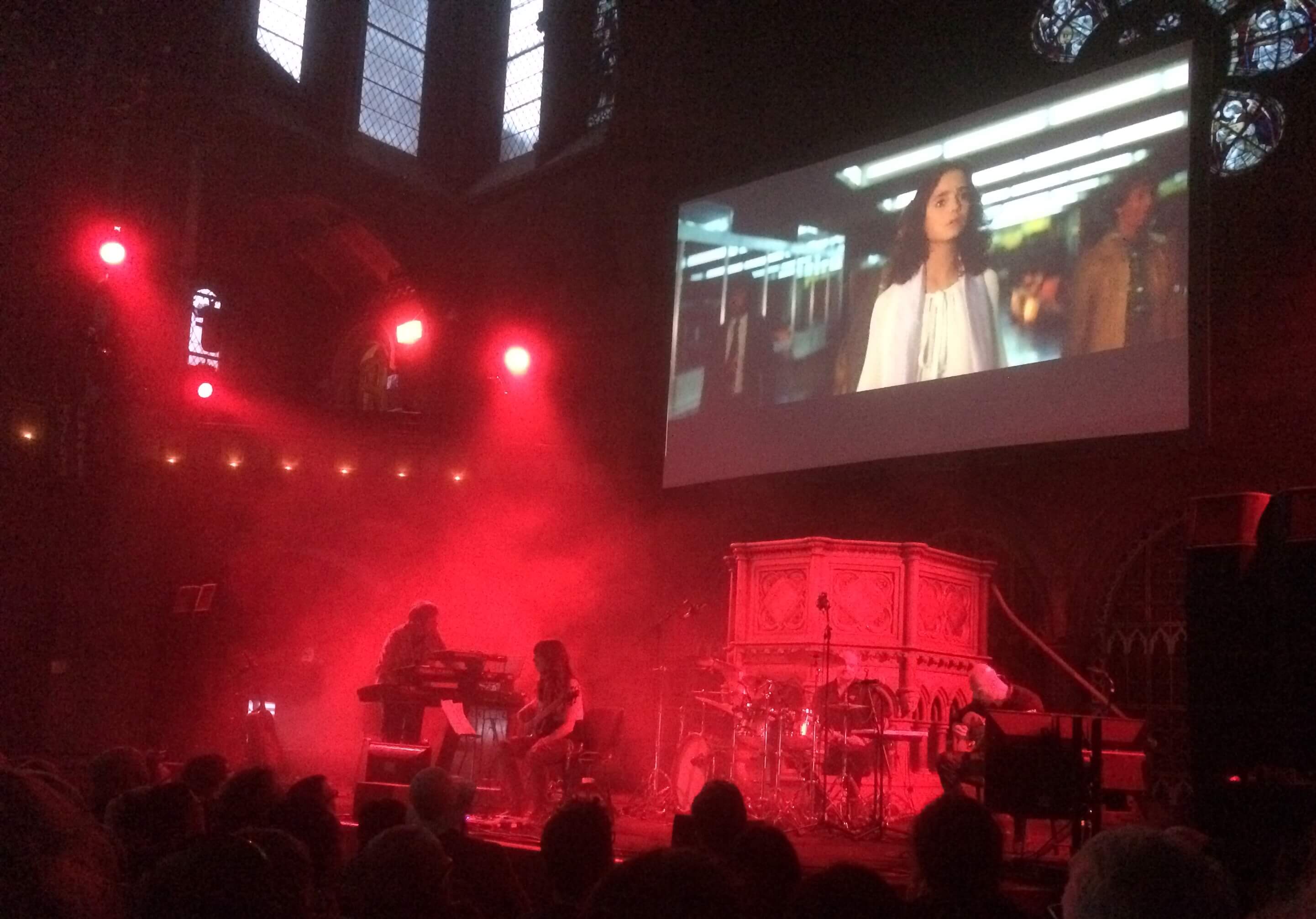 As the film plays out, the godly venue really comes into its own. The three-strip Technicolour process Argento used to photograph Suspiria - archaic even back in 1977 - baths the gargoyles and stone cloisters of the giant church in exquisite reds and greens. The projection quality is very decent and the sound, at least where STARBURST is perched, is marvellous - even the whispered dialogue passages are clearly audible and the live music seamlessly blends into the mix.
Of course, we all want it to end with a demonic crescendo, and it truly does.  With a midnight storm lashing the prestigious Tanz Dance Academy and Jessica Harper battling to escape the coven of witches within, every element of the performance - the pulsating live music, the on-screen drama, the passion of the crowd and the beauty of the church itself - swirls together in a way that feels, well, alchemic. As the end credits fade to black, the band plays on with an extended, rockified, coda and then it's all over, a beaming Simonetti and band basking in our warm applause.
A great gig.
CLAUDIO SIMONETTI'S GOBLIN – 'SUSPIRIA' LIVE / UNION CHAPEL, LONDON N1 / AUGUST 17TH, 2018