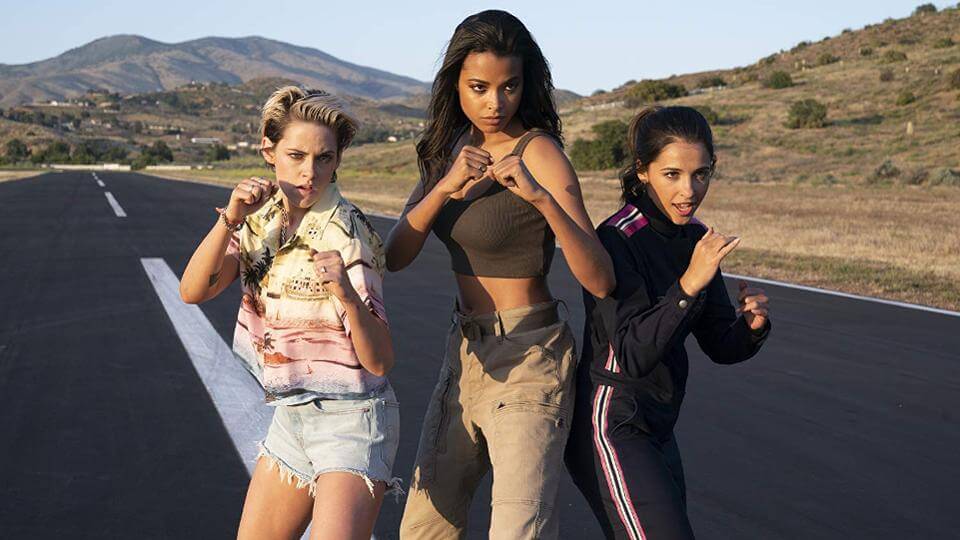 DIRECTOR: ELIZABETH BANKS | SCREENPLAY: ELIZABETH BANKS, EVAN SPILIOTOPOULOS| STARRING: KRISTEN STEWART, NAOMI SCOTT, ELLA BALINSKA | RELEASE DATE: NOVEMBER 29TH
Be it the 1976 TV show, the early-noughties movies, or one of the other various franchise spin-offs, Charlie's Angels has always worked as an encapsulation of the feminist ideals of the day. Released in the year 2000, the first film spin-off marked the feature-debut of McG, now probably best known for directing that leaked audio clip where Christian Bale spends four minutes berating a cinematographer without breathing. Say what you will about the director of the music video for Smash Mouth's 'All Star', but McG's filmic vision was unflinching in its weirdness and it certainly never came close to being boring. 
The same was less true of its 2003 follow-up, Charlie's Angels: Full Throttle, a film that concurrently confused adrenaline-fuelled whimsy with hacky over-editing, and Justin Theroux with someone capable of doing an Irish accent. The negative reception towards that film put the movie-franchise on hiatus for a while, setting the stage for 2019's Charlie's Angels, a soft-reboot, covertly operating within the continuity of the two previous movies and the television series before them. 
But this is 2019 and in a post-#MeToo world, feminism directed by a cis-gendered white man just isn't going to cut it. Enter new director Elizabeth Banks, who also rounds out our new cast of secret agents. This time, the angels consist of newcomer, Ella Balinska, who more or less holds her own opposite Kristen Stewart, who delights in chewing the scenery, and Naomi Scott, who, following this year's Aladdin, seems to be carving out a career exclusively being the best thing in otherwise mediocre movies. 
The supporting actors are also largely doing good work, but so much of the entertainment value of the first two films stemmed from the truly star-studded and, frankly, downright bizarre casting decisions that were being made. The likes of Patrick Stewart, Nat Faxon, and Laverne Cox are all very welcome and do good work, but they're undeniably less interesting than the credit-listings for the previous two films which, let's remember, featured everything from a not-yet-famous Melissa McCarthy to the two Wilson brothers who aren't Owen, to Bruce Willis with hair. 
Ultimately, 2019's Charlie's Angels is a very conventional, light-hearted espionage thriller, but one that – as the third entry in this series – has traded a care-free attitude of swinging and missing for one of not swinging at all. Playing things safely doesn't leave us with a bad film by any means – the new Charlie's Angels is arguably the most competently put-together entry in the franchise to date – but it's all at the expense of making something truly memorable. It's a relatively entertaining watch, but once it's over, much like its secret-agent protagonists, the film barely leaves a trace.