Reviews | Written by Ed Fortune 15/03/2021
CAPTAIN AMERICA – FOLIO SOCIETY EDITION
FORMAT: DELUXE HARDCOVER | RELEASE DATE: OUT NOW
Captain America celebrates their 80th anniversary this year and he's still as relevant today as he was back in the day.  With such a long and rich history behind the character it's easy to forget exactly where he came from and why, especially as modern interpretations tend to frame him closer to being a sort of super-spy style character rather than a flag waving super-patriot.
Captain America  - Folio Society Edition takes a very close look at the world famous icon by reprinting ten iconic stories which not only summarise the history of the hero but are also an interesting and entertaining read. The hardcover and slipcase set also comes with a replica of issue #1 of Captain America comic – it's got a picture of him punching Hitler in the face on the cover, just so you know from the start what the Captain is all about.
This is a Folio Society book so the quality is fantastic. They've done everything they can to replicate the feel of these vintage comics right down to a pulp style look on the page. It even has that special paper and ink smell that many comic book fans associate with childhood. It's a hefty tome but a well put together one; the sort of thing that gets handed down to the next generation of fans.
As for the strips themselves, the selection serves as a brief history of the character. The early strips really are aimed at children but also have a strong World War Two propaganda feel to them (as you would expect).  They are interesting as an artefact of the past but also as a way of showing how far the character has come.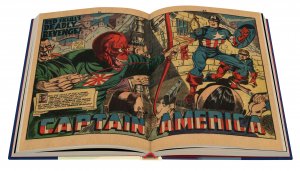 Each story selected is typical of its era; from World War Two to the Cold War, then to The Avengers and more straight forward action adventure fare. The stories reflect America as it would like to see itself though as the stories go on, the writing becomes stronger and more self-aware. For example 80's Captain America is critical of the politics of the time whilst still being very American in approach and nature.
Each story is a winner in its own right and serves as a sign of the times. The art is, of course, amazing; this is Marvel's flagship (and flag wearing) hero so be prepared for a parade of some of Marvel's finest artists, including  Jack Kirby, Frank Miller, Bob McLeod and Gene Colan.  Writers include Stan Lee, Mark Gruenwald and Ed Brubaker; a hall of fame of comics talent.
This is a great collection of some solid Captain America stories and is very much a book for collectors. Something that looks amazing on the shelf and fills the reader with nostalgia as soon as you turn the pages.
The Folio Society edition of Captain America, selected and introduced by Roy Thomas, is available exclusively at www.foliosociety.com , © Marvel 2021