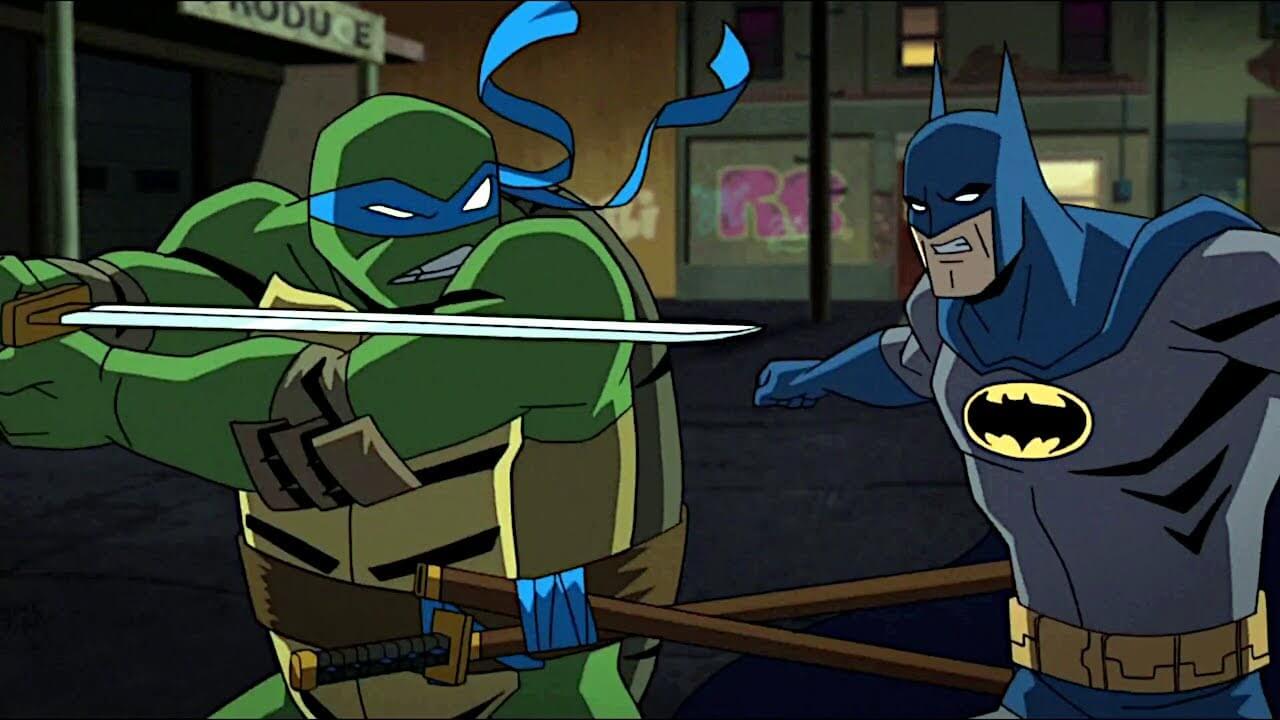 In terms of bonkers crossovers you never knew you needed, Batman vs. Teenage Mutant Ninja Turtles is right up there. Is the meeting of the Caped Crusader and those Heroes in a Half Shell all that'd you hope it would be, or is this merely a gimmicky coming together that lacks any sort of substance or quality? Let's head to Gotham City to find out!
Pulling plenty from James Tynion IV and Freddie Williams II's comic book crossover of the same name, Batman vs. TMNT sees our four beloved Turtles rocking up in the Dark Knight's city as they look to put a stop to Shredder's plan to steal some swanky tech. But who is ol' Shredhead working with in Gotham, what cunning plan is afoot, and, more importantly for Batman, who are these green mutants parading around the city he's long sworn to protect?
First and foremost, Batman vs. TMNT is never anything less than a whole load of fun. Whilst seeing Batman and the Turtles initially butting heads, the developing dynamic between the World's Greatest Detective (and his Bat family!) and the TNMT is an absolute blast to see play out. While the stoic, serious Dark Knight might easily best these gung-ho teenagers, however, seeing Batman battle Shredder early on is a stunning piece of animated action that portrays both characters as the truly major deals they are. And it's here, in these unique pairings and situations, that the movie really shines.
Of course, Batman vs Shredder or the TMNT up against certain members of Bats' rogues gallery was always going to be enjoyable, but seeing each Turtle gravitating towards different members of the Bat family in a natural and cleverly pieced together way is also a highlight. Then there's the quirky charm of the fun-loving Turtles landing in the po-faced streets of Gotham and – Michelangelo, in particular – poking fun at some of the city's absurdities (seriously, why are there so many blimps in the Gotham City skyline?).
In terms of the narrative, at times certain elements border on the slapstick, but that's perfectly fine when it's the teenage enthusiasm of the Turtles on display. Not to mention, the fight sequences make for a brutal, beautiful watch, with several martial arts style at play in some masterful and/or bone-crunching ways. In amongst the fun and the fights, mind, there is one extremely grim and eerie sequence, which is only even more impactful due to the lighter tone of the rest of Batman vs. TMNT – and we mean that in the best possible way.
All in all, Batman vs. Teenage Mutant Ninja Turtles is an absolute hoot that serves both of its titular properties marvellously. Director Jake Castorena, writer Marly Halpern-Graser and the production team behind this one deserve a whole lot of credit for magnificently balancing the varying tones of the feature, whilst the impressive vocal ensemble all strike the right beats when needed; special praise being left aside for Troy Baker who voices Batman and a certain villain of the piece.
Throw in some light yet interesting special features and a preview of the hotly anticipated Batman: Hush adaptation, and this is a release that ticks so many of the right boxes. And most of all, Batman vs. Teenage Mutant Ninja Turtles is a grin-inducing, overflowing serving of fun. Which, let's face it, we all need from time to time.
Special Features: Cowbunga Batman! When Comic Book Worlds Collide / Fight Night in Gotham / Sneak peek at Batman: Hush
BATMAN VS TEENAGE MUTANT NINJA TURTLES / CERT: 12 / DIRECTOR: JAKE CASTORENA / SCREENPLAY: MARLY HALPERN-GRASER / STARRING: TROY BAKER, ERIC BAUZA, DARREN CRISS, BARON VAUGHN, KYLE MOONEY, ANDREW KISHINO / RELEASE DATE: JUNE 3RD